A new eBook platform is coming!
On Wednesday, March 1, 2017, the Maine InfoNet Download Library will move to a brand new eBook and eAudiobook platform called cloudLibrary. This will replace the Overdrive platform.
We're positive PPL patrons will enjoy the cloudLibrary platform. Its easy-to-use interface makes it simple to download titles, save reads for later, and even sync activity across multiple devices.
This transition will offer Maine readers a bigger selection of eBooks and eAudiobooks, including most of the digital titles already in our collection. As an additional benefit, the checkout period has been extended from 2 weeks to 3 weeks!
There is no cost to library users. All you need to get started is an active library card.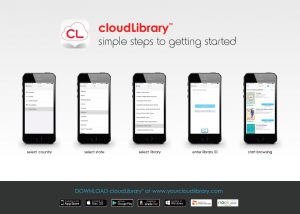 The cloudLibrary app is compatible with the following devices: iPad, iPhone, iPod Touch, Android Phones, Android Tablets, NOOK Tablets, NOOK eReaders, Kobo eReaders and Kindle Fires.
Amazon has declined to make the cloudLibrary app available through its proprietary app store. Please check these detailed instructions for using the Kindle Fire and the Kindle HD.
Getting started
The Maine State Library's FAQ is very helpful resource, but here are answers to questions you may have:
Our current system, managed by Overdrive, will be turned off on Tuesday, February 28, 2017. CloudLibrary will be launched the very next day, Wednesday, March 1, 2017.
With this transition to cloudLibrary, the Download Library will continue to offer readers nearly all the current collection of over 10,000 digital titles, plus new titles and additional copies of popular titles.
Significant cost savings due to the change in platforms will allow us to purchase more content, reducing the wait times for popular titles.
Checkouts that exist in Overdrive on February 28 will not transfer to the new system. What exactly happens to an active checkout at the time of switchover will depend on a patron's specific device and how it checks back (or doesn't) to see if the item's license is still valid in cloudLibrary.
Holds will not transfer to the new system. You should place a new hold in the cloudLibrary by downloading the app and logging in on March 1.
Patron requests to purchase a specific title will not transfer to the new system. You may want to place your new request in cloudLibrary on March 1.
Users of Kindle devices should be advised that the Kindle Fire (2nd generation or newer) works with the cloudLibrary, but e-ink Kindles do not.
The cloudLibrary support site has a downloadable cloudLibrary User Guide, provides how-to videos, and is a useful spot for other help topics. Of course, PPL's staff is ready to help with any questions once we make the change. We are excited about the new platform and the expanded options it will provide for our patrons.
posted: , by Editor
tags:
About the Library
|
Online Services
|
Adults
|
Teens
|
Kids & Families
|
Seniors
|
News