Children's Services Has Something for Children of All Ages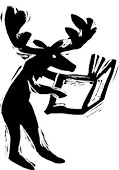 You are invited to bring your family to the library! Read, learn, grow, and play at PPL. PPL has a strong (and long) tradition of serving kids & families with great collections, programs, and services designed to build kids' love of reading and discovery, as well as engaging with parents, teachers, and other child educators.
Every PPL location has a dedicated area just for kids, for reading, exploring, and enjoying our programs.
BooktoberFest!
Fall is in the air, so celebrate BooktoberFest with the Library!
BooktoberFest includes a host of free activities over the weekend of Oct. 12-14: a rolling Bookmobile party for kids and families, a special Banned Book film night, a discussion evening with local favorite Bill Roorbach, and more.
For our over-21 Library fans, join us for Library Pursuit on Saturday, Oct. 14 from 7-10pm. This after-hours event at the Main Library will include literary-themed food and drink, music, and a lit-inspired trivia contest hosted by local fave and foodie Joe Ricchio. Tickets are available online only at just $15 per person. Recruit your friends for a team, or we'll pair you up. There will be plenty of non-trivia fun for those who prefer to spectate. So get your tickets, think up a bookish triva team name (The Hemingway Hammers, anyone?), and see if you can beat the librarians!
Join us for our BooktoberFest activities – and for much more happening all month long with a special BooktoberFest flair!
Here is a calendar view of activities at the Sam L. Cohen Children's Library (Monument Square)
Learn More »
We offer several story times designed for kids from birth to age 5 at all of our locations, from basic rhymes to movement and music. Join us and cultivate a love of reading in your child early on!
Learn More »
Portland Public Library's Reading Dog program, Come! Sit! Read! will be continuing with our three furry, non-judgmental listeners Emmie, Flip and Baxter! Children can sign up for a session to read to these dogs (and their handlers) with a book of their choice. Come! Sit! Read! will be happening at the Sam L. Cohen Children's Library as well as the Riverton Branch Library.
Learn More »
The Sam L. Cohen Children's Library will be hosting a monthly book club for girls ages 9-12. Smart Girls Read @ PPL book club will provide a forum where girls can explore what's on their minds: what's really important to them as well as strengthening their sense of self.
Learn More »
Dahlov Ipcar: Stories.  Exhibit in the Lewis Gallery October 6 through December 23, 2017.
Learn More »
Portland School of Ballet and Portland Public Library are pleased to collaborate by offering a fun and healthy environment for children to experience an introduction to the art of ballet. This creative movement class is being offered for children ages 3-7 on the 3rd Saturday of each month in the Sam L. Cohen Children's Library.
Learn More »
The Sam L. Cohen Children's Library is excited to host the Maine Academy of Modern Music's  The Kids Are Alright, a family friendly local music series aimed at encouraging children's involvement in the musical arts. This series will take place on the first Saturday of the month 10:30 in the Portland Public Library's Rines Auditorium. In addition to live performances by some of the area's top talent, each event will feature a "Get-To-Know-Your-Local-Musician" component that will allow parents and children a chance to ask the performer(s) questions about what it is like to be a musician in Maine.   Likewise, MAMM will host an "Instrument Petting Zoo" so that everyone will have a chance to try out some of the instruments that they will have seen used on stage during the performance that day. The Library will provide concert attendees with resources about the importance of music in the  early literacy and brain development of young children.
This series in funded in part by the Davis Family Foundation.
Learn More »
In partnership with the Opportunity Alliance each week we will post a new vocabulary word to use in every day conversations with children!
Learn More »
Greet the summer with an eye for exploring the world– check out one of the five Family Science Backpacks. Available to borrow for one week, see the staff at the Children's Desk in the main library for more information!
Learn More »
NOTE: Using the new library catalog
To ensure compliance with the Children's Online Privacy Protection Act (COPA), some features in the new catalog are
restricted and not available to children under age 13. Restricted features include the ability to share comments,
send/receive messages, and create a free-text username. For more information, see How to Use My PPL.
Connect with the Library: