Children's Services Has Something for Children of All Ages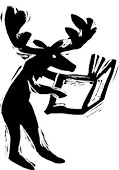 You are invited to bring your family to the library! Read, learn, grow, and play at PPL. PPL has a strong (and long) tradition of serving kids & families with great collections, programs, and services designed to build kids' love of reading and discovery, as well as engaging with parents, teachers, and other child educators.
Every PPL location has a dedicated area just for kids, for reading, exploring, and enjoying our programs.
The Journaling in the Library group will meet monthly in the Portland Room. This will be the Greater Portland region's only writing group dedicated to journal and memoir writing, and welcomes all ages and manual writing media. Journaling encourages creative, reflective writing- along with reading, extending the Library's literacy mission.
Journaling in the Library makes use of autobiographic and historic elements in PPL's collections: this includes memoirs, archives, journalism, letter correspondence, and the history of writing in material culture.
The format is similar to many other writing groups, though focused on journaling: using assigned prompts for written exploration. Participants will have opportunities to cultivate and read their writing, with the support of the community that comprises the group.
3rd Wednesdays of the month, 5:30pm-7pm, in the Portland Room : beginning on September 21st
Here is a calendar view of activities at the Main Library's Children's Room (Monument Square)
Learn More »
Greet the summer with an eye for exploring the world– check out one of the five Family Science Backpacks. Available to borrow for one week, see the staff at the Children's Desk in the main library for more information!
Learn More »
The Portland Public Library and the Portland Public Schools are excited to announce a joint summer reading program for 2016, I ♥Reading in Portland: Time of Wonder. Children throughout the community are encouraged to read about and explore the natural world this summer! This year's theme, Time of Wonder, has a focus on STEM (science, technology, engineering or math) activities.
Learn More »
The Sam L. Cohen Children's Library is delighted to present 2 exhibits of projects made by young students in the Portland Public Schools, which were created while working with visiting artists from SideXSide. There will be an opening reception on Thursday, May 26th from 4:30-6:30.
Learn More »

Portland Public Library's early literacy initiative Every Child Ready to Read @ Your Library ® is a project of the Association for Library Service to Children and the Public Library Association (divisions of the American Library Association.) This parent education initiative stresses that early literacy begins with the primary adult in a child's life. Developing early literacy skills has a long-term impact on children's reading achievement and academic success.
Learn More »
We offer several story times designed for kids from birth to age 5 at all of our locations, from basic rhymes to movement and music. Join us and cultivate a love of reading in your child early on!
Learn More »
The Sam L. Cohen Children's Library will be hosting a monthly book club for girls ages 9-12. Smart Girls Read @ PPL book club will provide a forum where girls can explore what's on their minds: what's really important to them as well as strengthening their sense of self.
Learn More »
Grace, a 9 year old yellow Labrador retriever, will be visiting the Sam L. Cohen Children's Library to encourage children to read and to be a furry, non-judgmental listener to readers.
Learn More »
Did you know Legos are not just toys? They're STEM learning tools. Please join us each week for Lego clubs, and join your neighbors to build in suggested themes and activities.
Learn More »
NOTE: Using the new library catalog
To ensure compliance with the Children's Online Privacy Protection Act (COPA), some features in the new catalog are
restricted and not available to children under age 13. Restricted features include the ability to share comments,
send/receive messages, and create a free-text username. For more information, see How to Use My PPL.
Contact the team leader
Mary Peverada Email »
Children's Services Team Leader Youth Services Department Head
(207) 871-1700 Ext. 707
More Contacts »
Connect with the Library: