Connect with the Library:
Juneteenth
2022
Observed annually on June 19th since 1865, Juneteenth is a federal holiday celebrating the emancipation of enslaved African Americans.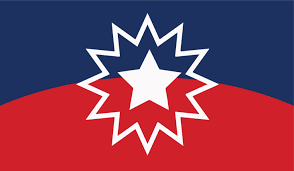 The Juneteenth flag was created in 1997 by activist and organizer Ben Haith. He is also the founder of the National Juneteenth Celebration Foundation.
"The Juneteenth flag symbolizes freedom and justice for Black Americans and African Americans. The colors of the flag are similar to the United States flag because all Americans are able to understand and recognize the importance of African American history. One can not separate African American history from America's history and the flag reminds us of just that.
The colors of the flag were deliberately chosen by Haith and the collaborators to showcase that African Americans were always American even throughout enslavement. The Black community is one with America. The colors chosen furthers the notion that America must ensure that all citizens have access to 'liberty and justice for all'.
The most noticeable feature of the flag is its star and arc. The star is another callback to the United States flag – representing that Black people are free in all 50th states. The Emancipation Proclamation was first to read and acknowledged in Galveston, Texas. Texas, also known as the Lone Star State played a significant role in the addition of the star. Although Texas was the state that the documentation was read in, it represents freedom across the nation. Alongside the star, the outlined burst and arc represent the new horizon and new opportunities that are to come for Black people." source
Resources:
Learn more from the National Museum of African American History and Culture
The Emancipation Proclamation 
The Birth of Juneteenth; Voices of the Enslaved
Previous Blog Posts:
Black History is Now
Juneteenth
Local Events 2022:

Historic Places
Portland Freedom Trail
Abyssinian Meeting House
Malaga Island, Phippsburg
Rock Rest, Kittery
Organizations:
Local
Black Owned Maine – Our mission is to promote economic empowerment for Black people in Maine
Portland Racial Justice Congress – Mobilizing for a more socially conscious, culturally vibrant, and racially just Portland
Tender Table – Celebrating Black and Brown community by connecting and honoring our identities, traditions, joy, resilience, and fight for collective liberation through storytelling and food
Black Portland Organizers Working to End Racism (P.O.W.E.R) – Through our work, we seek to end the systematic oppression of Black people
Southern Maine Workers' Center – We're a grassroots, member led organization working to improve the lives, working conditions, and terms of employment for working class and poor people in Maine
The Alpha Legal Foundation – Increasing the number of underrepresented attorneys in Maine's top positions of legal leadership and scholarship
I Am Willing – provides tools and resources specifically designed to help the Black community create legacy plans
Portland Empowered – strives to ensure that student and parent voices are reflected in policy and practice within Portland Public Schools
The Third Place – Creating An Equitable Quality of Place for Black Mainers
Maine Youth Action Network (MYAN) – a statewide network of committed adults and passionate young people who believe in the transformative power of youth leadership
Survivor Speak – formed to push the movement to address root causes of what we call 'sexploitation':  systemic poverty, racism, and misogyny
Elsewhere
Black Spirit 4 Life – Celebrating cultural diversity through unity
The Greater Bangor Area Branch NAACP – an all-volunteer, nonprofit, nonpartisan organization dedicated to the eradication of racism in all its forms
Bowdoin Black Student Union – The goal of the Black Student Union is to support all of its members academically and socially in order to help them reach the highest levels of achievement on campus
Maine Inside Out – activates individuals and communities to imagine and embody freedom through art, advocacy and support, and transformative justice
The Maine Women's Fund – We are consciously, thoughtfully, and actively learning to use our organizational power and privilege to redistribute and rebalance power and resources
Downeast Diversity – Stories of people and culture in Maine
The Mount Desert Island Racial Equity Working group -We are a group of Mount Desert Island residents who aim to deepen our understanding of power and privilege and to foster racial justice, equity, and inclusion on MDI and beyond, always recognizing our shared humanity
Black Heritage Trail NH – Promotes awareness and appreciation of African American history and life in order to build more inclusive communities today
Seacoast African American Cultural Center – Sharing our history within the community