Connect with the Library:
Juneteenth
Juneteenth is now a federal holiday celebrating the emancipation of enslaved African Americans. It has been celebrated since June 19, 1865 when enslaved people in Galveston, TX were finally liberated by Union soldiers, over two years after the Emancipation Proclamation.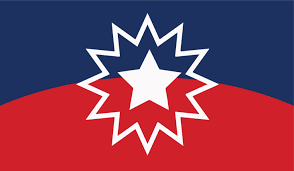 The Juneteenth flag was created in 1997 by activist and organizer Ben Haith. He is also the founder of the National Juneteenth Celebration Foundation.
"The Juneteenth flag symbolizes freedom and justice for Black Americans and African Americans. The colors of the flag are similar to the United States flag because all Americans are able to understand and recognize the importance of African American history. One can not separate African American history from America's history and the flag reminds us of just that.
The colors of the flag were deliberately chosen by Haith and the collaborators to showcase that African Americans were always American even throughout enslavement. The Black community is one with America. The colors chosen furthers the notion that America must ensure that all citizens have access to 'liberty and justice for all'.
The most noticeable feature of the flag is its star and arc. The star is another callback to the United States flag – representing that Black people are free in all 50th states. The Emancipation Proclamation was first to read and acknowledged in Galveston, Texas. Texas, also known as the Lone Star State played a significant role in the addition of the star. Although Texas was the state that the documentation was read in, it represents freedom across the nation. Alongside the star, the outlined burst and arc represent the new horizon and new opportunities that are to come for Black people." source
Resources:
Learn more from the National Museum of African American History and Culture
The Emancipation Proclamation 
The Birth of Juneteenth; Voices of the Enslaved
Previous Blog Posts:
Juneteenth 2023
Black History is Now
Juneteenth
Local Events 2023:
Reading the Bones: Celebrating the African Diaspora
The celebration includes a tour, a panel discussion, a Reggae festival, a gospel choir concert, African drumming, and more…
Reading the bones is both an ancient and modern form of divination found in all civilizations. Divination is among the earliest human spiritual practices concerned with choosing actions that were in accord with the "will of heaven" to allay uncertainty, heal illness, or navigate issues of tribal importance.
Interestingly, the casting and reading of the bones take on a different connotation when we consider the rediscovery of the 18th-century African burying ground in Portsmouth, NH. This accidental unearthing of African remains on a city street that had been forgotten, paved over, and built upon forced the city and the state at large to acknowledge their history of enslaving humans and the presence of Africans in the region before enslavement.
BHTNH offers this weeklong Juneteenth celebration to honor these early African settlers and their descendants for their extraordinary contributions to the growth of this region. We honor the African traders who interacted with the Indigenous tribal nations long before European settlers landed on these shores. We honor the Africans who survived the Middle Passage and the successive generations of the African diaspora who continue to contribute to the development, wealth, and well-being of New England.
June 10, 15, 16, 17, 18 & 19, 2023
Portsmouth, NH
African American Music Appreciation Month & Juneteenth Film Series
Celebrate Pride and Juneteenth for free, at PMA! The PMA will be free to the public from June 17th through June 19th.
7 Congress Square, Portland
Maine Inside Out and partners will host a public celebration of Juneteenth. The event honors the emancipation of enslaved people in America while recognizing that the systems and structures of chattel slavery are still intact today.
"Juneteenth: A Change We're Waiting For" will feature original artistic performances by MIO members and BIPOC artists from the community and includes tables hosted by a diverse coalition of Lewiston organizations, grilled food and drinks, and fun activities for families.
This is a collaborative event with other organizations working toward racial justice.
Friday, June 16, 2023 4:30 PM  6:30 PM in Lewiston's Kennedy Park
James Weldon Johnson + Juneteenth (combined celebration)
The annual celebration of James Weldon Johnson and Juneteenth combined will be held in Wiscasset on Saturday, June 17 from 4 p.m. to 5:30 p.m. This year's program will be a short "walk and talk." Join us at 4 p.m. on the Wiscasset Town Common by the James Weldon Johnson memorial bench. Our second stop will be Ancient Cemetery on Federal Street, and then it is on to Nickels-Sortwell House's garden for a picnic. Refreshments provided, or bring your own picnic!
June 17th; 4:00 – 5:30 pm
Town common; Wiscasset 
Weekend on the Water
A special opportunity for Black and people of color and their families to get outdoors in beautiful Down East Maine! Featuring two full days of FREE family-friendly outdoor activities, including camping, sailing, kayaking, fishing, hiking, star gazing, wading and beach exploration, delicious foods and more!
Pre-registration is required – link coming soon!  This event is FREE for Black and people of color and their families.

Saturday and Sunday, June 17-18
Lamoine State Park, ME
Juneteenth Freedom Celebration
WJZP 107.9 is proud to be a cultural outlet for our community. We believe music has the power to connect people from all walks of life.
Join us on our annual Juneteenth Freedom Celebration event on Sunday, June 18th. This event is free and all are welcome to attend! We'll have food trucks, music, and more! Please sign up for your ticket, since space is limited.
Hope to see you there!
June 18th; 11:00 am – 9:00 pm.
200 Anderson Street, Portland
State of Black Maine Symposium
The State of Black Maine Symposium is a daylong event that will be held annually on Juneteenth—now a paid state holiday in Maine—with the aim of creating and sustaining a public platform that amplifies Black Maine voices, unifies across difference, builds solidarity, fosters collaboration, holds space for creative expression, and inspires bold collective visioning. While foregrounding community elders and cultural knowledge keepers, this multigenerational event reserves a place of equal prominence for youth leaders.
Through plenary convenings, keynote addresses, panel discussions, and exhibitions, the State of Black Maine Symposium will foster a deeper understanding of Maine's Black history while addressing the broad spectrum of conditions experienced today by the state's Black populations across sectors such as employment, education, environmental justice, health, housing, criminal justice, and economics. These proceedings will raise awareness about existing racial disparities and aim to generate momentum toward the development of solutions.
A collaboration with the Permanent Commission on the Status of Racial, Indigenous, and Tribal Populations; Maine Humanities Council; Maine Arts Commission; Maine State Archive; Maine State Library; Maine Historical Society; Cultural Affairs Council; University of Southern Maine; and Maine Black Educators Collective.
Monday, June 19th 9:00 AM – 6:00 PM
Hannaford Hall 88 Bedford Street Portland, ME 04101
Juneteenth & World Refugee Day Celebration, 
June 19th; 1:00 – 5:00 pm.
For more information, please contact the South Portland Human Rights Commission
Redbank Community Center, South Portland
2023 Juneteenth Downeast Commemoration
Featuring Pihcintu Multinational Girls' Chorus, Stream Reggae, Chief Oscar Mokeme of the Museum of African Culture, incredible Black speakers, free delicious foods, hands-on activities for all ages, and more!
All are welcome.
Monday, June 19th | 2 p.m. to 6 p.m.
Knowlton Park, Ellsworth, ME

American Association of Public Health Dentists – Juneteenth Community Health Event
Join the American Association of Public Health Dentistry, Student Chapter of the University of New England, for a free community health fair for families. Food, music, and
free dental exams, supplies, and information, sponsored in partnership with Maine Immigrants' Rights Organization. Organizations that share the mission of serving the immigrant and/or underserved communities of Maine are invited to table at the event. Contact Woodlyn Joachim at wjoachim1@une.edu.
Saturday, June 24th 10:00 AM – 2:00 PM 
Equality Community Center, 15 Casco Street, Portland

Historic Places
Portland Freedom Trail
Abyssinian Meeting House
Malaga Island, Phippsburg
Rock Rest, Kittery
Organizations:
Local
Black Owned Maine – Our mission is to promote economic empowerment for Black people in Maine
Portland Racial Justice Congress – Mobilizing for a more socially conscious, culturally vibrant, and racially just Portland
Tender Table – Celebrating Black and Brown community by connecting and honoring our identities, traditions, joy, resilience, and fight for collective liberation through storytelling and food
Black Portland Organizers Working to End Racism (P.O.W.E.R) – Through our work, we seek to end the systematic oppression of Black people
Southern Maine Workers' Center – We're a grassroots, member led organization working to improve the lives, working conditions, and terms of employment for working class and poor people in Maine
The Alpha Legal Foundation – Increasing the number of underrepresented attorneys in Maine's top positions of legal leadership and scholarship
I Am Willing – provides tools and resources specifically designed to help the Black community create legacy plans
Portland Empowered – strives to ensure that student and parent voices are reflected in policy and practice within Portland Public Schools
The Third Place – Creating An Equitable Quality of Place for Black Mainers
Maine Youth Action Network (MYAN) – a statewide network of committed adults and passionate young people who believe in the transformative power of youth leadership
Survivor Speak – formed to push the movement to address root causes of what we call 'sexploitation':  systemic poverty, racism, and misogyny
Elsewhere
Black Spirit 4 Life – Celebrating cultural diversity through unity
The Greater Bangor Area Branch NAACP – an all-volunteer, nonprofit, nonpartisan organization dedicated to the eradication of racism in all its forms
Bowdoin Black Student Union – The goal of the Black Student Union is to support all of its members academically and socially in order to help them reach the highest levels of achievement on campus
Maine Inside Out – activates individuals and communities to imagine and embody freedom through art, advocacy and support, and transformative justice
The Maine Women's Fund – We are consciously, thoughtfully, and actively learning to use our organizational power and privilege to redistribute and rebalance power and resources
Downeast Diversity – Stories of people and culture in Maine
The Mount Desert Island Racial Equity Working group -We are a group of Mount Desert Island residents who aim to deepen our understanding of power and privilege and to foster racial justice, equity, and inclusion on MDI and beyond, always recognizing our shared humanity
Black Heritage Trail NH – Promotes awareness and appreciation of African American history and life in order to build more inclusive communities today
Seacoast African American Cultural Center – Sharing our history within the community