Connect with the Library:
Every Child Ready to Read @ Your Library
Afsoomaali  |  Arabic  |  Español  |  Français  |  Lingala  |  Português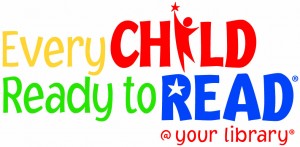 Early literacy is what children understand about reading and writing before they can actually read and write. The building blocks of language and literacy form in the first three years of a child's life. Early childhood experiences impact how a child's brain will develop. Early literacy skills include:
Being interested in and enjoying books
Knowing the names of things, noticing letters and words, knowing how to handle a book, knowing how to follow words on a page
Being able to describe things and events and tell a story
Knowing that letters have names and sound different from each other
Hearing and playing with the smaller sounds in words
Reading, playing, talking, singing, and writing are the five practices that stimulate the growth of a child's brain and make the connections that will become the foundation for reading. Click on the links below for more information on these practices. Included in these packets are research, available library resources and suggestions about how you can get your child ready to read!
Building Early Literacy Through Play
What Kind of Book Does My Baby Need?