Born in 1927, Roger Moore grew up in London and quickly turned towards acting. As a teen, he attended the Royal Academy of Dramatic Art along with Lois Maxwell, the original Miss Moneypenny. This significance of this chance encounter would not be evident for another thirty years. At the age of 18, Moore was conscripted into military service.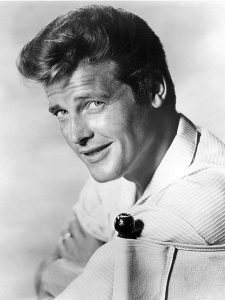 In the early 1950s, Moore worked as a model and eventually landed a contract with MGM where he had minor roles. In the late 1950s, he worked for Warner Brothers where he continued his streak of minor roles, but this time for television. In 1958, he won the role of Sir Walter Scott in the television series Ivanhoe. This was followed by a lead role in the 1959 television series The Alaskans. He then had a recurring role in the television series Maverick, which led him to his breakout role as Simon Templar.
From 1962 to 1969, Roger Moore was Simon Templar. Simon Templar was a character from a series of books by Leslie Charteris who was the creator of The Saint. It was obvious to many, that Roger Moore was destined to play the role of a super spy and was offered the role of James Bond twice during that time.
In 1973, Roger Moore lit up the silver screen in Live and Let Die co-starring Jane Seymour who played a very young and impressionable fortune teller. In 1974, Roger Moore fought against villain Christopher Lee, in The Man with the Golden Gun. This was followed by The Spy Who Loved Me in 1977 and the space-caper, Moonraker in 1979. Moore continued his Bond romp with For Your Eyes Only in 1981. In 1983, Bond snuck onto the women only island in the body of hollowed out fake crocodile in Octopussy. Moore's final foray into the Bond franchise pitted him against Christopher Walken and Grace Jones in 1985's A View to a Kill. Roger Moore was Bond for 12 years, longer than any other actor to date.
Love him or hate him, Roger Moore brought a certain comedy to James Bond. His one-liners, fraught with sexual innuendo, diminished the seriousness of the character according to some. For others, it became as much of a part of the character as Q's gadgets.
Moore's post Bond roles were abundant, but surely not as memorable as either of his spy personas. He wore a tuxedo better than any other.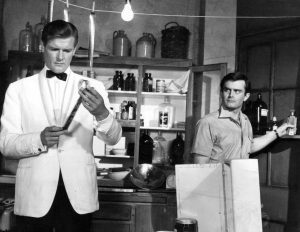 Among the many honors Moore received, some for humanitarian efforts, some for his acting, Moore was knighted in 2003 in honor of his charity work.
Sir Roger Moore, we will miss you!
Then how about a nightcap on the company? My company.
-James Bond The Spy Who Loved Me
Sir Roger Moore b. October 14, 1929 d. May 23, 2017