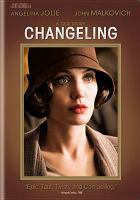 Los Angeles, 1928. A single mother named Christine Collins returns home from work to find that her son, nine-year-old Walter, is missing.
A few months later, the police inform her that Walter has been found alive in Illinois, and they gather the media to witness the joyous reunion. In fact the reunion is a publicity stunt, meant to counteract the perception of corruption within the police force. Collins is prepared to play her role as the relieved and grateful mother, but there's one problem: This child is not Walter.
So determined is the LAPD to preserve their image as honest and helpful that they do all they can to persuade Collins to just accept the child as her own and shut up about it. When she refuses to do that, they attempt to discredit her, ultimately having her declared insane and committing her to an asylum.
Folks, this is a true story.
Meticulously researched by J. Michael Straczynski, who wrote the screenplay. Directed by Clint Eastwood and starring Angelina Jolie in one of her most heartbreaking performances.
Join us on Thursday evenings for our Mothers in the Movies series, and choose a Mother's Day movie from our recommended list.