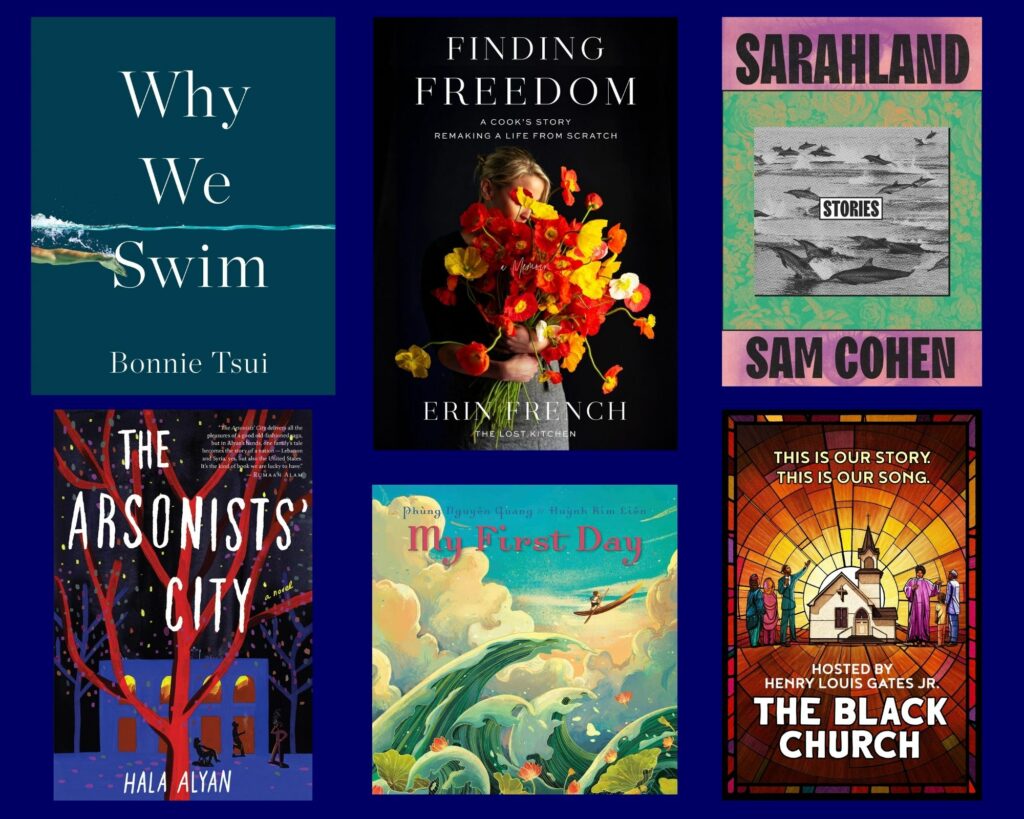 Looking for a few fresh ideas from the library? We're reading our way from May into June with these wonderful spring picks.  
Read on for a pile of Aprill's favorite picture books for kids and families, Sarah Mari exploring something old and something new, and Stephanie's top mystery of the year. Raminta shares new jazz and hip-hop books from adult nonfiction, Becca reveals favorite hidden gems from adult fiction, and you'll discover the books full of humor and heart that converted Eileen to a graphic-novel-enthusiast. And more!  
Thanks for joining us—we hope you'll find something new and exciting, too… 
---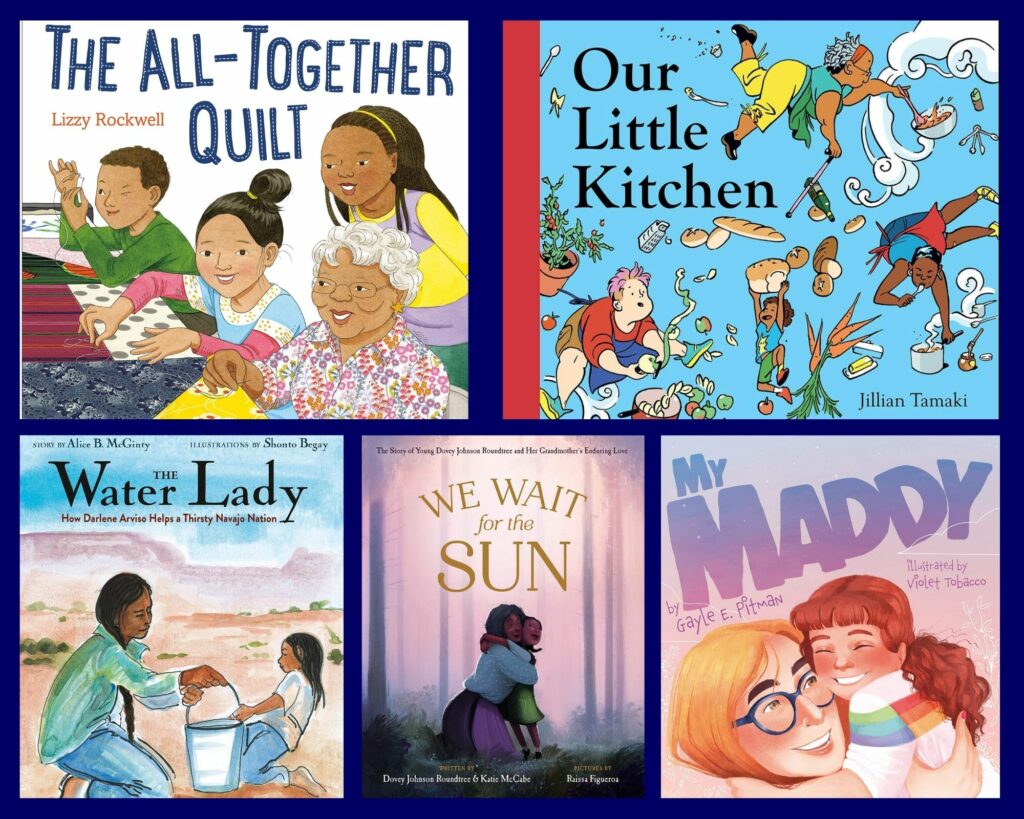 Aprill's Picks 
May has brought so many truly exceptional picture books to our catalog! Here are picture books that are tender but mighty, spare but powerful, books that filled my heart, books brimming with powerful words and stellar illustrations: 
We Wait for the Sun  is an autobiographical picture book that takes us to the childhood of legendary civil rights attorney and activist Dovey Johnson Roundtree.  
Both The All Together Quilt and Our Little Kitchen celebrate community and connection, and the joy that can come when many hands work together. 
Lubaya's Quiet Roar speaks to the power of quiet and creativity, and of the many ways that we can speak up for what we believe in. 
Lush and dreamlike, My First Day lets us go on an epic journey with a little boy as he travels the Mekong River to get to his first day of school.  
Gayle E. Pitman's latest, My Maddy, is all about a child's love for their non-binary parent. It's very, very sweet.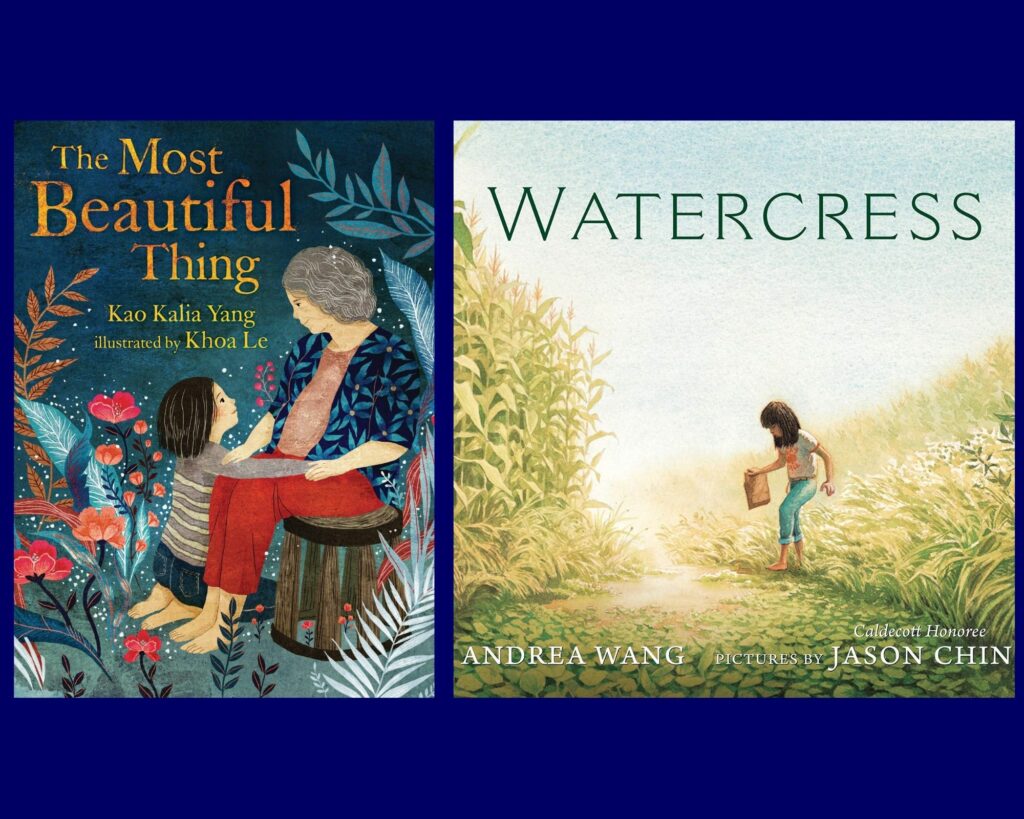 The Water Lady  is another nonfiction-based picture book. Day in and day out, Darlene Arviso delivers water to her neighbors on a Navajo reservation in New Mexico. On average, people in the US use around 100 gallons of water per day. Yet residents of the Navajo Nation have such limited access to water that their per person consumption averages around just 7 gallons per day. Tank load by tank load, house by house, bucket by bucket, Darlene Arviso serves her community with incredible dedication.  
We Wear Masks breaks it down pure and simple: we wear all kinds of masks for many reasons at many different times in our lives; right now, we wear masks because we care about each other. 
And my top three: Our Subway Baby, in which Peter Mercurio tells the unlikely (but true!) story of how one man found a baby and one family came to be. Watercress speaks of family and food and heritage, loss, and memory. The Most Beautiful Thing is drawn on the author's experiences as a Hmong refugee, and the tender force of love between a grandparent and child. 
---
Cindy's Pick 
I am very excited about reading one of our 2020-2021 Maine Student Book Awards graphic novels: Lily the Thief by Janne Kukkonen. "We are called by many names: bum, scoundrel, lowlife, valued citizen. Our trade is theft, discretion, stealth.  We disappear into the crowd, unnoticed by the masses.  Our faces forgotten, our voices unheard.  We are robbers, crooks, bandits.  The lawless dregs that flourish in this crowded city.  And yet…amid all the chaos and confusion, we have our honor."   
Lily is a young novice who dreams of being a master thief.  She must fight to save the same people who have branded her an outcast.  Can she use her cunning to put an ancient evil to rest?  
This beautifully illustrated graphic novel not only offers up captivating illustrations, but a compellingly strong female character. 
Hannah's Pick 
I'd like to recommend the wordless picture book Migrants, by Issa Watanabe. With incredibly beautiful art featuring many different animals fleeing a leafless and dying forest, this book is a timely exploration of what is endured by those who cross borders in search of safety and a new life. Because it is wordless, Migrants is for anyone of any age, language, culture, or reading ability level. It is a potent and deeply affecting reminder of how connected we are to one another, and of how much harder some must struggle just to survive and call a place home. Migrants is bursting with grief, darkness, beauty, community, love, resilience, and joy—all without a single written word. 
---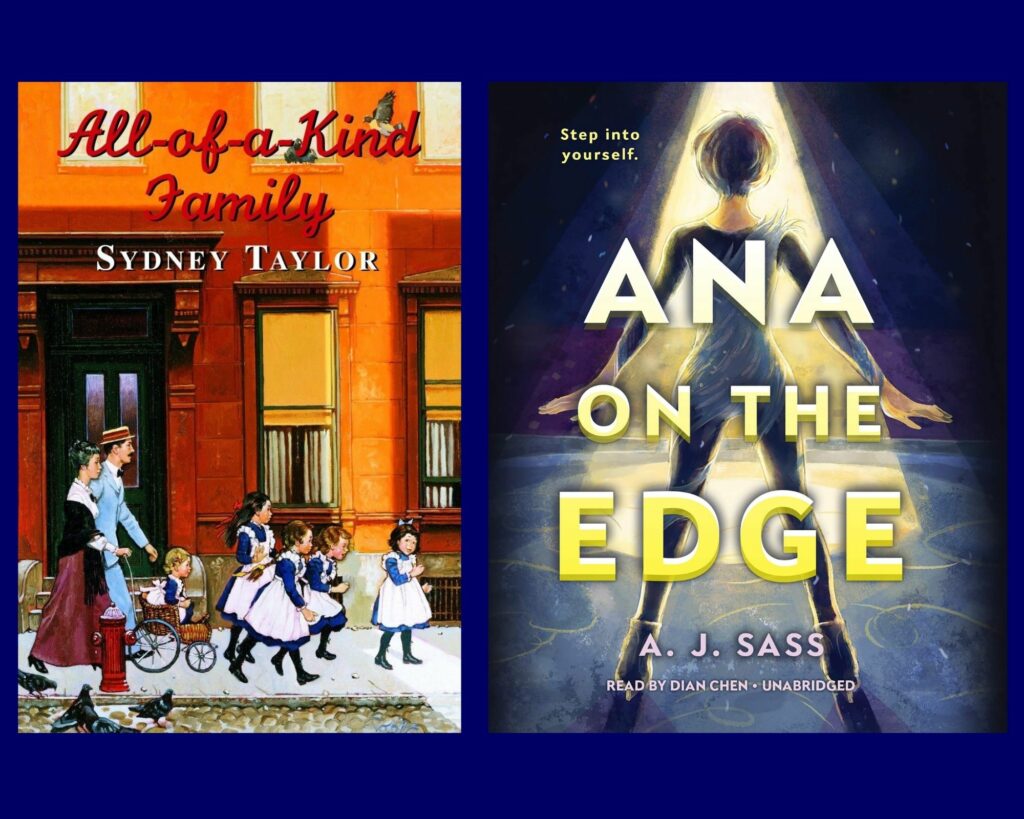 Sarah Mari's Picks 
Something Old: All-of-a-Kind Family by Sydney Taylor. I must have checked this book series out of the library at least ten times when I was younger! Taylor creates a slice of what life was like in the Lower East Side for Orthodox Jewish families in the early 1900s, following the All-of-a-Kind family, so-called because the family has five sisters–all two years apart–ranging from twelve-year-old Ella to four-year-old Gertie. The books show the intersection of Jewish and American traditions for the young family and are delightful even more than 70 years after publication.  
Something New: Ana on the Edge by A.J. Sass. After a very successful year of figure skating competitions, culminating in a championship win, Ana-Marie Jin's coaches decide that it will be better to switch rinks for the upcoming season to access better training and more coaching time. To help ease the financial burden on Ana's single, working mom, Ana agrees to help teach beginner lessons. There, Ana meets Hayden, a transgender boy, who mistakes Ana for a boy. Ana doesn't correct him and it leads to a new burst of strange feelings. Ana knows that frilly skating dresses are uncomfortable and that being called a boy isn't quite right either… but what is? Sass emotionally explores the idea of a young skater learning about non-binary identity in a very binary world, both the confusing lows and euphoric, self-affirming highs. 
---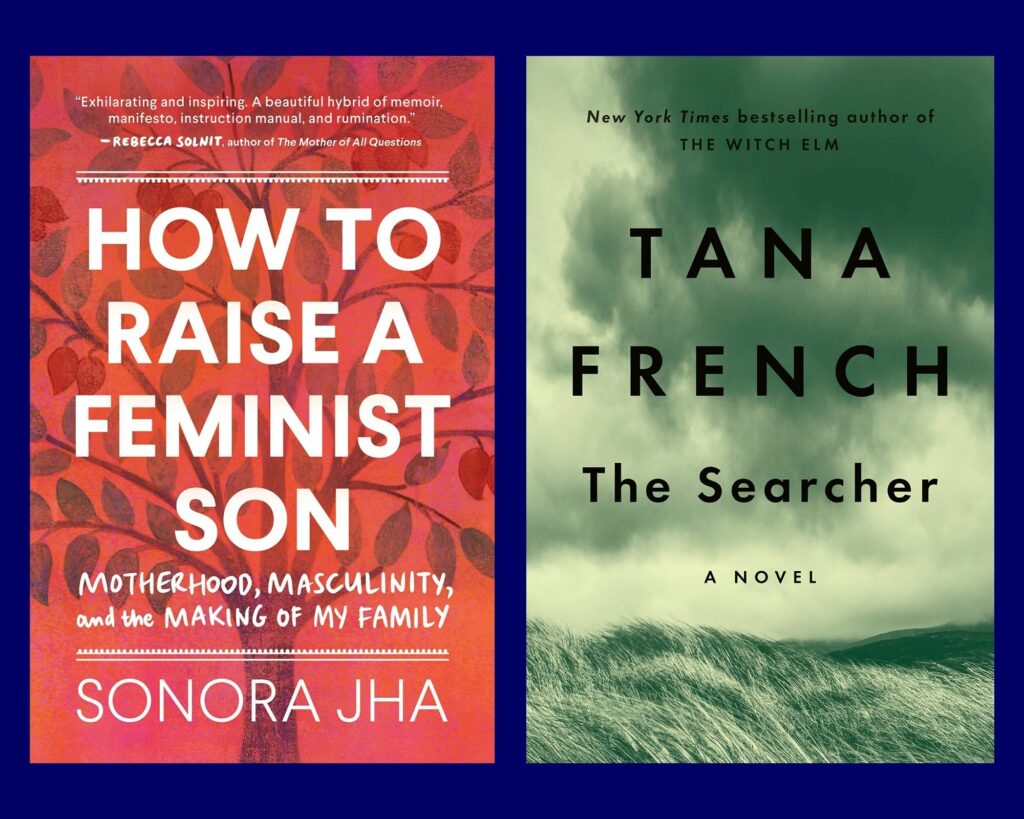 Kristin's Pick 
I am loving How to Raise a Feminist Son by Sonora Jha. "Literature builds empathy and empathy builds solidarity, especially as a toddler boy imagines the wide, wide world and, one day, helps reimagine it."  
Stephanie's Picks 
The Searcher by Tana French is one of the best reads I've had this year. It's an atmospheric tale of Cal, a retired Chicago cop, who is reluctantly searching for a missing teen in rural western Ireland. Trey is Brendan's 13-year-old sibling, who bullies Cal into the search, because he thinks the locals don't care. Powered by perfect, graphic yet lyrical prose, and shrouded in a menacing cloud of violent evil, The Searcher will push you, like me, deep into the night toward a challenging conclusion. 
---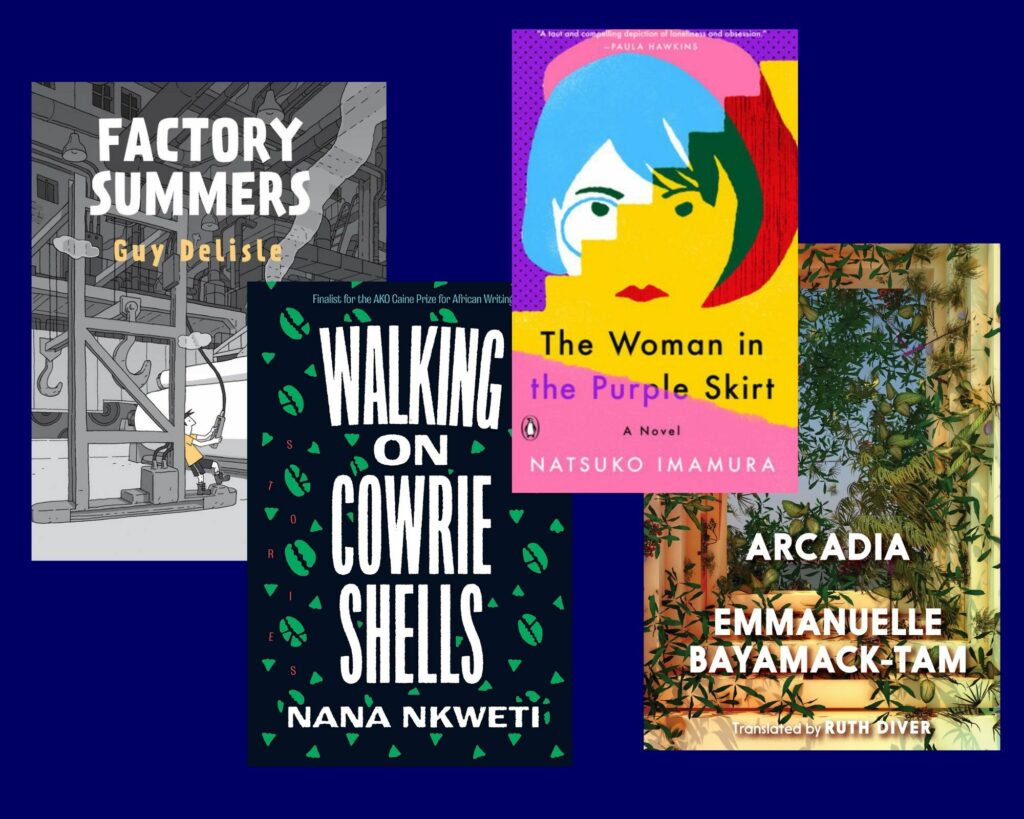 Becca's Picks 
I had a tough time picking only four items to highlight this month! There are so many great titles being released this spring. Here are four books that are well-deserving of a little extra buzz: 
Arcadia, by Emmanuelle Bayamack-Tam: Farah and her family move to Liberty House, a French back-to-nature compound disconnected from the technological outside world. As Farah grows older in Liberty House and learns she is intersex, she begins to question their leader's commitment to the ideals they preach. This prizewinner explores gender identity, forced migration, and the wielding of power in alternative societies. I also offer a content note – this book discusses sexual abuse. 
Walking on Cowrie Shells, by Nana Nkweti: This story collection blends horror, magical realism, and satire in stories centering the Cameroonian diaspora. You'll get murder mystery, zombies, and mermaids alongside exploration of race and religion. This is Nana's debut collection, and I'm so excited to see what else she has in store! 
The Woman in the Purple Skirt, by Natsuko Imamura: The Woman in the Yellow Cardigan has a singular obsession: watching The Woman in the Purple Skirt. Eventually, they begin to work at the same hotel, where the voyeurism intensifies. This slow-burner will appeal to thriller fans who prefer subtly over surprise.  
Factory Summers, by Guy Delisle: Guy recalls the teenage summers he spent working in a paper mill in Quebec City. Guy's coming-of-age tale showcases the factory ecosystem, including classism, sexism, and grueling labor conditions. Fans of Lucy Knisley's graphic memoir style will enjoy this book, along with those who have their own paper mill histories. 
---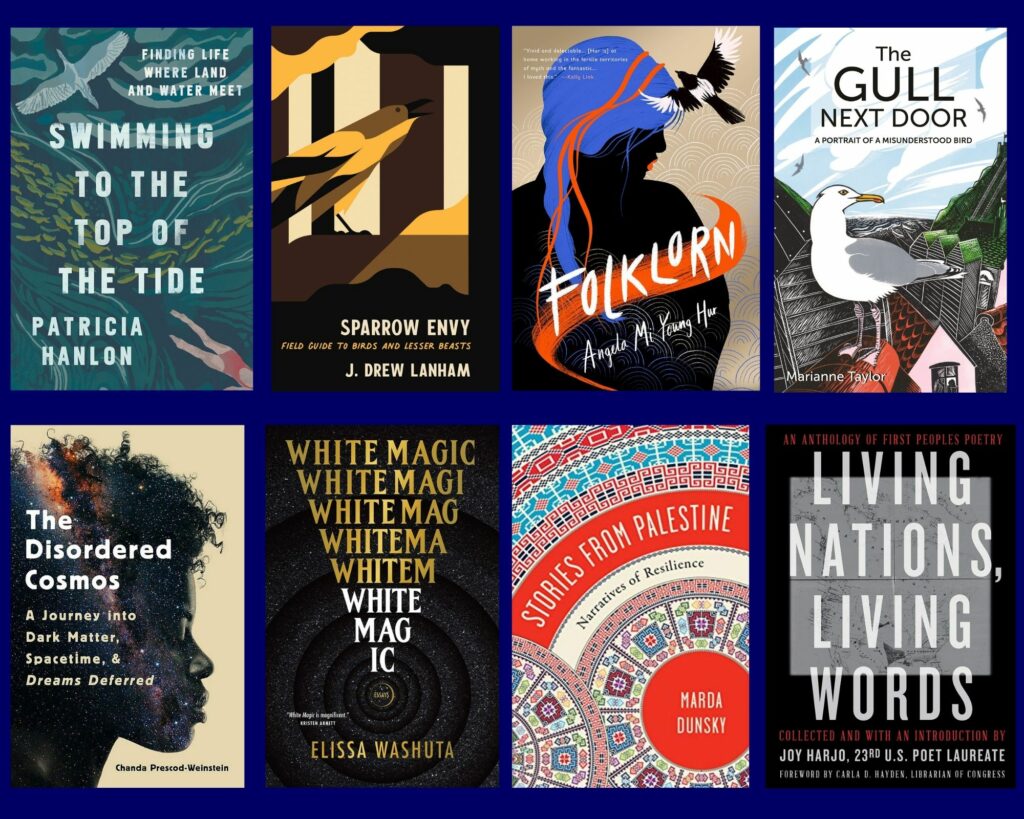 Elizabeth's Picks 
Two beautiful books about swimming from this lover of swimming: Why We Swim by Bonnie Tsui and Swimming to the Top of the Tide by Patricia Hanlon.  
A birding book in poetry and prose from J. Drew Lanham: Sparrow Envy.   
A book about gulls—those screeching, soaring, tiny dragons nesting everywhere on the rooftops of Portland right now: The Gull Next Door by Marianne Taylor.  
A book of quarks, axions, dark matter, and a leading physicist's own story: The Disordered Cosmos by Dr. Chanda Prescod-Weinstein.  
A fictional physicist at an Antarctic observatory in a novel about science, Korean mythology, family, and love by Angela Mi Young Hur: Folklorn. A (new!) multigenerational, world-traveling tome from Hala Alyan: The Arsonist's City. Piercing, funny, queer coming-of-age short stories about a multitude of Sarahs by Sam Cohen: Sarahland.  
A new anthology of First Peoples poetry edited by Joy Harjo: Living Nations, Living Words. Spellbinding personal essays from Elissa Washuta on land, Fleetwood Mac, Indigenous history, Twin Peaks, magic and more: White Magic.  
A Maine cook's story from Erin French: Finding Freedom. A book about Palestinian math champions and theater directors and ballet instructors and brewery owners and organic farmers: Stories from Palestine.  
---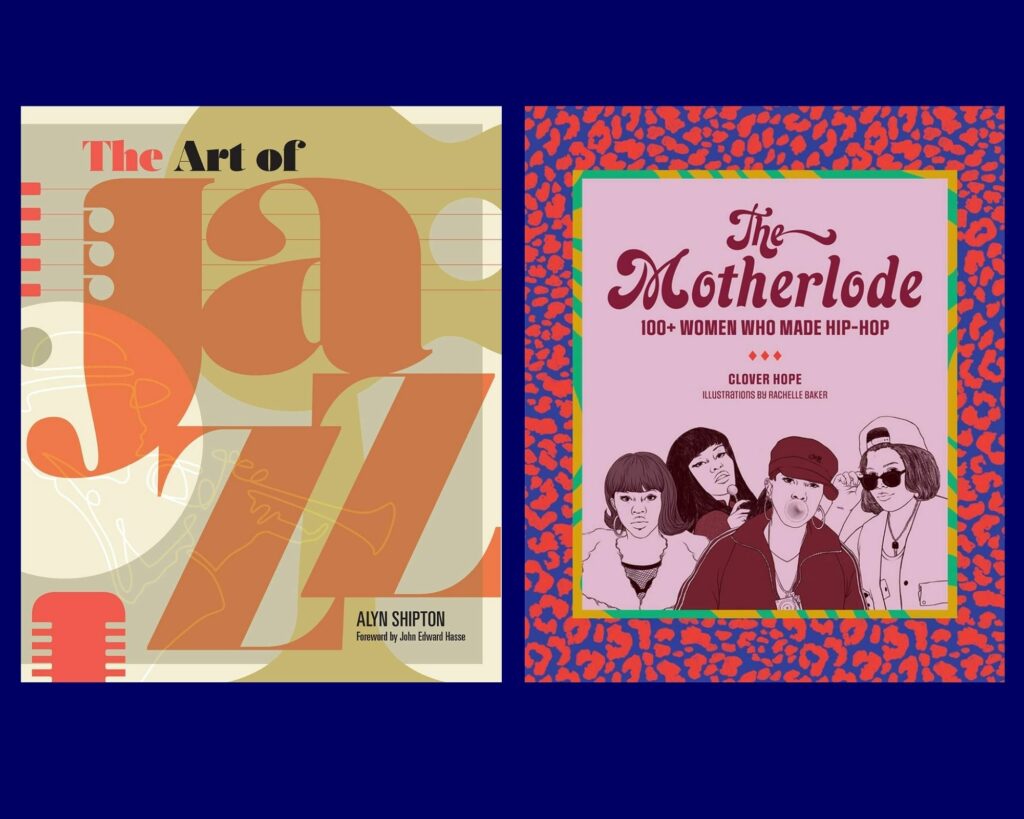 Raminta's Picks 
One of my picks for May is The Art of Jazz by Alyn Shipton. The book is like a scrapbook of the history of jazz in the twentieth century. It is filled with album covers, promotional materials, photographs and so much more. It's a great book to just sit and flip through while listening to your favorite jazz album. 
My second pick is The Motherlode: 100+ Women Who Made Hip-hop by Clover Hope. If you are interested in the history of women in rap and hip-hop, this is the book for you. Each entry features a female artist, their history, a "favorite moment" from their career, and the title of a song the author recommends you listen to. The Motherlode covers more familiar artists like Missy Elliott and Queen Latifah (all hail!), controversial break-outs like Bytches With Problems and Lil' Kim, and finally brings us to the present with shoutouts to artists like Lizzo, Megan Thee Stallion, Doja Cat, Leikeli47, and more. With its easy layout and fantastic illustrations, it's a quick read that will make you want to pop in your earbuds and get your jam on. 
My final recommendation is The Black Church: This Is Our Story, This Is Our Song by Henry Louis Gates, Jr. If you are a PBS watcher, this title may be familiar to you as this book was the basis for the recent documentary The Black Church: This Is Our Story, This Is Our Song. Both beautifully detail the history and importance of the Black Church and how it has shaped culture. 
---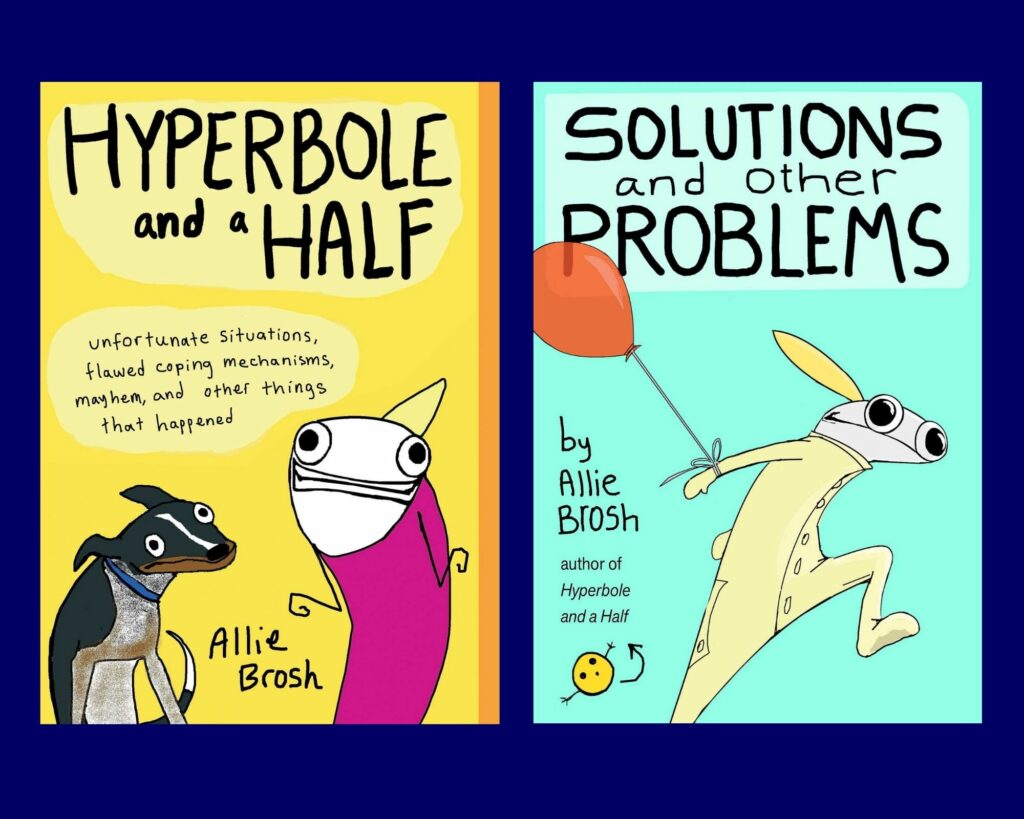 Eileen's Picks 
Allie Brosh x 2  
For no reason other than ignorance, when graphic books became a mainstream thing I decided I wanted nothing to do with them. No, thanks. Not my cup of tea. Then, in 2013, I picked up Allie Brosh's autobiographical Hyperbole and a Half: Unfortunate Situations, Flawed Coping Mechanisms, Mayhem, and Other Things That Happened, because—come on—who could resist the title? It was wonderfully real and utterly absurd. Quirkily perfect drawings. Very much my cup of tea, as it happens. In a limited way, I was a convert: I would at least read Allie Brosh's graphic books.  
At long last, in the fall of 2020, her second book was released: Solutions and Other Problems. Brosh has been through a lot in the interim, and she tells those stories in heartbreaking detail. She also revisits scenes from her childhood, too absurd to be anything but real.  
It starts like this: "The first time I can remember feeling powerless, I was three, and I was trapped sideways in a bucket in the garage." 
How could one not read on? So I kept reading, giggling and weeping and nodding in recognition of life's weird ways and our stumbling stabs at getting through them. You know, the Solutions. And the Other Problems, too, with the whole 514 pages flying by and landing in the author's acknowledgements, which strikes me as a quiet masterpiece all on its unillustrated own, concluding with, "I would also like to thank the sun, for keeping everybody warm and supplying vitamin D for our bodies."  
What she said. My sentiments exactly.  
Read these books even if you think that graphic books aren't your cup of tea. You're going to love them. 
---
As ever, thanks for reading! To get your own personal list of reading ideas (whether you're a kid, teen, or adult) try our Your Next Great Read service.  
You can find a complete booklist of The Most Beautiful Thing: Spring Staff Picks here.
And if you've been staying up late on these long spring nights and are getting ready for summer reading—on the ferry, in the park, on the beach!—you can find stacks of new novels in our Spring and Summer Fiction Faves booklist.