Last month, the world lost one of its most beloved inspirations and artists. Ashley Bryan passed away on February 4 in Texas where he had been living with family during COVID.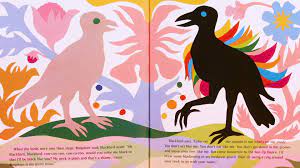 For over 30 years, Ashley created his art full-time in Maine. Inspired by his beautiful natural surroundings, Ashley created paper collages and cut linoleum block prints, built hand puppets, and even crafted a series of stained-glass windows using sea glass he found on the beach which he gifted to his island community church. And of course, he  illustrated more than 70 books, bringing  his stories to life with vibrant colors and imagery. At age  81 he published "Beautiful Blackbird," a story celebrating community and individuality.
To those who knew Ashley, his energy  and creativity was a joy. One of those people lucky enough to be part of Ashley's dynamic world was Mary Peverada, Portland Public Library's Youth Services Director. She recently reflected on her time spent with Ashley in this lovely tribute:
"I feel that I need to reflect on the amazing life of Ashley Bryan. He was truly the kindest, most joyful, sweetest, generous person that I ever met. I was privileged to call him a friend.  Many of my interactions with Ashley were at storytelling events – and it was an honor to share the stage with him.
Ashley appeared at one of the earliest Lysla Abbott Storytelling Festivals at Portland Public Library. He appeared with Anne Pellowski (another powerhouse teller).  Both of them shared their cultures with the audience through story – and the audience loved them!  Ashley had everyone – child to adult – reciting poetry and folktales and singing spirituals with spirit, joy and decibels. At his appearances – as author, storyteller, poet and artist, no matter which hat he was wearing, he was a pure delight.
We met up at many library conferences from New Orleans to Chicago to San Francisco and always enjoyed a few moments to chat.  I also have some treasured correspondence from Ashley.  But my highlight was visiting Ashley at his home on Islesford.  It was an amazing day! He gave us a tour of the island, made chowder for our lunch, gave us homemade jam – and shared his delightful home. His shelves were covered with sea glass, puppets, and toys from around the world.  His sun-soaked studio was filled with wondrous art as seen in his beautiful books – and puppet creations were coming to life.  It was a truly magical day.
People pass in and out of our lives – and they are all special.  However, there is a small number of folks who turn the world on its ear and bring beauty and joy.  Ashley was a national treasure.  He inspired us all.  May we never forget him.
Rest in peace dear friend."
Mary Peverada
Youth Services Director
Portland Public Library