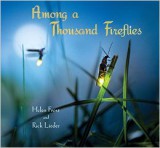 AMONG A THOUSAND FIREFLIES
Poem by Helen Frost and Photographs by Rick Lieder
Published by Candlewick
A beautiful tale of two fireflies seeking each other in the dark among thousands of other fireflies. (An end-note explains how the male and female fireflies are seeking flashes that are in sync.) It is the simplicity of the tale and the brief but captivating poem that make this book so alluring. The team of Frost and Lieder (creators of STEP GENTLY OUT and SWEEP UP THE SUN) have again exquisitely explored the natural world and the small creatures that live around us – and are often taken for granted. The photos are stunning – and the harmony of words and photos is absolute. The design of the book also adds so much.
The end-note is very informative.
As Lieder says on the book jacket flap: "Watching fireflies, we see sparks of magic come to life." Readers will long for a summer's night to go out and gaze at the fireflies.
Pick up a copy at the Portland Public Library