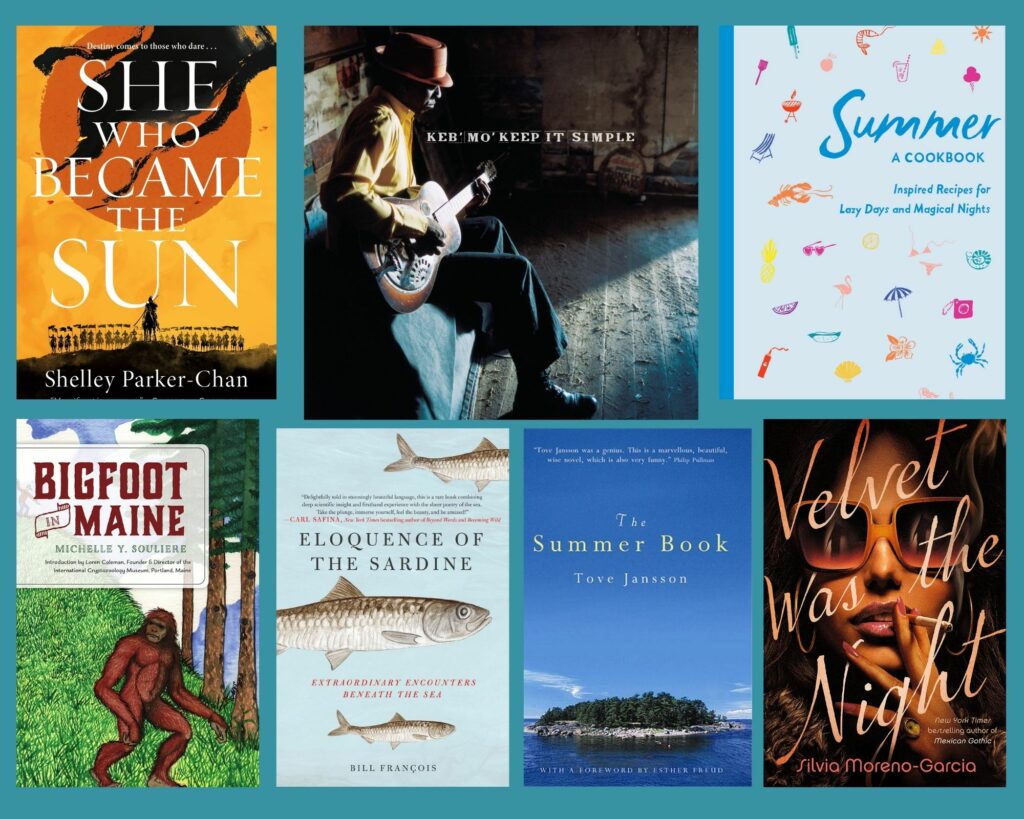 Join us as we dive into the stacks this summer with July Staff Picks! Here are cookbooks, movies, music, novels and nonfiction we're reading, watching, and listening to as the thunderstorms roll and we try to beat the heat.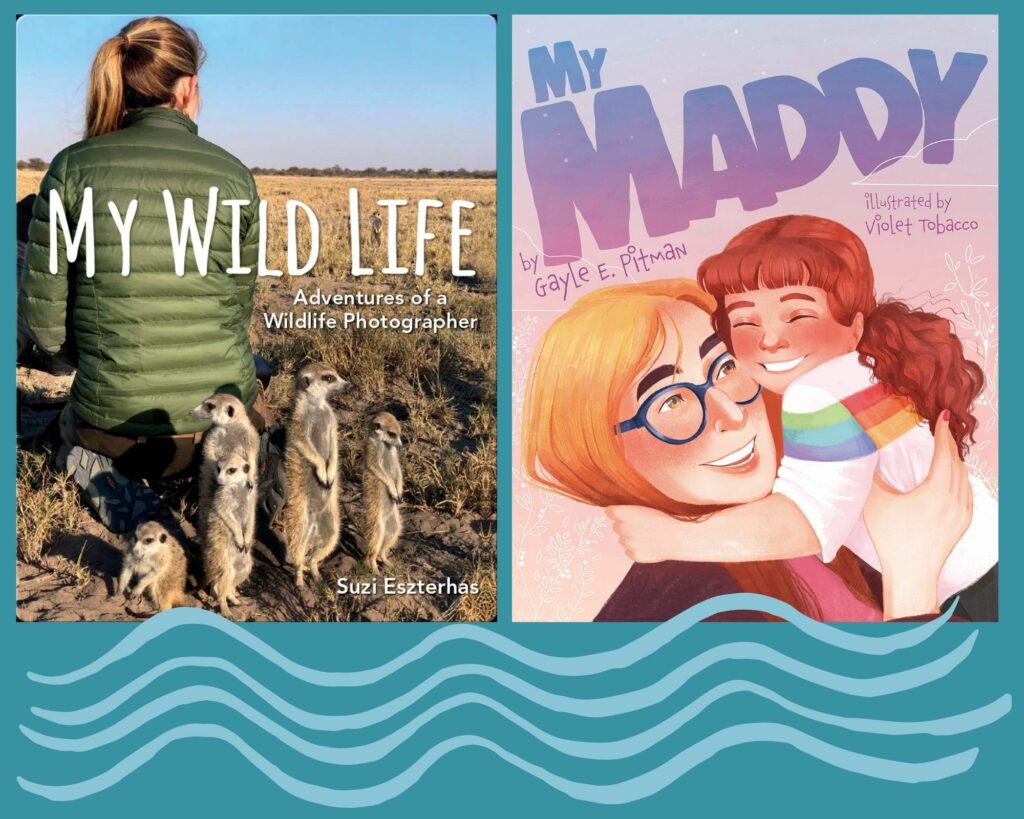 Cindy's Pick 
As a professional landscape photographer, I am very excited about a brand new non-fiction book we have in the Children's Library called My Wild Life: Adventures of a Wildlife Photographer by Suzi Eszterhas.  Suzi is an award-winning wildlife photographer whose work is published in books, magazines and newspapers all over the world, including Ranger Rick, National Geographic Kids, Smithsonian, Time, and BBC Wildlife.  
She travels all over the world to photograph her subjects, which range from adorable panda bears to fearsome tigers.  Along with the amazing photographs she takes, you learn about how Suzi lives "in the field" on her shoots.  Sometimes she is lucky enough to stay in a fancy ecolodge nearby, but she is often in very remote places where she has to sleep in a tent for weeks and use a solar shower to wash up. 
Kids and their grownups will have so much fun reading about Suzi's fascinating life and work in addition to seeing how she takes her incredible pictures.  She says: "I knew I wanted to be a wildlife photographer since I was a young girl.  I told my parents that I wanted to live in a tent in Africa.  They encouraged me and taught me never to give up on my dreams."  
Don't miss out on this gem of a book that is just jam-packed with Suzi's pictures and the marvelous story of her life. 
Hannah's Pick 
I'd love to recommend My Maddy, a picture book by Gayle E. Pitman and illustrated by Violet Tobacco. In it a child walks the reader through a day spent with their fun-loving parent, who is neither a boy nor a girl—their Maddy! 
The story, and Violet Tobacco's illustrations, are warm, simple, lovely and full of joy. There is a helpful note to readers at the back of the book explaining some of the concepts and issues that concern trans, non-binary, gender-diverse, and intersex parents and families.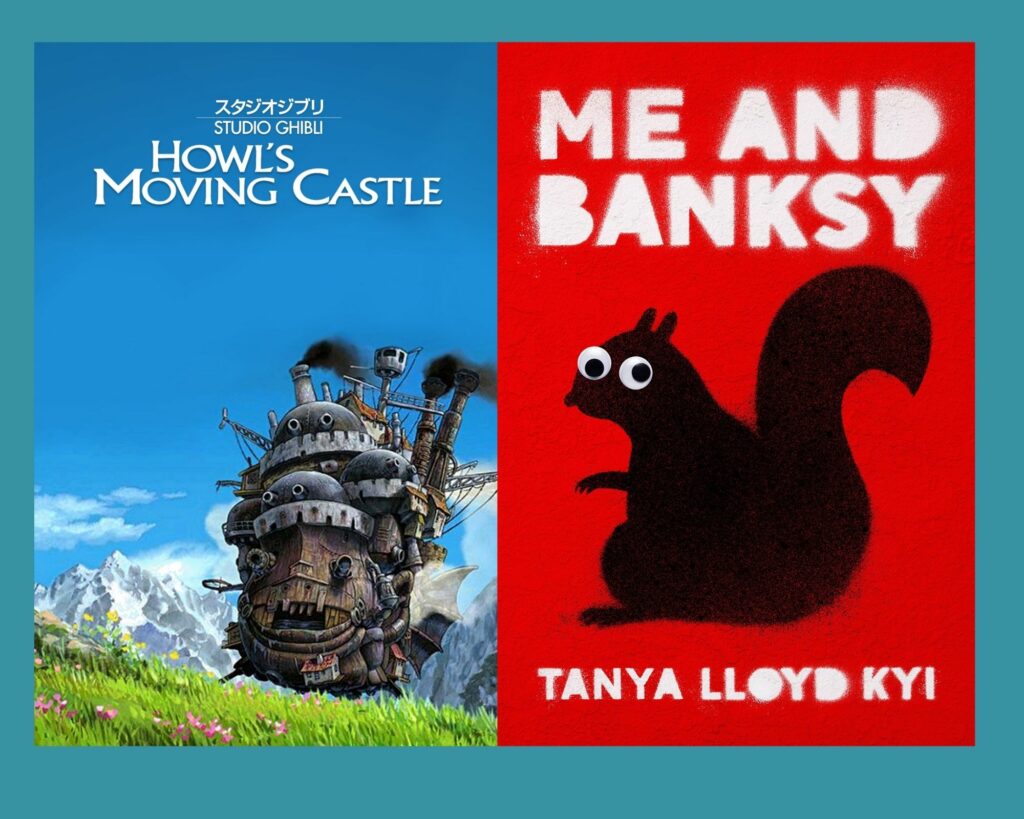 Sarah Mari's Pick 
Based on the wonderful book by Diane Wynne Jones, Howl's Moving Castle assembles atmospheric music, fluid animation, and masterful performances to create a viewing experience that both is delightful and touches something deeply emotional. With some (condemned) depiction of war, young children might find this film scary, but older children, teens, and adults alike will all enjoy an escape into the world of Howl and Sophie. Anyone who loves a bit of a deeper dive into their media should check out "Howl's Moving Castle: An Underrated Masterpiece" by BREADSWORD to examine the beautiful way that this film can connect with our real-life experiences over the last few decades and even the last year and a half. 
Carrie's Pick 
In Tanya Lloyd Kyi's Me and Banksy, Dominica Rivers fights back against the surveillance of her private middle school, Mitchell Academy. The school's Latin motto is securitas genera victoria or security breeds success. Classroom cameras and ID badges that let grownups know where the children are at all times are marketed to make families feel safe. But Dominica learns how unsafe you can feel when you never know who's watching or recording. When video is posted on an online chat forum of her and other children in moments no one wants made public (turning your shirt right-side-out, picking your nose, or falling on your face), the choice is to live with fear or fight back. Using British street artist Banksy as her inspiration, Dominica and an unlikely group of students band together. Not only do they make a statement about the harm done by surveillance technology in children's lives and social media misuse, but they create positive change in the lives of all students and make friends while they work together. 
Inspired by art and driven by a keen sense of justice, Dominica is the kid I wished I had been when the relentless and arbitrary rules of school made me flee to the Bookmobile for solace and escape. You will cheer for Dominica's bravery as she risks getting into "good trouble," and who knows—you might even be inspired to question surveillance, social media, and panoptic problems in creative and bold new ways.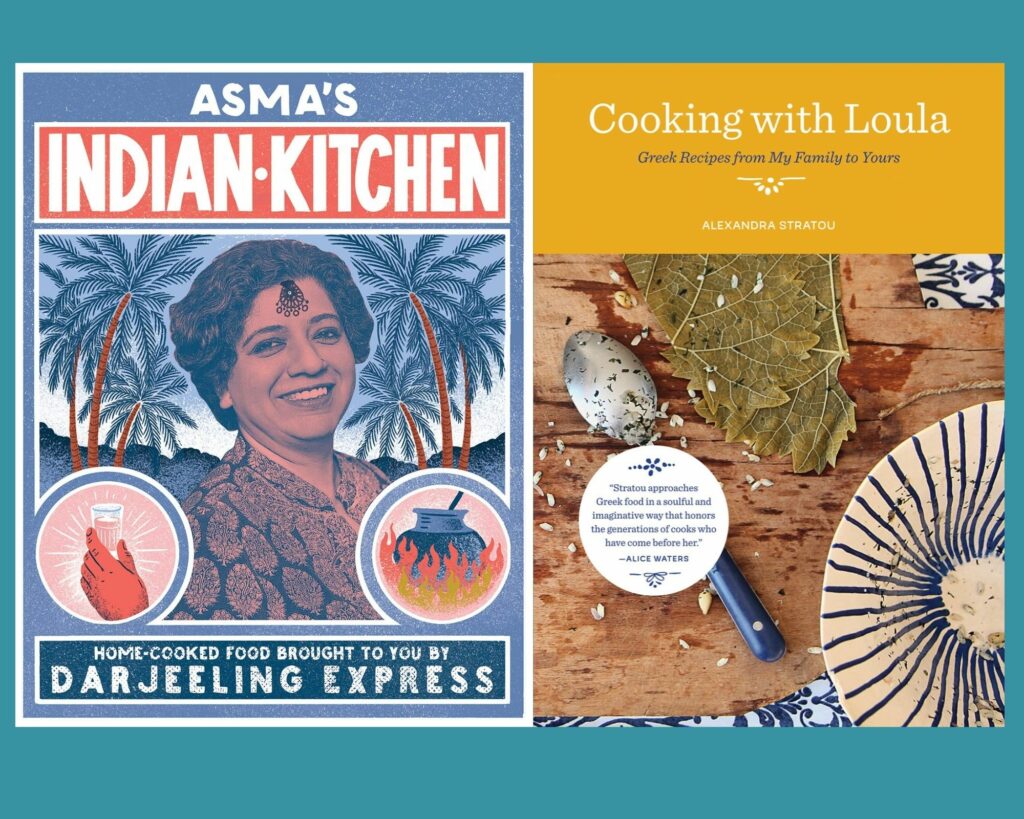 Aaron's Picks 
For many of us, the travel restrictions of the last year have meant cancelled trips at home and abroad, and less travel means less exploring of the regional cuisines of our destinations. Even trips to favorite local restaurants had to be curtailed, and we learned that some foods lend themselves better to takeout than others.  
Cookbooks are no substitute for experiencing food and culture firsthand, but cooking from the library's collection has been a way for me to keep exploring while staying home. Here are a couple cookbooks that have helped fill our house with delicious flavors, amazing smells, and bright colors over the last few months.  
Asma's Indian Kitchen, by Asma Khan, traces a culinary route across the Indian subcontinent from Bengal to Kolkata to Hyderabad. Khan is the owner and chef of Darjeeling Express, a popular London restaurant. In the introduction she shares her journey as an immigrant from India to England and her journey from being an eater uninterested in cooking, to becoming a home cook, and on to becoming a chef. I remembered reading the macher jhol (Bengali fish curry) recipe, which calls for halibut, when I heard recently about Maine's short halibut season having just opened. The next chance I got I stopped by the fish market and returned with fresh halibut in hand. We were delighted with the finished dish, quite different from and milder than other fish curries I have had in North and South Indian and Sri Lankan restaurants. The chukander (beet) raita is a simple, fast, and alarmingly-bright-pink side that is perfect for tempering spicy (or just hot) dishes. The dish we have returned to most often is keema sua pulao (ground meat with dill pulao). Pulao (or pilaf) is a rice dish cooked with vegetables and/or protein, often in broth or stock. The dill, according to Khan, is an unusual flavor in Indian cooking, borrowed from Kolkata's Armenian community. The ground meat stays somewhat in the background, making it a good side with another vegetable or meat main dish, and it's great with the raita.  
In Cooking With Loula, author Alexandra Stratou shares recipes beloved by her family, most originating with the family's longtime cook, Loula. While the relationship of the cook to the author and the eventual book left me with some questions about ownership and compensation, the introduction and text throughout illustrate the ongoing relationship between Stratou's and Loula's families and Stratou's deep respect for Loula.  The fasolakia ladera (green beans braised in oil) have become a favorite. They take more time and attention (and oil) than you might be used to giving to green beans, but it's worth the investment. There's a recipe for a simple spinach purée (in which we have been substituting beet greens – left over from the raita mentioned above – for the spinach) that is a great side and topping on dishes from this book and others from our regular repertoire. Of the main dishes, the oven-roasted lamb here is one of those recipes that is so deceptively simple (lamb, oil, wine, salt, and pepper) that you don't believe it will result in something so delicious. Desserts and more vegetarian-friendly recipes abound and I look forward to returning to this book again soon.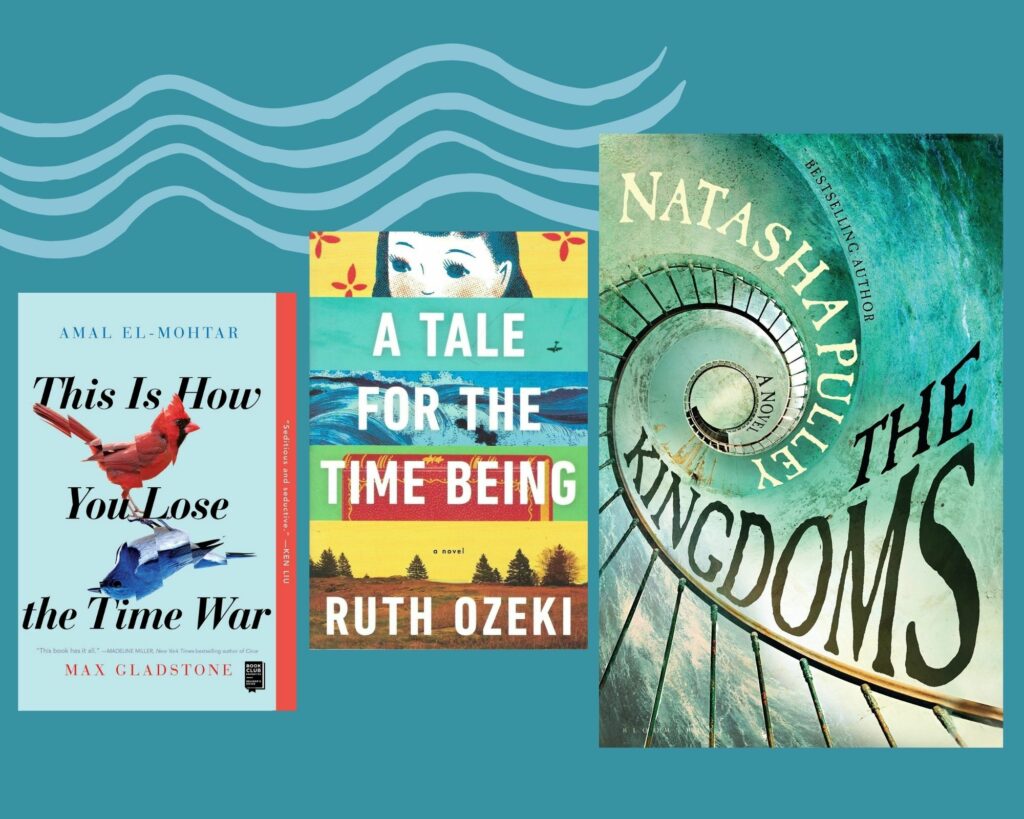 Julia's Picks
This spring, I've been reading a string of excellent books that all revolve around the theme of Time: time travel, alternate timelines, and connections forged across time. This Is How You Lose the Time War, by Amal el-Mohtar and Max Gladstone, charts the forbidden love between two agents on opposite sides of a time war. The story unfolds through the secret letters that the agents exchange on their travels across various timelines, or "threads." While it took me some time to grasp the concept, I was ultimately swept away by the image-rich prose, which becomes progressively more intricate and lyrical as the characters' relationship deepens toward an achingly beautiful conclusion.
"A time being is someone who lives in time, and that means you, and me, and every one of us who is, or was, or ever will be." Ruth Ozeki's novel, A Tale for the Time Being, begins by turning our understanding of the phrase "the time being" on its head. That's just the first hint of the surprises to come in this moving and thought-provoking book. The novel alternates between the perspectives of Nao, a schoolgirl writing a diary in a Tokyo cafe, and Ruth, a novelist who discovers the diary washed up on a Canadian island and tries to find out what happened to Nao and her family. But the answer to that question turns out to be far from simple, and Nao and Ruth are more connected than they realize. Steeped in both Zen Buddhism and quantum physics, this book left me pondering the relationship between past and present, reader and writer, long after I turned the last page.
My favorite book of the year so far has been Natasha Pulley's new novel, The Kingdoms, a gripping blend of time travel and alternate history with just a hint of romance. Pulley has a gift for writing natural-sounding dialogue for historical characters, and for revealing the tenderness concealed behind a tough exterior; both of these strengths are on full display in The Kingdoms. The story begins in an England that has lost the Napoleonic Wars and become a colony of France. Joe Tournier turns up at a train station in London (now known as Londres), with no memory of how he arrived there, and only a mysterious postcard to hint at his past. The tale that follows rewards close attention and rereading—I often found myself flipping back to revisit previous sections in light of new revelations. For fans of historical fiction and unconventional love stories, this century-spanning adventure will be time well spent.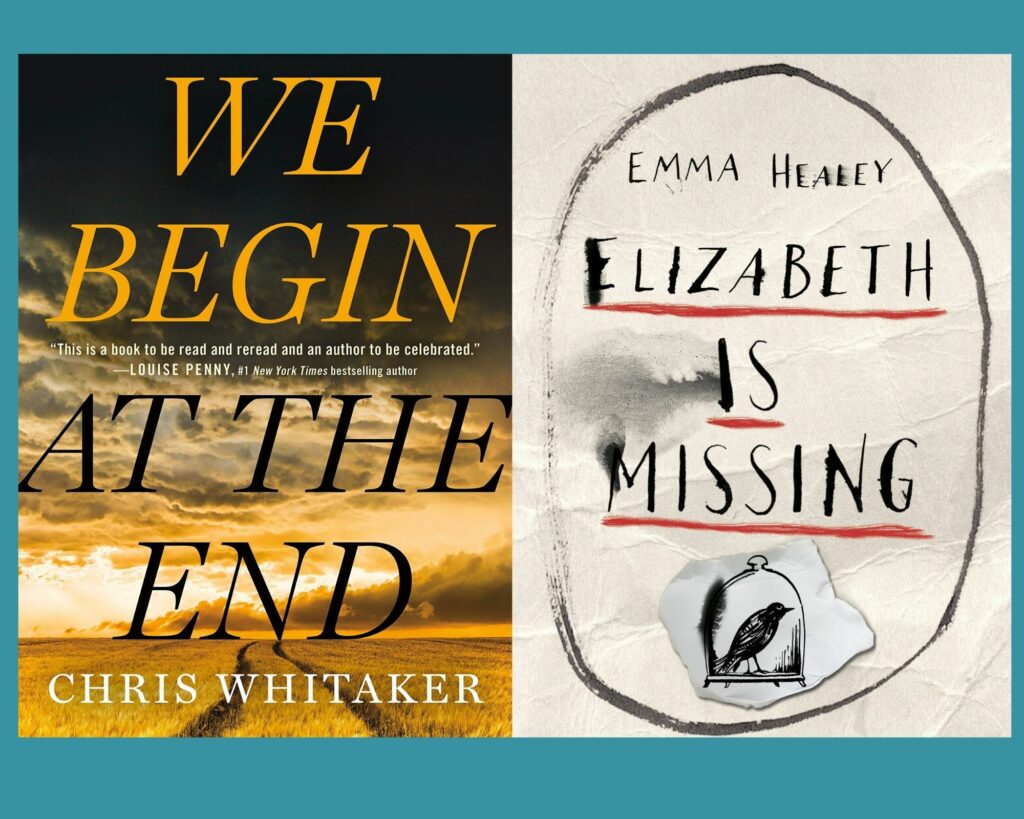 Stephanie's Picks 
All Adults Here, by Emma Staub: This is a good summer read with just the right light touch on otherwise heavy family issues. Widowed mom Astrid takes a lesbian lover; granddaughter Cecelia is bounced from Brooklyn to the "perfect" burbs after a bullying incident; and unmarried flakey daughter Porter chooses IVF while seeing a married former high school boyfriend. The characters are flawed but trying, and the personal dynamics plus small-town workings are compelling. It's a very satisfying read with good writing and people you care about. 
We Begin at the End, by Chris Whitaker: High praise from my favorite author Louise Penny led me to this powerful story. At its core, this is a murder mystery in a small coastal California town. But the tough lives and deaths of the main characters are its heart. Walk, the aging sick cop, and "outlaw" teen Duchess struggle to find a killer while trying to protect the innocents in their lives. Wonderful western landscapes frame this complex, layered, so-sad saga, which offers a glimmer of hope at the end of their journey. Louise was right to recommend this heartbreaker. 
LR's Picks 
Emma Healey won the Costa First Novel award for Elizabeth is Missing, which inspired the Masterpiece television drama of the same name. The DVD stars Glenda Jackson as Maud, "an elderly woman living with dementia who struggles to piece together a double mystery." Amazing acting earned Jackson a Bafta TV award and an International Emmy for Best Actress. As good as the film is I found the book to be even better, and it's my favorite book of the summer so far.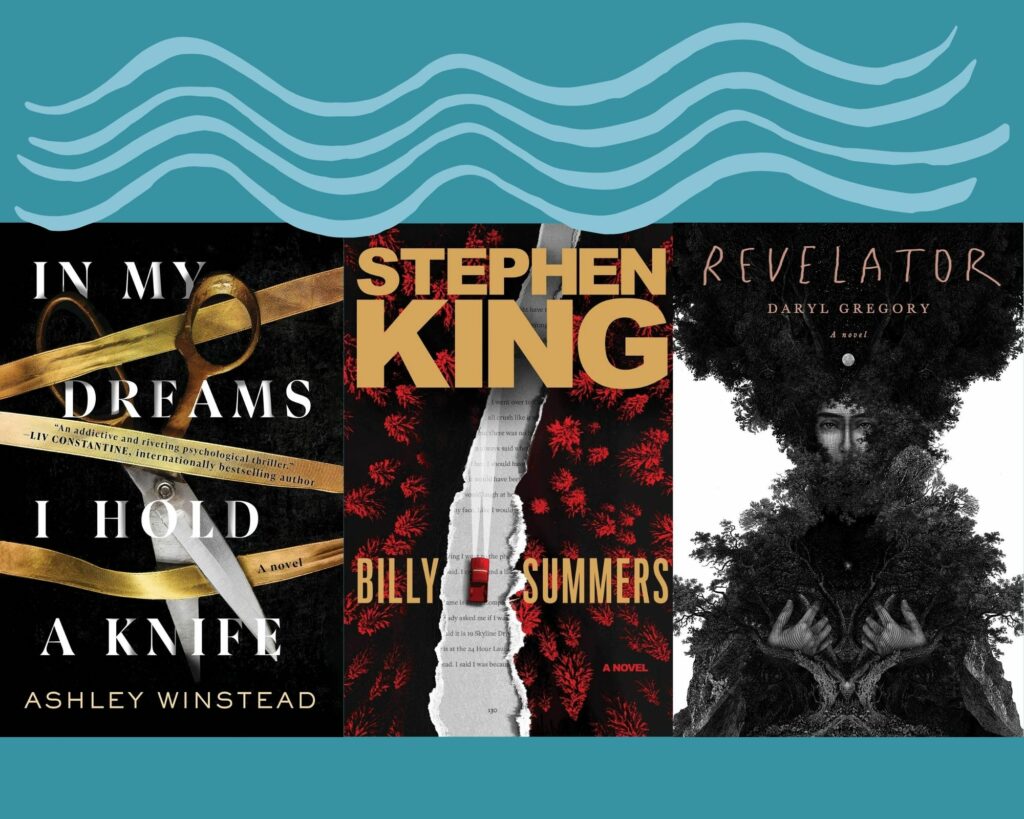 Becca's Picks 
Stephen King! Louise Penny! Paula Hawkins! 
Summertime is the perfect time to read new thrillers. While we do our best to make sure you don't have to wait too long, we expect some will have longer waiting lists than others. 
While you're waiting for your turn to read the coveted blockbusters of summer 2021, here are some hairsplitting horrors and tantalizing thrillers to keep you shivering all summer long: 
The Glassy, Burning Floor of Hell, by Brian Evenson: Murder, monsters, cults, and one very angry prosthetic leg: this short story collection has it all. This special blend of weird tales and ecological horror is sure to keep you unsettled in multiple ways.  
In My Dreams I Hold a Knife, by Ashley Winstead: An unsolved murder tears apart a group of close friends. After returning to college for their 10-year anniversary, they discover someone is still on the hunt for the truth. 
Revelator, by Daryl Gregory: Stella leaves the Smoky Mountains to escape her fate as a Birch woman who communicates with a destructive entity. When her grandmother dies under mysterious circumstances, Stella returns to Tennessee to reckon with her destiny.  
Velvet Was the Night, by Sylvia Moreno-Garcia: Okay, this last one will surely be a hit for all you fans of Mexican Gothic…rejoice, for Sylvia Moreno-Garcia is releasing another hit! This 1970s noir follows Maite, a young romance-loving secretary in Mexico City who yearns for adventure and intrigue. When her college-age neighbor goes missing, Maite may just get her wish.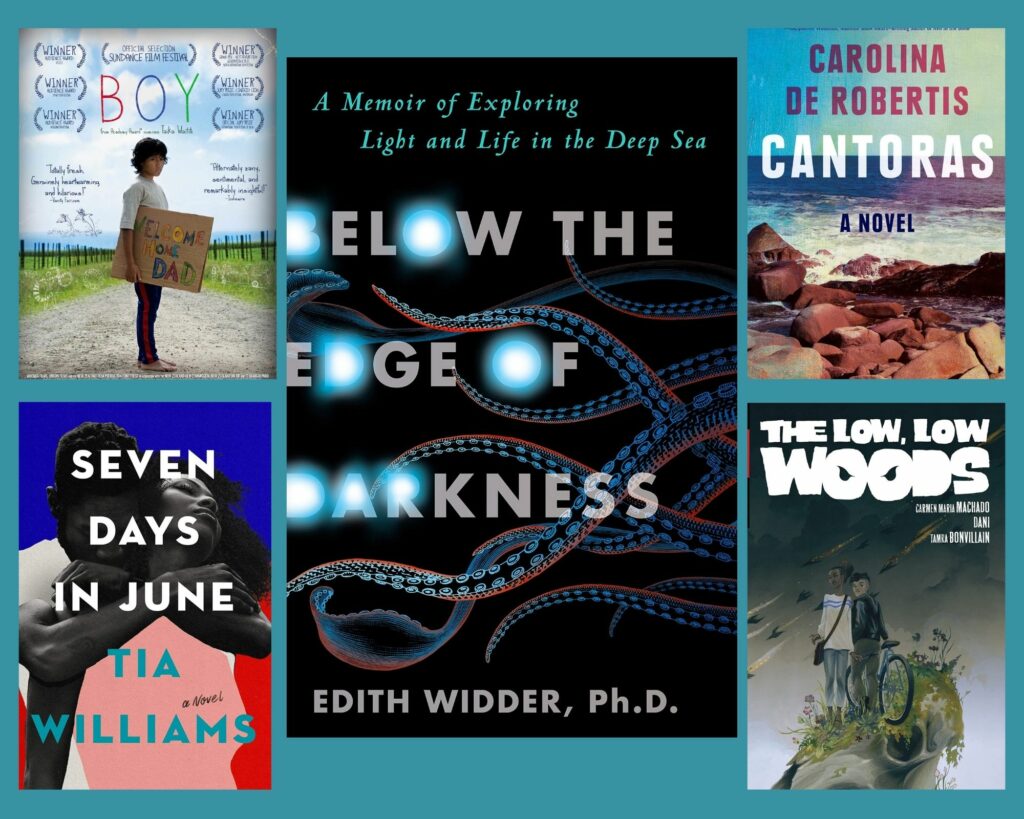 Elizabeth's Picks 
July kicked off like a beautiful dream: on a rainy night my friends piled on an enormous couch, and we ate popcorn and strawberry shortcake and watched a wonderful movie from the library—the joyous and tender 2013 film Boy by director Taika Waititi. Set on the rural coast of New Zealand, the story follows two young brothers, Boy and Rocky, as they grapple with the return of their larger-than-life father and discover what matters most to them. We rooted for Boy and Rocky, we spilled popcorn, we loved it. 
Before my next walk in the woods, I hope to spy Bigfoot in Maine! by local author Michelle Souliere, owner of The Green Hand Bookshop.  Or scare myself with Carmen Maria Machado's The Low, Low Woods? Maybe I'll pack a few older and newer titles for summer's heat—Cantoras by Carolina de Robertis, She Who Became the Sun by Shelley Parker-Chan, Seven Days in June by Tia Williams, and Summer! A Cookbook by Marnie Hanel and Jen Stevenson.  Or bring along some that explore the sea—Below the Edge of Darkness by Edith Widder, The Blue Wonder by Frauke Bagusche, and Eloquence of the Sardine by Bill François.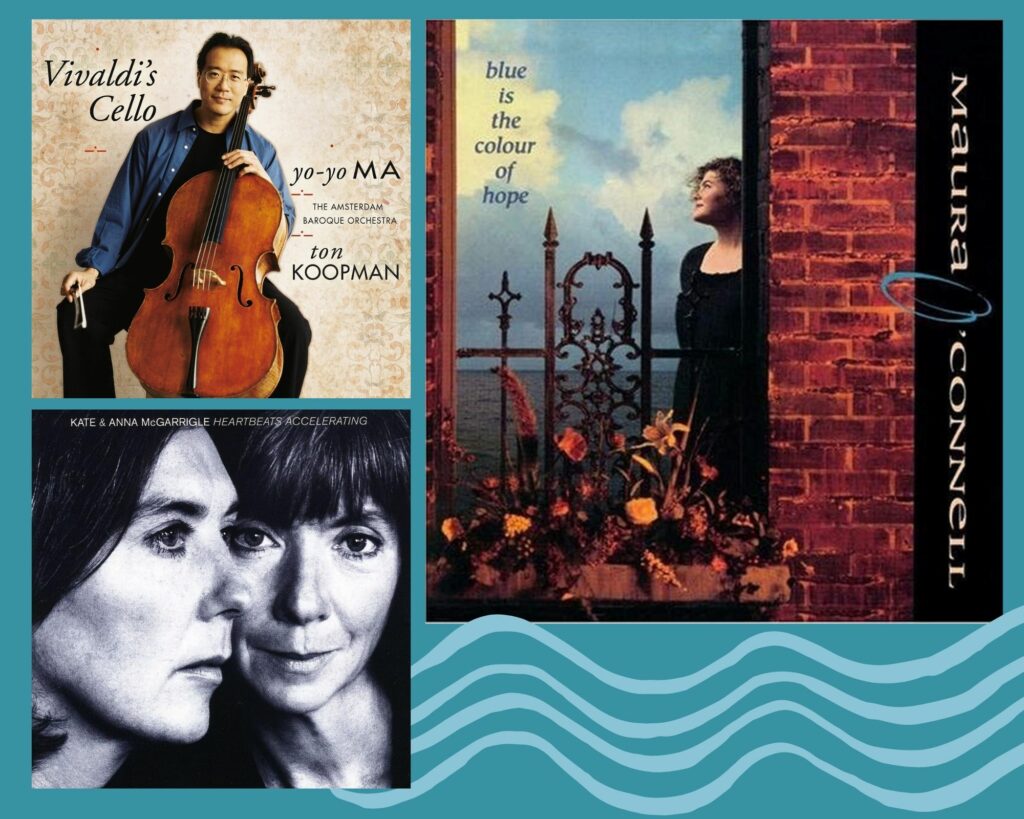 Eileen's Picks 
This is about gratitude. Gratitude for the artists who create work worth paying attention to, and for the people who point the way to them. 
I am grateful to long ago friend Anita who pressed her paperback copy of John Irving's novel on me, aghast that I had yet to read The World According to Garp. I give thanks to dear Carr for ages ago sharing his love of Kenneth Grahame's children's classic The Wind in the Willows and Norman Maclean's A River Runs Through It. And I tip my deerstalker in Rita's direction for advising that the mysteries of Martha Grimes and Louise Penny will distract when you need distraction most. 
The recent loss of an old friend has left me adrift. Among other things, I am without my most reliable source for "what shall I read next?" ideas. Not just what to read, but what music I might like, too. If I listed all the authors and music makers he pushed in my direction since we met in 1990, I would run out of paper long before I ran out of names. Maybe I'd have tumbled to some of them in my own time, but there is something special about being introduced by a friend who thought to share what mattered to him, don't you think? 
So let me suggest a very few books and bits of music that my absent friend nudged into my path over the decades. 
From our earliest days of friendship: Mohawk by Richard Russo and Family Happiness by Laurie Colwin. A few years on: Behind the Scenes at the Museum by Kate Atkinson and Brian Friel's play Dancing at Lughnasa. The Summer Book by Tove Jansson. Want some poetry? Try Ted Kooser, Seamus Heaney, Kate Barnes. For a musical interlude, have a listen to Maura O'Connell or Keb' Mo'. John Gorka. Maybe Anna & Kate McGarrigle. How about Rachael Price, with or without Lake Street Dive? Yo-Yo Ma, no matter the genre. 
I am grateful for all the books and music that have made their way to me over my lifetime. I am grateful to the people who facilitated those meetings. Finally, and especially, I am grateful for and to Paul, my old friend, whose love of writing and music is the tiniest piece of what I will miss. 
Thank you, Paul, for all you were and all that you gave. It was a joy to share the planet with you. 
---
As always, thank you for reading. You can find all the staff picks mentioned here in our Bigfoot in Maine! July Staff Picks booklist. 
For more summer reading ideas, try our Staff Picks page or fill out a form at our Your Next (Great!) Read page for your own personal list of reading ideas. You can find our Reader's Advisory Staff at readersadvisory@portlib.org or 871-1700 ext. 705.