This may be the hottest day of the summer yet, so it's a good day to curl up with a book at the library—or to catch a sweet story time with our Bookmobile staff on their travels all over Portland! 
Our staff shares a few titles for everyone from their summer stacks: we hope you'll be inspired—and that you have lots of summer reading adventures ahead.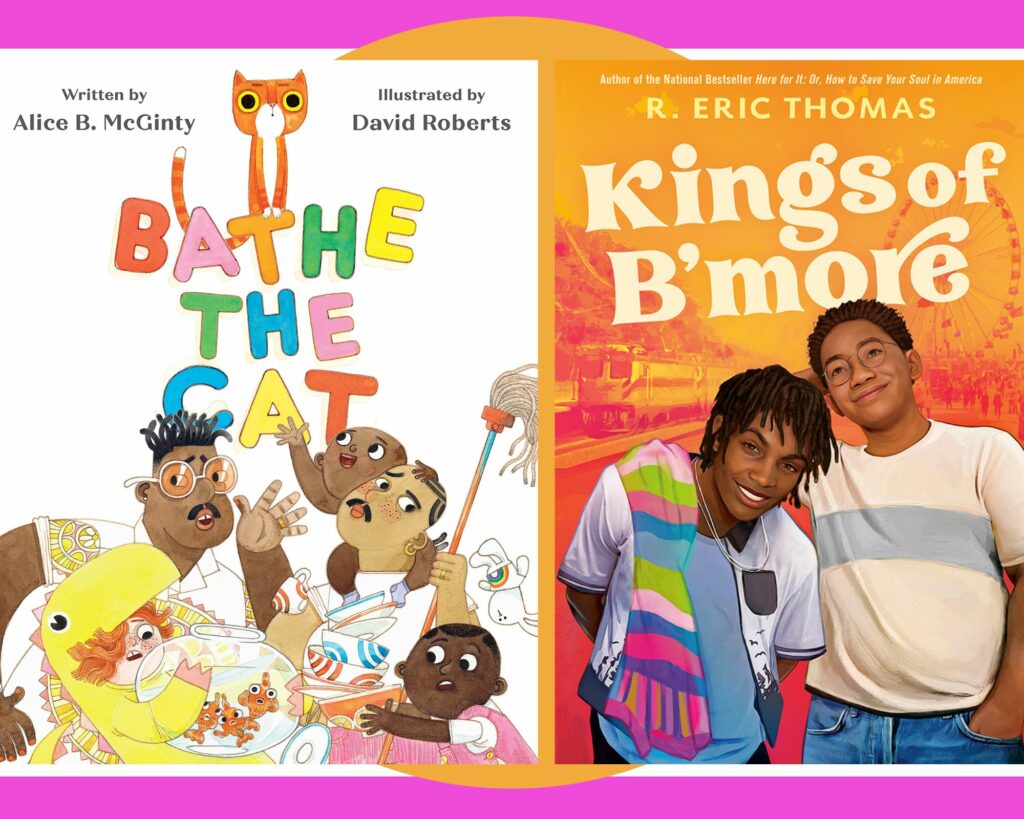 Emily's Picks 
This month, I wanted to feature two books that had me quite literally laughing out loud while reading.
The first is the goofy yet sweet picture book, Bathe the Cat, written by Alice B. McGinty and illustrated by David Roberts. It's a book about a familiar scramble for any family — quick, clean the house before Grandma arrives! — but with hilarious results. The list of chores spelled out on the fridge is scrambled by a mischievous cat (who does NOT want a bath), and the dads and their kids go through sillier and sillier chores ("I'll vacuum the lawn. Bobby, bathe the mat. Sarah, mop the baby, and Dad will mow the cat") until finally all gets sorted out. It's a book that I read to my kids once, we all cackled through it, and then we immediately had to re-read over and over!  
For teen and adult readers, I recommend Kings of B'more, written by Eric R. Thomas, a book that at one point had me crying, I was laughing so hard! Reader, beware, it's absolutely hilarious, and also a sweet portrait of a close friendship between two queer Black boys growing up in Baltimore. When Harrison learns that his best friend Linus is moving away, and in mere DAYS, he decides to throw Linus a "Ferris day" inspired by the weird old movie his Dad had them watch on family movie night. The two have a day packed full of Pride festivities, a whirlwind trip to DC, new friends, and a surprising number of encounters with Harrison's family. Not everything goes to plan, but they come out the other end with a deeper understanding of their friendship and themselves. We get both Harrison and Linus's points of view, and they are each written distinctly with such clear voices that their personalities leap off the page. If you're looking for more from Eric once you've finished Kings of B'more, I recommend his memoir, Here For It—another excellent, funny, and touching read.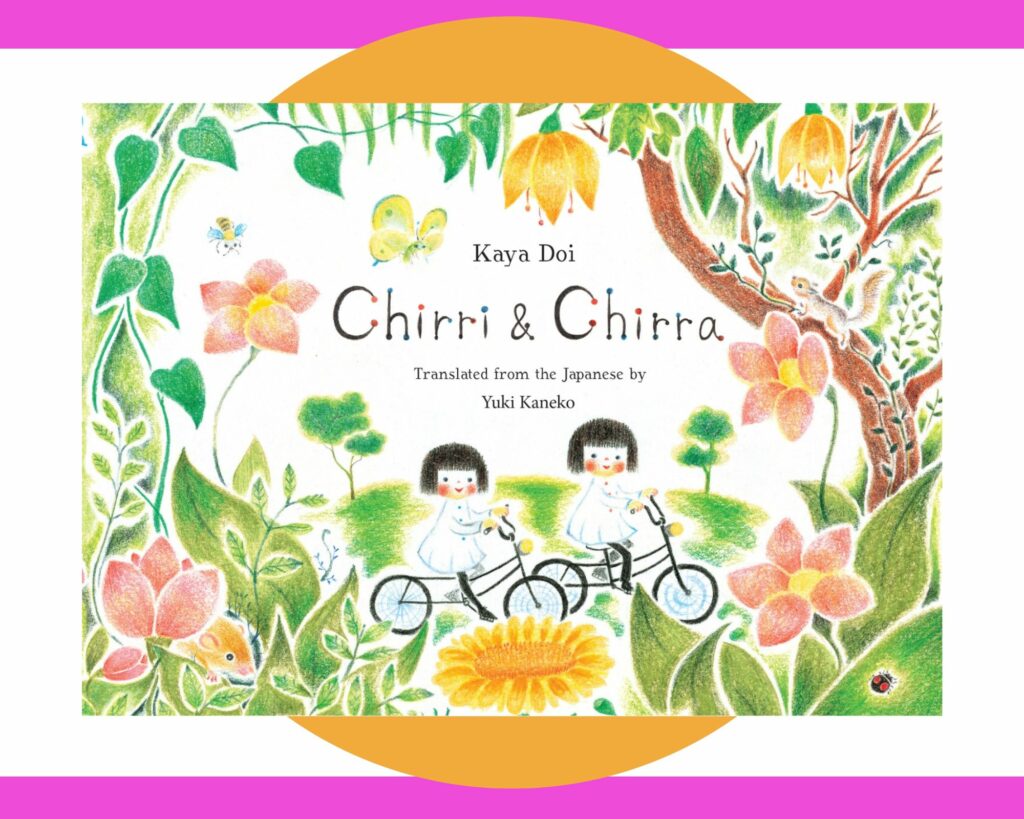 Vicky's Picks 
The people who work most closely with me have become accustomed to my pressing the occasional picture book into their hands with a "Read this. It'll make your day better." (When they finish, they are gracious enough to agree that it has.) Some of my perennial day-improvers are the Chirri & Chirra series by Japanese author/illustrator Kaya Doi.  
In their first adventure, simply titled Chirri & Chirra, translated by Yuki Kaneko, the eponymous kids pedal into the forest, where they find a café set with "tables and chairs of all different size." There Chirri and Chirra sip acorn coffee and clover blossom tea alongside honeybees (whose cheery wave accompanies a teeny speech-balloon "Hello!"). This begins a day of whimsy, in which tasty foods are served by friendly animals and the forest hotel is reached just at sunset, with a room "just right for them" from which they join other guests in an evening serenade.  
Chirri & Chirra in the Tall Grass takes the children to some bumblebees' underground nest and a lizard's cozy grotto; Chirri & Chirra: The Snowy Day finds them in fuzzy white hats, coats, mittens, and boots, cycling serenely through snowdrifts to a community center made of ice where they play marbles with forest animals before bathing in a hot spring. (Both of these titles are also translated by Kaneko.) In Chirri & Chirra: The Rainy Day, translated by David Boyd, the children happen upon a shop that's "only open on rainy days" and are caught in an upside-down rain shower. 
The books are immediately charming in their size, an unusual 6.75 inches high by 9.5 inches long. When opened up, the spreads are tiny panoramas, appropriate for the adventures of two imperturbable children whose bicycle travels often shrink them to the size of insects. Doi's colored pencils create softly smudged figures haloed in creamy negative space, giving them the look of mid-20th-century lithographs. 
Guarantee day-improvers in 40 pages. What could be better?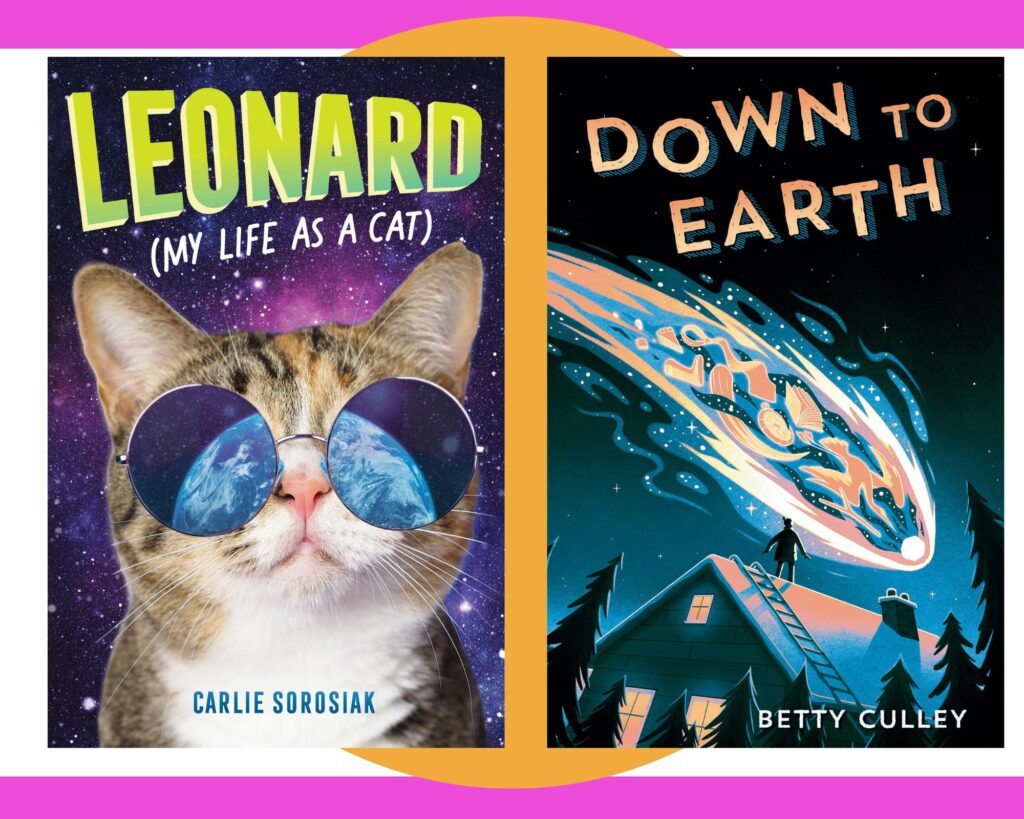 Julia's Picks
One of my favorite new middle-grade books is Leonard (My Life as a Cat) by Carlie Sorosiak. It's the wacky and surprisingly moving story of an alien who visits Earth and accidentally gets trapped in the body of a cat. He's rescued by a human girl, Olive, who knows heaps of animal facts but worries about fitting in at her new school, just as Leonard struggles to fit into his new feline life. The problem: Leonard has to get to his pick-up point in Yellowstone National Park by the end of the month, or he'll be stuck as a cat and, worse yet, become mortal! Narrated in Leonard's unique voice, this is ultimately a funny and poignant story of two lonely souls finding each other and becoming a family.  
Note: This book is on this year's Maine Student Book Award list; kids who read three or more books from the list can vote for their favorite in the spring! 
Also on the MSBA list, Betty Culley's Down to Earth is the story of Henry Bower, an inquisitive, homeschooled 10-year-old growing up in a small Maine town in a family of dowsers (people with a semi-magical ability to find water underground). After he sees a meteorite fall on his family's land, strange things start happening to the local water, sowing division in the town. I loved the way Culley interweaves science, magical realism, and small-town life, as well as the sense of timelessness that suffuses the novel. Henry's relationship with his younger sister, Birdie, is particularly lovely. This may not be an edge-of-your-seat read, but its gentle, uplifting tone stayed with me long after I had finished listening.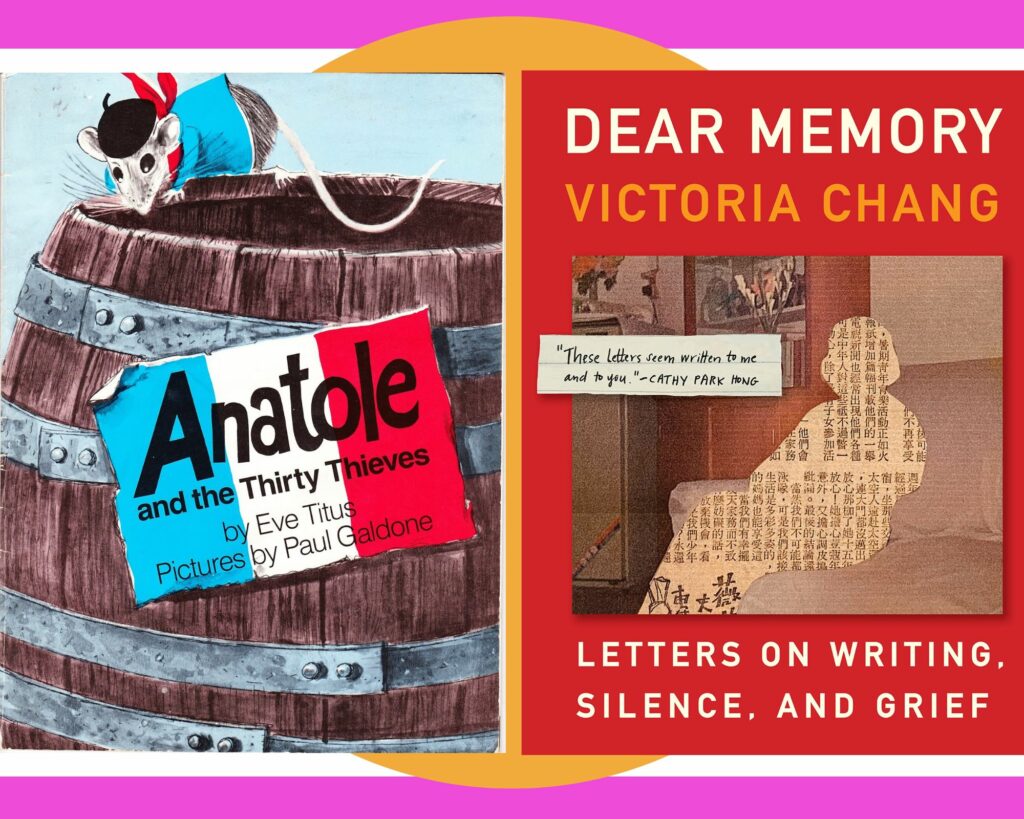 Una's Picks 
A picture book: Anatole and the Thirty Thieves, a charming picture book about a mouse that foils a cheese theft. The illustrations are absolutely adorable! 
A serious book: Dear Memory by Victoria Chang. I've been sitting on this recommendation for a while. Not because I have nothing to say about it, but because I don't know where to begin with this rec. To describe Victoria Chang's collection of letters and personal collages as "haunting" is both apt and woefully insufficient. Each letter, whether to a person, her past, her family, a memory, evokes a different set of emotions. Each collage opens a window into her grief and the sense of mystery and loss associated with it. You might expect that something so personal might be alienating, but it's not. In her specifics, we find a universal. I'll leave a quote from the book that I found particularly poignant: "I wonder whether memory is different for immigrants, for people who leave so much behind. Memory isn't something that blooms but something that bleeds internally, something to be stopped. Memory hides because it isn't useful. Not money, a car, a diploma, a job. I wonder if memory for you was a color." 
A fun book: Dungeons & Dragons Player Handbook and Dungeon Master's Guide. I will always happily chat about and advocate for D&D and other tabletop RPGs (roleplaying games)–it's communal and cooperative storytelling, engages players' imaginations, helps develop interpersonal communication skills, and, most importantly, is tremendously fun to play. If our copies of the D&D rulebooks are unavailable and you want to jump in to playing any tabletop RPG as soon as possible, check out the Pathfinder 2nd Edition Core Rulebook, which uses a slightly different rule system but at its core still enables you to play fantasy adventures and create memorable stories with others.  
For teens interested in playing D&D, Megan and I are running a mini-campaign every other week online!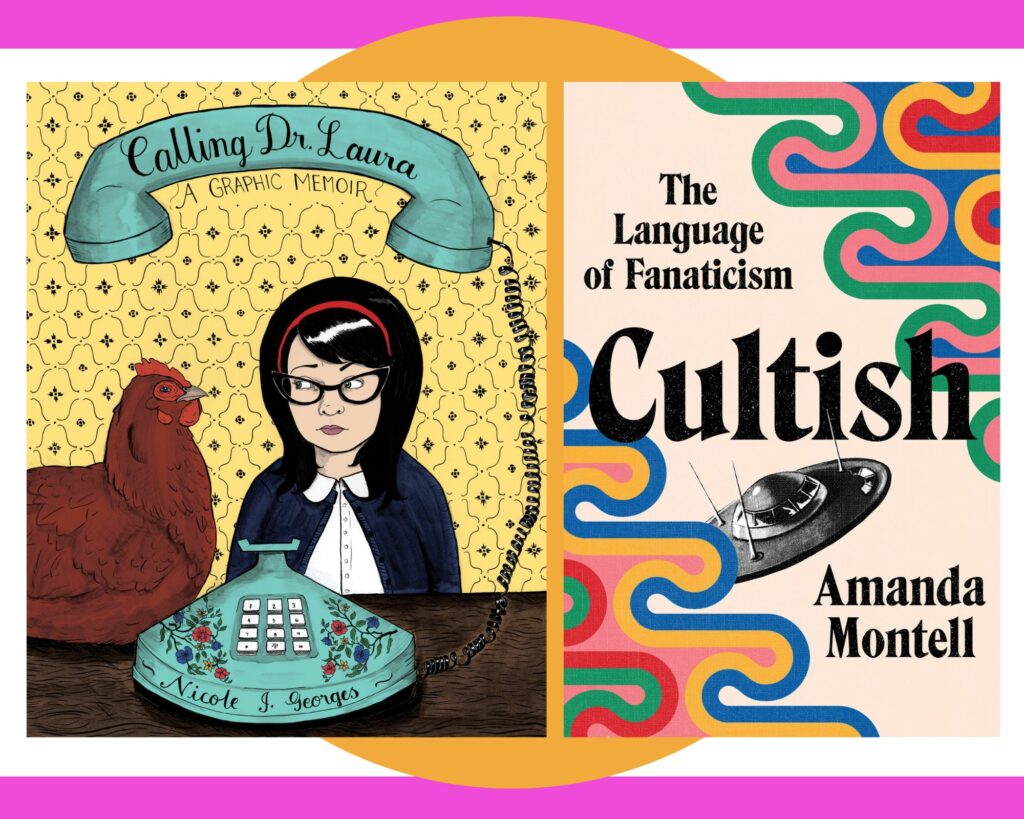 Cindy's Picks 
Three new books are high on my summer reading TBR list right now. My first pick is children's novel from new shelf: The Ash House by Angharad Walker. "…They turned a corner and started down the long, winding driveway.  The main road disappeared behind a wall of evergreens. After a twist in the drive, he saw a dirty gold gate and a boy perched on top of it." 
Calling Dr.  Laura by Nicole J. Georges is my second pick, a graphic novel from our collection for adult readers: "In the tradition of Fun Home, a charming debut memoir about the psychic reading that spurs a Portland 'Zinester to uncover an old secret about the family she never knew."  
And the last book that caught my eye is Cultish: The Language of Fanaticism by Amanda Montell. This book explores what makes cults so intriguing and frightening and delves into the psychology behind what makes them work. "It started with a prayer.  Tasha Samar was thirteen years old the first time she heard the bewitching buzz of their voices…"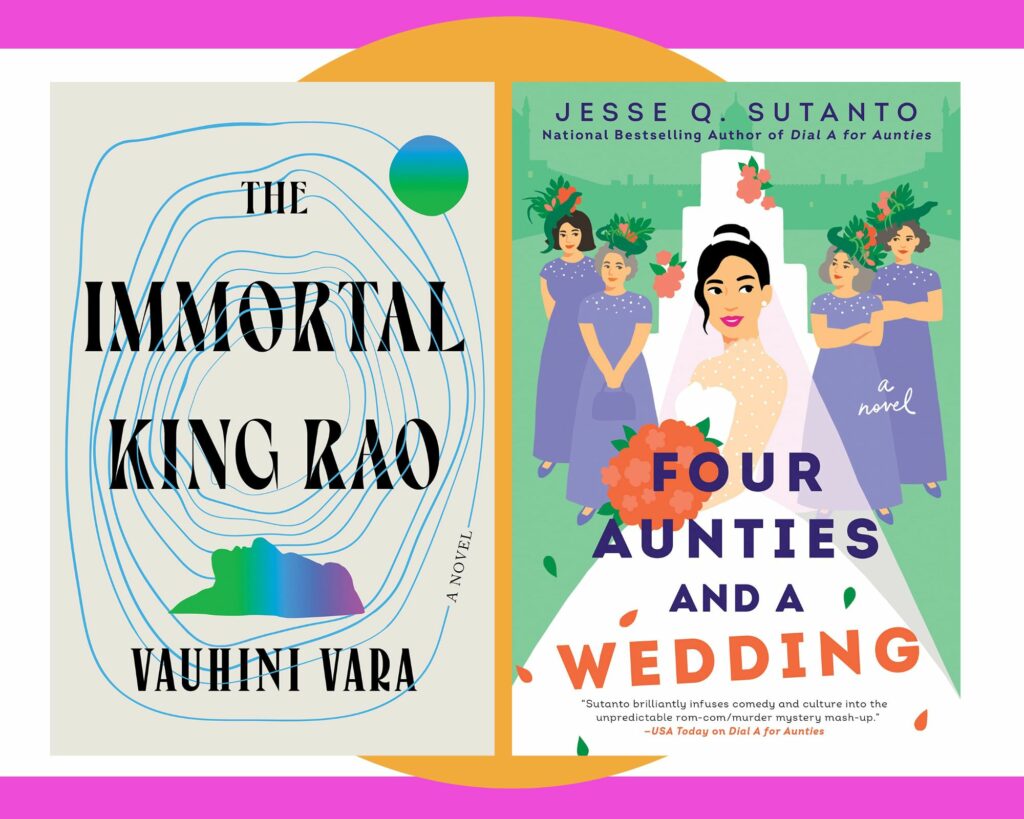 Becca's Picks 
As I write this, I am preparing for a weeklong vacation. Part of the week will be spent camping, while I'll spend the rest lounging around in Portland as much as possible. This means I have a mighty hefty (and, let's face it, mostly aspirational) TBR pile on my kitchen table. Here's what's in that pile: 
The Immortal King Rao, by Vauhini Vara: The warming world is now governed by algorithm. The ambitious computer scientist-turned-mogul-turned-pariah who invented the algorithm has died. His only daughter, who has access to his memories, interweaves her father's story and recollections of her childhood in isolation.  
Four Aunties and a Wedding, by Jesse Q. Sutanto: Have you read Dial A For Aunties yet? It's the perfect beach read; it has family drama, hilarity, romance, and an absurdly enjoyable murder plot. The sequel, which has Meddy and her four adorably embarrassing aunties embarking on a mafia investigation on the eve of Meddy's wedding, is just as laugh-out-loud fun as the first.  
Let the Record Show: A Political History of ACT UP New York, 1987-1993, by Sarah Schulman: No vacation is complete without a nonfiction tome. ACT UP is a revolutionary HIV/AIDS activism organization. Sarah Schulman, who was active in ACT UP's New York chapter in the 1980s, spent decades interviewing rank and file members for this people's history, meticulously detailing what worked, what did not, and what could work for future activist movements in the United States.  
Burntcoat, by Sarah Hall: A virus is ravaging the UK, and an artist isolates in Burntcoat, her studio, with a new lover. Will reading a book in 2022 about a COVID-like pandemic be cathartic or anxiety-inducing? Ask me upon my return to the office! 
I hope you can find space and time for rest this summer. We're here to help you build that TBR pile!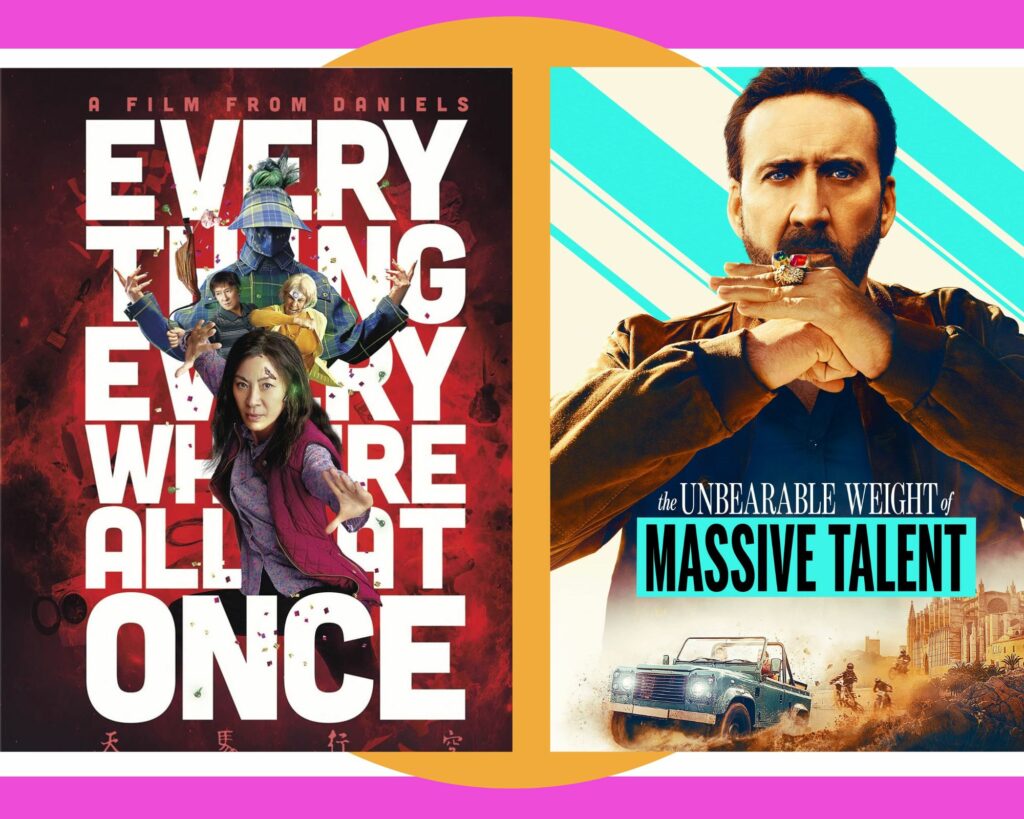 Raminta's Picks 
 After watching the trailer for this Everything, Everywhere All at Once earlier this year, I was really excited when my hold came up. Michelle Yeoh plays an immigrant who is thrown into an adventure that shows her how her life would have changed had she made other life decisions. Ke Huy Quan is masterful in his portrayal of Yeoh's husband. A far cry from his childhood stint in the Goonies! Jamie Lee Curtis is the perfect, flawed "baddy" despite not being the main villain. After watching this movie, you'll want to call your mom. Trust me. 
 If you are looking for an action comedy with fantastic acting chops, look no further than Nicolas Cage in The Unbearable Weight of Massive Talent. Cage plays a version of himself in this film that is incredibly hilarious. Very few actors can actually play themselves well while at poking fun at their own implied eccentricities. Pedro Pascal is marvelous. There is a scene in the film somewhat bringing to mind the scene in Fear and Loathing in Las Vegas (film AND book), which I won't spoil, but left me in tears of laughter. It was obvious that all involved loved making this film and it truly is one of the best comedies of the year!  
Mostly Dead Things was a book that was totally not on my radar but I'm glad I read it. As an actual Floridian (someone who was born there), I sometimes enjoy reading tales from the weird and wacky Sunshine State. Author Kristin Arnett paints a picture of Jessa-Lynn Morton, who takes over her family's taxidermy shop in central Florida after her father's death. Jessa-Lynn's mother starts to use the taxidermy to create strange intimate scenes between the animals, while her younger brother and his teen children try to help Jessa-Lynn with the shop (sometimes through not-quite-legal means). This is a story of loss and self-discovery portrayed in the most Florida ways ever. Florida isn't all sunshine, beaches, and Disney, and this story does a great job of highlighting Floridian uniqueness.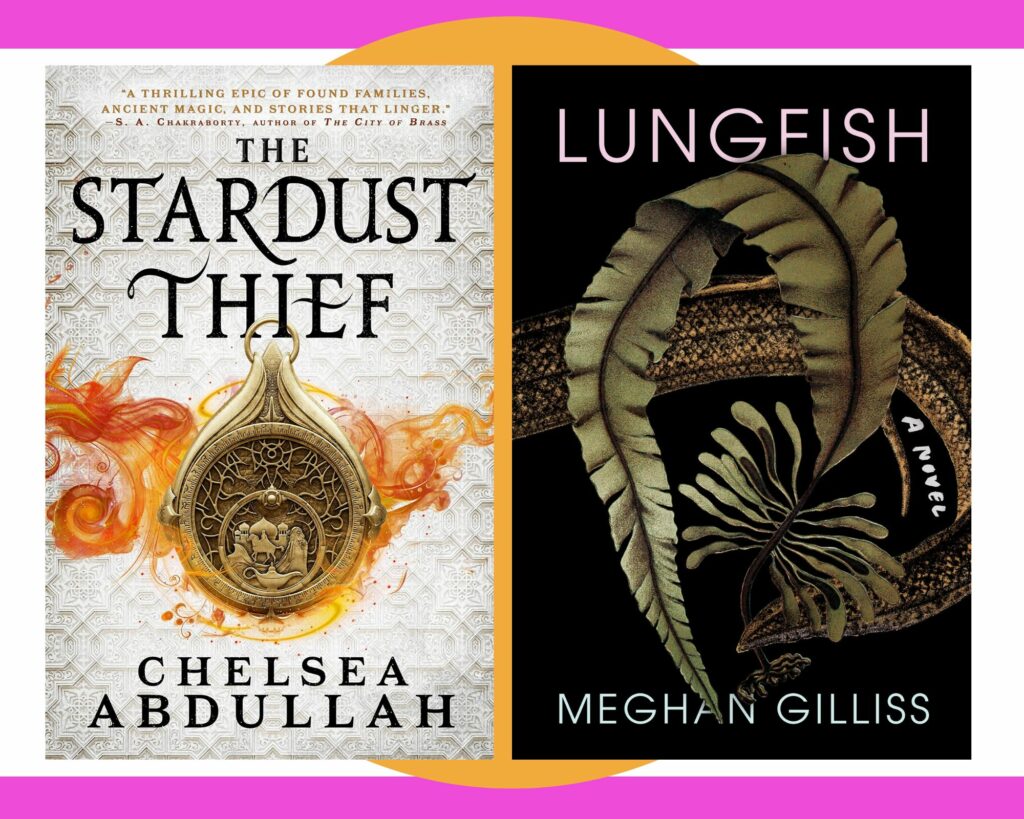 Elizabeth's Picks 
A secretive group—Loulie al-Nazari (Midnight Merchant and seller of astonishing relics), her jinn bodyguard, a prince in hiding, and a mysterious thief—sets out on a marvelous journey full of twists and turns in Chelsea Abdullah's wonderful The Stardust Thief, the first in a trilogy. I curled up with it on a hot day and lost myself rooting for Loulie on her desert adventures.  Vaishnavi Patel's debut fantasy Kaikeyi whisked me away, too: "I was born on the full moon under an auspicious constellation, the holiest of positions—much good it did me." Wait, you want more hot-off-the-press epic fantasy from our Adult Fiction collection? We hear you! Check out Saara El-Arifi's The Final Strife. 
Congrats again to Ada Limón, author of The Hurting Kind and the next Poet Laureate of the United States! I love the opening poem of her collection (about groundhogs, tomatoes, and a summer-y, defiant joy) and so many others, especially the title poem "The Hurting Kind," where stories of snakes and ancestors and the impossibility of summing up all a life means are beautifully wound together.  
A whole crew of library staff is looking forward to Lungfish, the debut novel of local author Meghan Gilliss. It's out in September, so place your holds now! The starred Kirkus review offers a glowing glimpse into the stakes of this remarkable book (which is set on a tiny island in the Gulf of Maine). As the reviewer notes: "Gilliss is an extraordinary writer; passages of the novel read like poetry…the peril the family is in keeps the pages flying. As startling and intense as the windswept landscape the book depicts."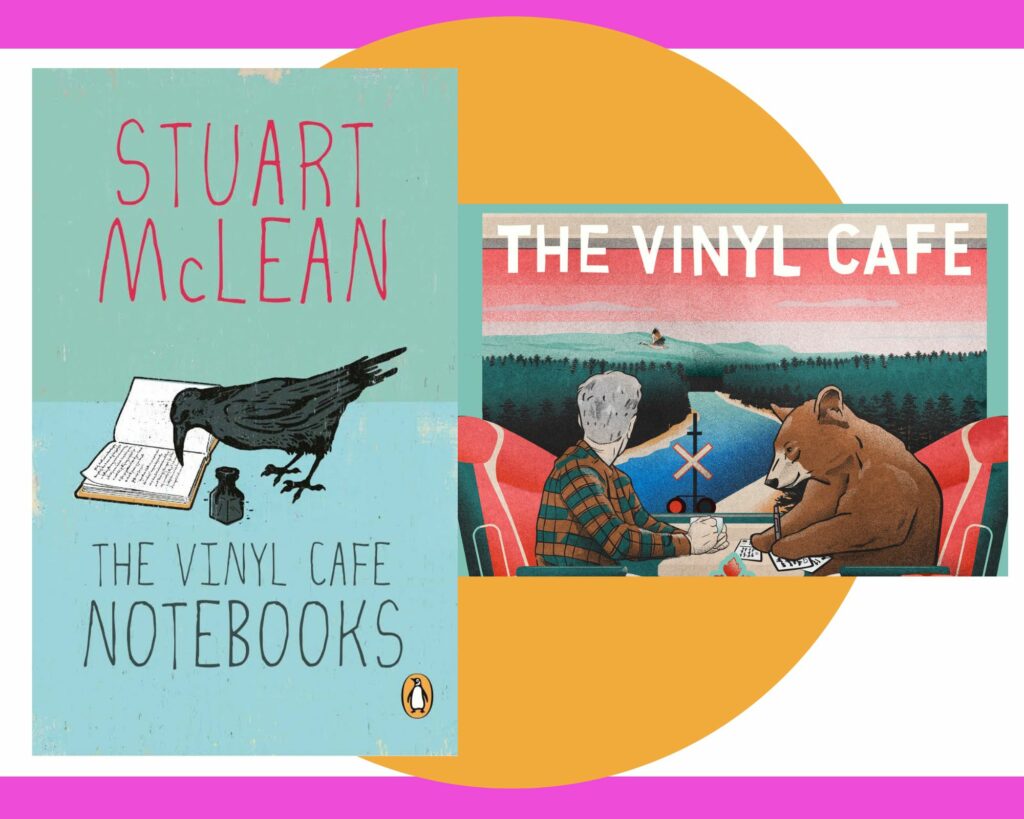 Eileen's Pick 
Just a quick vote in favor of your picking up and spending time with Stuart McLean this summer.  Mr. McLean was a writer and host of the Canadian Broadcasting Corporation radio show "The Vinyl Café" until his death in 2017.   My latest happy dose of McLean's work is The Vinyl Café Notebooks from 2010.   The essays contained therein will both calm you and make you think, all the while sharing in his love of his native Canada.  
His way with a story is beguiling and perfect for a hot day with a sweating iced glass of something that makes you happy close by.   That means I am further suggesting that you snag Revenge of the Vinyl Café and find your joy with Morley, Dave, Sam and Stephanie, McLean's endearing and hilarious characters from his now defunct radio show.  I can hear his voice's distinct delivery in his writing, so if you know the old show this will be the next best thing to having Stuart talk you through another day at the Vinyl Café. 
However you choose to vacate (mentally, physically or both), I wish you your best summer ever.  As for me, wherever I am, I will be sure to have a book with me.
 ___________________________________________________
As ever, thanks for reading. If you're looking for more reading ideas, that is our very favorite thing! Check out our Your Next Great Read service for readers of all ages, or simply reach out to our staff at readersadvisory@portlib.org for your own personalized booklist of reading suggestions.