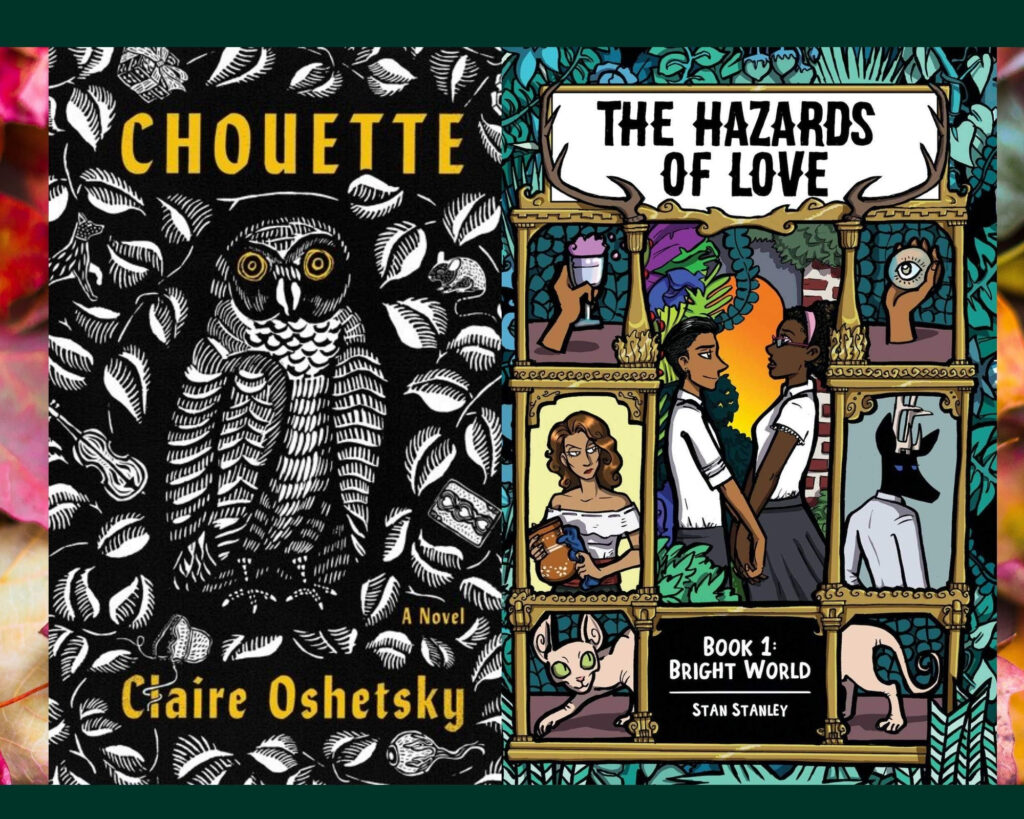 Calling all fans of pumpkins and page-turners! Grab a mug of hot cider and settle in with our staff for Cozy Spooky Season (trademark Becca Starr, Literature and Language Librarian, see below for more details) and our October Staff Picks. October is always a fun month to share all the fantastical, thoughtful, mysterious, scary and wonderful riches at the library. Thanks for joining us, and read on…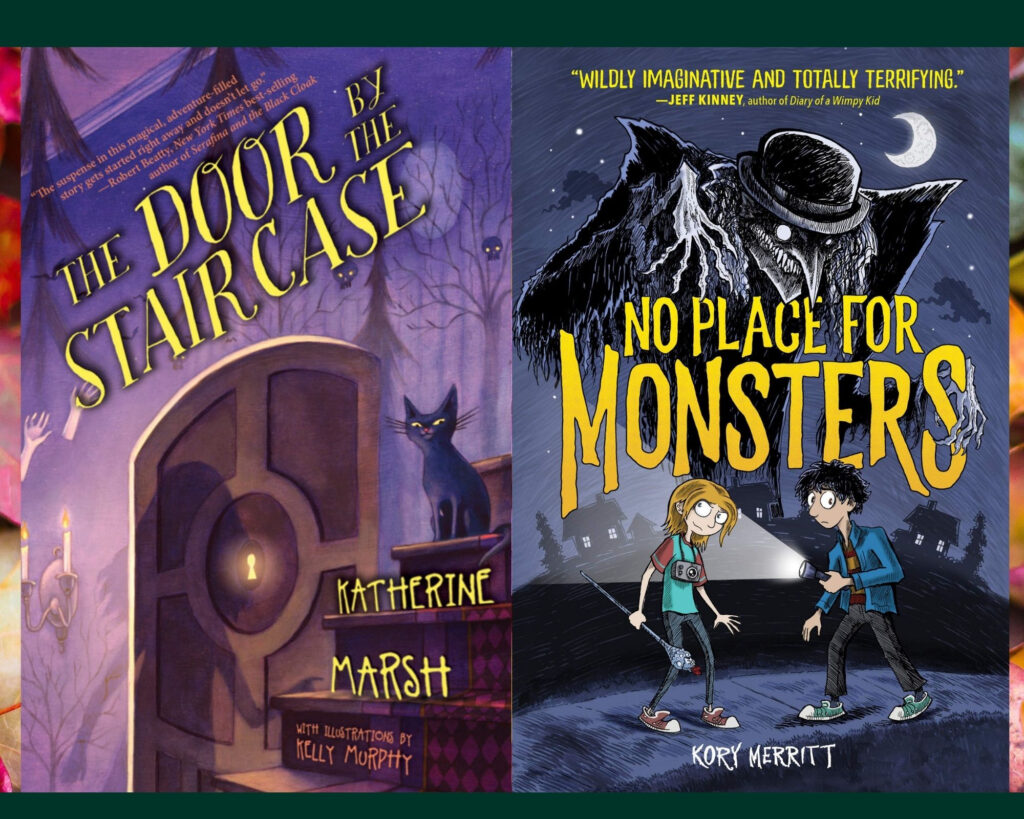 Cindy's Picks 
The Door by the Staircase by Katherine Marsh is one of my favorite spooky October reads.  Chock to the brim with eerie creatures and happenings, you will be hooked on this gem of a middle grade novel from the moment the main character, Mary, climbs into a dirty, cramped chimney on a chilly October night to escape her orphanage!   
At times it has an almost fairy tale-ish atmosphere: "Something rustled in the overgrowth.  A buck?  A bear?  She backed away just as a pair of yellow eyes flashed in the darkness and an enormous white wolf trotted out." However, in this book, the wolves are helpful and kind, and people who appear to be kind are not always what they seem.  Mary must learn the terrifying secret about the old woman who adopts her. 
I'm excited about a brand new book from our Maine Student Book Award shelf: No Place for Monsters by Kory Merritt.  Elaborately illustrated with dynamic black and white drawings, it has an almost graphic novel feel to it, but with as much text as a regular novel.  Levi and Kat are about to discover a very dark side to their neighborhood. 
"Sunset.  The sky dims from pink to purple.  Feel the chill of the night breeze.  Hear the whisper of dry grass, the skitter of leaves down empty sidewalks.  The shadows creep closer.  Once we feared those shadows.  Remember?  You've heard the stories.  Stories of Monsters.  Bogeys and boggarts and bugbears, waiting to spring from the darkness.  Ah, but that was long ago, back when the woods were still wild and the shadows untamed. We are safe now. There is no place for monsters in suburbia."   
But children have been going missing in Cowslip Grove despite the neatly-mown lawns and tidy sidewalks.  No one remembers the missing children except for Levi and Kat, and it will be up to them to fight whatever is taking the children and save the missing kids before it's too late. 
---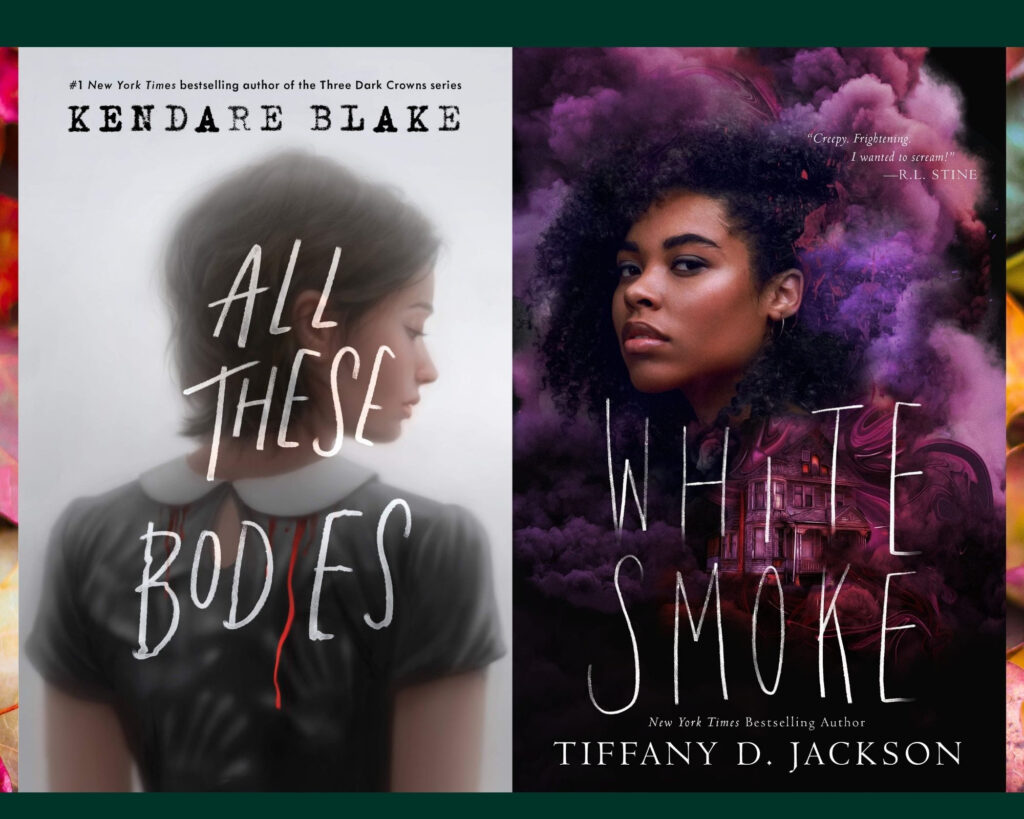 Kelley's Picks 
Home Sick Pilots, Vol. 1 by Dan Watters 
Just when you thought haunted houses were getting predictable, this comic comes along with a big dose of 90's indie rock nostalgia and a whole bunch of gore.  
The Hazards of Love, Vol. 1 by Stan Stanley 
Big bold magical realism, this graphic novel is unlike anything else I've read this year. Watch your hands and don't trust the talking cat.  
White Smoke by Tiffany Jackson 
Is it just me or is this house haunted? Tiffany Jackson will keep you guessing in her latest thriller—it's a page turner and it will keep you up with the lights on. 
All These Bodies by Kendare Blake 
One of my favorite authors of dark YA fantasy is back just in time for Halloween with an historical thriller reminiscent of In Cold Blood with a (possibly?) paranormal twist.  
---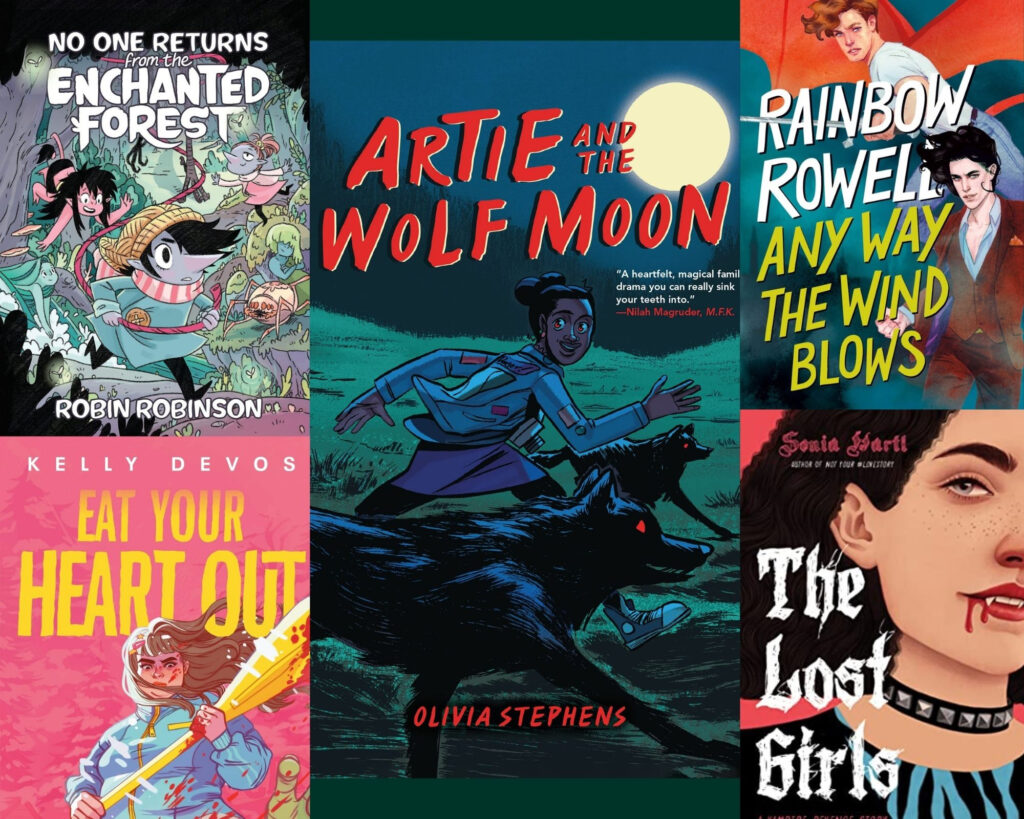 Megan's Picks 
What to read in October? I'm in the mood for creepy crawlies and creatures of the night! Here's a selection of monsters—some loveable, some terrifying—for my favorite time of the year: Halloween. 
With vampires and so much more, I adored Any Way the Wind Blows by Rainbow Rowell. Ex-Chosen One Simon and vampire Baz unravel a new threat to the world of mages—a sudden abundance of new "Chosen Ones"—with plenty of romance-fueled interludes. What I didn't expect was how steamy some of those interludes were. (Be forewarned, though it was a pleasant surprise for me!) Simon's trauma and his difficulties with intimacy were well handled and rang achingly true despite the giant dragon wings and vampire fangs. This is the last in a trilogy, so start with the first, Carry On! 
The Lost Girls by Sonia Hartl is another vampire book that I'm looking forward to. One in a string of discarded vampiric conquests, Holly is stuck just as she was when her jerk of an ex-boyfriend and vampire sire, Elton, turned her years ago. When she meets Elton's other exes, they rope her into a plan to kill Elton before he can add new girl Parker to his list. That concept is enough to get me interested—throw in that Holly is also falling for Parker, and now I can't wait to get my hands on the book. 
Werewolves, merpeople, and…something else? populate What Big Teeth by Rose Szabo, the story of estranged daughter Eleanor's return to her Maine home and her struggle to reconnect with her monstrous kin after years of boarding school. Lots of small factors made this work for me—the rowdy werewolf family, the misfit struggling to find her place, the Maine setting, the queer and polyamory representation, the eldritch horrors… 
Kelly DeVos's Eat Your Heart Out stars a fully realized cast of teens, each one with their own reason for attending Camp Featherlite, a fat camp designed to prey on fat teenagers for its own nefarious purposes. And then…zombies?! This was a sharp and thoughtfully written book with a fast-paced plot and a heavy side of drama. I grew to love every member of the group—even the ones I started off despising. 
I've just started No One Returns from the Enchanted Forest by Robin Robinson, a lovely graphic novel about a town of goblins searching for safety when their underground home is plagued by destructive earthquakes. Unfortunately I have already grown attached to mischievous goblin child Pella, who—at this point in my reading—has already entered the Enchanted Forest and therefore will surely never return! (Right?) 
Finally, I have yet to read Artie and the Wolf Moon by Olivia Stephens, but I'm excited for what looks like a charming book with the perfect pairing of queer crushes and werewolves. I'm hoping it will be the perfect cozy Halloween read! 
---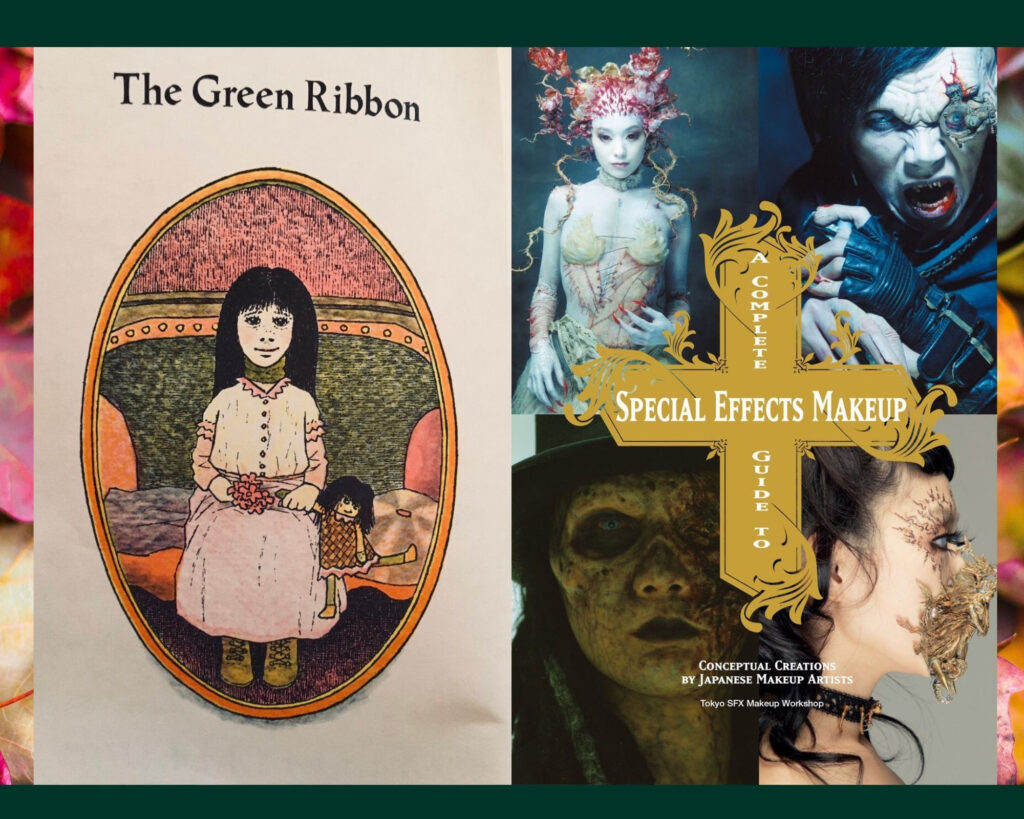 Sarah S's Picks 
One of my favorite literary Halloween costumes is the girl from The Green Ribbon, a delightfully spooky tale from Alvin Schwartz's classic In a Dark, Dark Room, and Other Scary Stories. Pair an eye-catching green ribbon with a gruesome gash from A Complete Guide to Special Effects Makeup and you'll be a hair-raising hit!  
---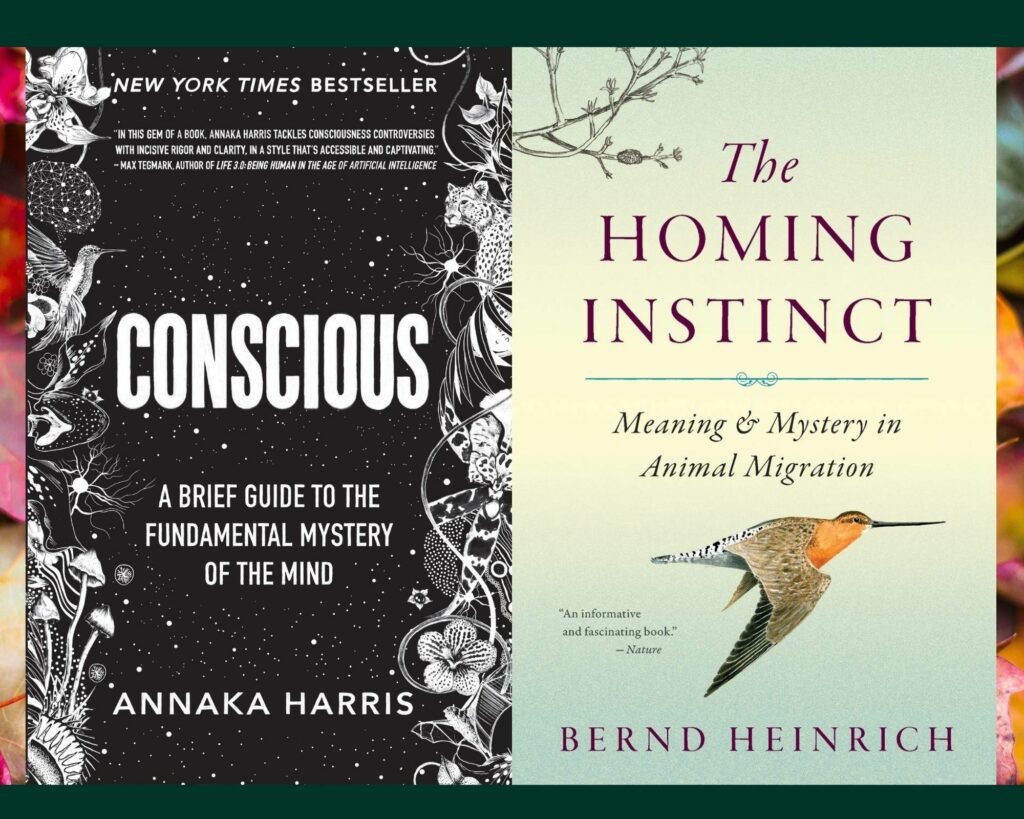 Aaron's Picks 
Over the last several months I have read several books from our science collections that, though selected somewhat at random and at first seeming unrelated, have in retrospect formed a cohesive whole. A book about birds, a book about time, a book about consciousness, a book about animal (and human) instincts. All were chosen on different days by browsing what happened to be on our New Non-Fiction shelves at the Main library or what happened to be available on cloudLibrary when I happened to want to listen to an audiobook. But as I listened and read and reflected on these recent picks, common themes emerged.   
All four books turn out to explore consciousness in one way or another – animal consciousness, human consciousness, our conscious perception of the movement of time, and urges that may arise in the subconscious or instinctual part of our brains but that drive us to seemingly conscious action.  
Jonathan Meiburg, in A Most Remarkable Creature, and Maine's own Berndt Heinrich, in The Homing Instinct, write with incredible sensitivity about what the lived experience of our animal neighbors may be, their conjectures pointing to a mystery we may eventually solve as we come closer to understanding animal consciousness. In Conscious, Annaka Harris manages to condense an incredibly complex topic into a short, readable volume that highlights what we do and don't know about our own existence in the world, and Carlo Rovelli manages a similar feat in The Order of Time as concerns the famously daunting subject of quantum mechanics and our passage and experience of time. They are also all frank about the distinctions between what we know, what we might soon learn, and what is likely to remain a mystery, distinctions that in no way minimize the authors' enthusiasms.   
While there is of course value in deep investigation of specific topics (welcome to the library!), this grouping of books, read back-to-back, helped me remember that a broader context of direct and indirect connections is what makes meaning from simple information. 
---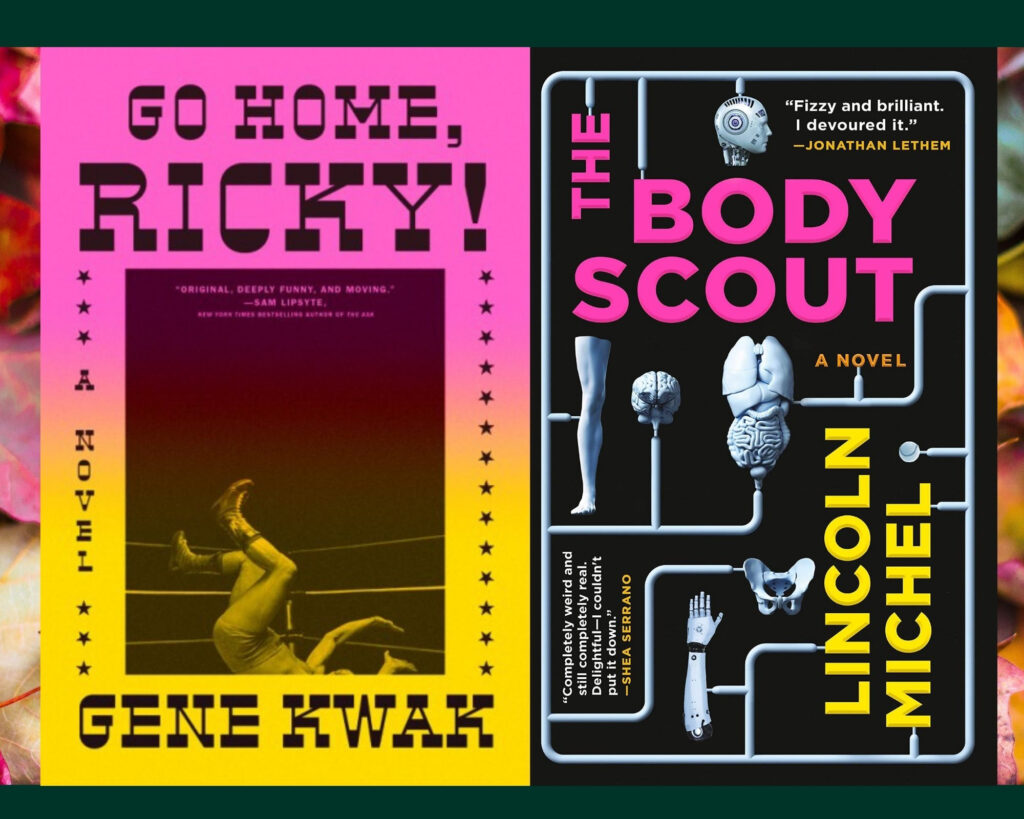 Becca's Picks 
It's spooky season, but it's also cozy season! In honor of Cozy Spooky Season (trademark Becca Starr, 2021), here are some picks from our most recent purchases that will make you delightfully shiver: 
Chouette, by Claire Oshetsky: A woman believes she has been impregnated by an "owl lover."  Everyone thinks she is just nervous about motherhood…until Chouette is born. Equal parts magical and horrifying! 
Go Home, Ricky!, by Gene Kwak: Ricky Twohatchet is devastatingly injured during a wrestling match. Even worse (some would say), his career is ruined after an out-of-context video goes viral. Go Home, Ricky! is delightfully cheeky, but if fear of "being cancelled" keeps you up at night, you will find this book bone-chilling.  
The Body Scout, by Lincoln Michel: A baseball player is murdered during a game. His brother investigates, maneuvering through a world of environmental disaster, bloated corporations, and cybernetic body parts. The Body Scout is a fun cyberpunk ride that may strike a little too close to home.  
The Sinner and the Saint, by Kevin Birmingham: Isn't true crime the ultimate Cozy Spooky? Learn about the true case that inspired Crime and Punishment and explore Dostoevsky's life – and criminal companions – in Siberian exile. 
Happy cozy spooky reading! 
---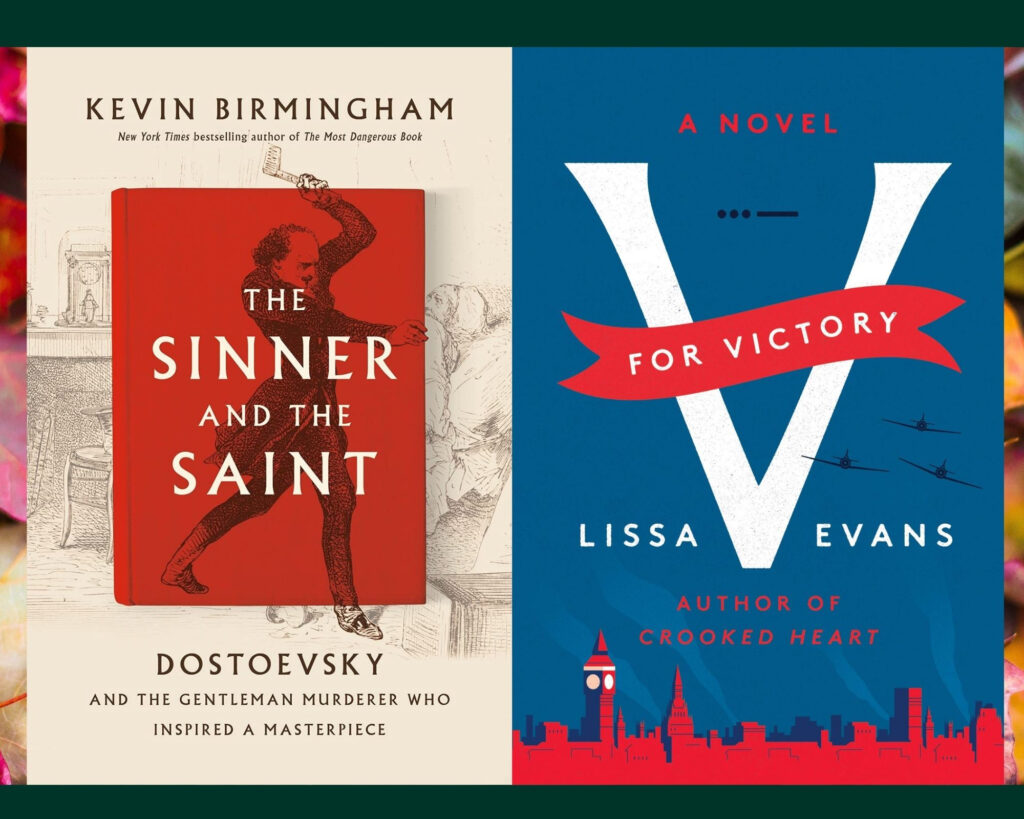 Stephanie's Pick 
My October pick is much scarier than your average ghost story, since it involves vivid details about WWII London during the Blitz. 
V is for Victory by Lissa Evans graphically portrays 1945 London life during the Blitz, recounting rockets, bombs, rationing and missing people. There's a cast of great characters led by precocious 15-year-old Noel and his "aunt" Vee, plus the twins Winnie (an air raid warden) and Avril (her glam sister). Questions about identity and parentage offer suspense and surprise, but the heart of this novel lies in the lives drawn so well, with humor and compassion. The reader really lives with these heroes during daily wartime peril. Most surprising to me is the fact that so many managed "To Keep Calm and Carry On" as the Queen commanded.  
---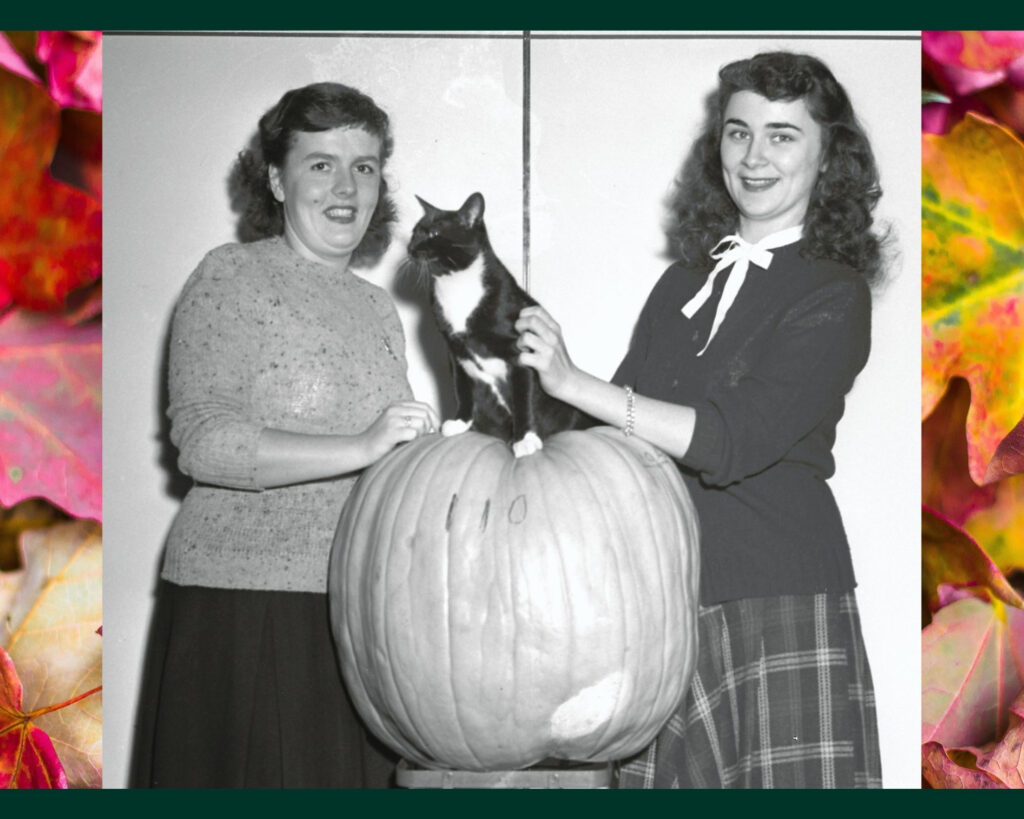 Abraham's Pick 
From the Portland Room archives! Pictured above: Betty Small and Grace J. Whitmore, of Bath, with cat perched on a 110-pound pumpkin. This was printed in the Press Herald on October 15, 1946. The two women were students at Farmington State Teachers College (today's UMF). And the real mystery is…what's the cat's name?

---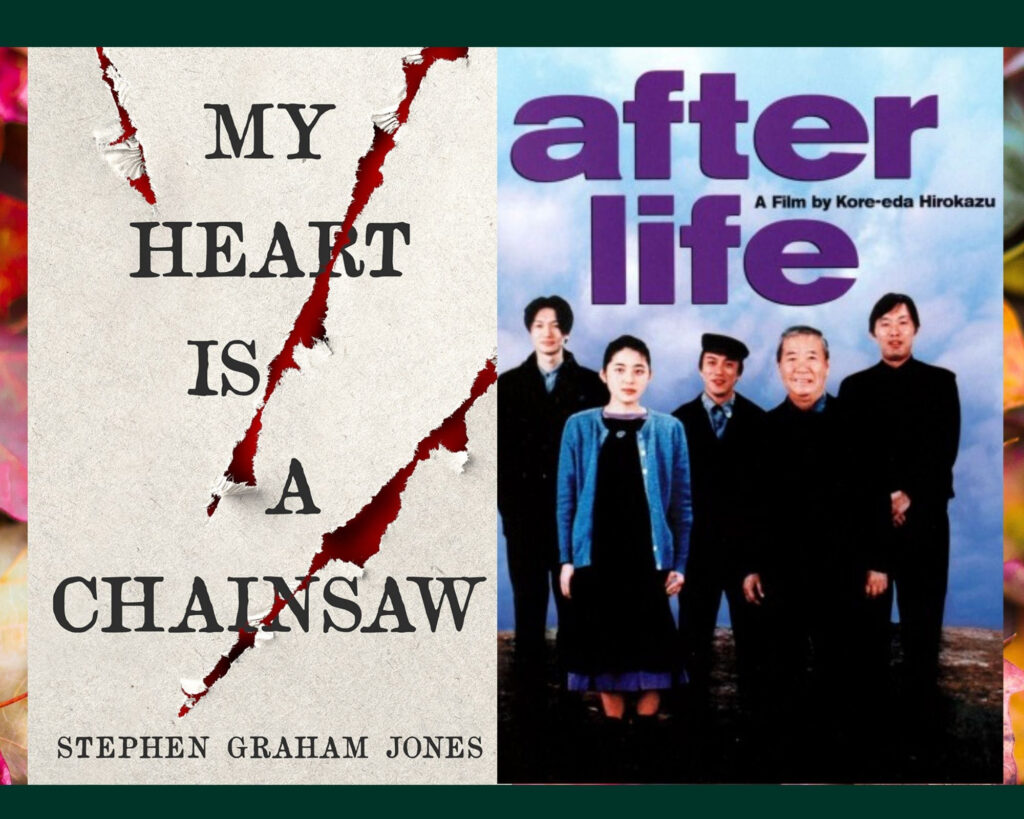 Elizabeth's Picks 
I don't even know how to pick from all the riches that October brings to the library! Here are some ideas for dark nights from now through the depths of winter… 
My Heart is a Chainsaw by Stephen Graham Jones: Fantastic horror writer Stephen Graham Jones (member of the Blackfeet Nation) brings us this gory love letter to the slasher genre, described by one librarian as…Friday the 13th meets Shirley Jackson. In a town nestled by Indian Lake, high school senior Jade Daniels is an eighties slasher flick superfan…when she suddenly realizes she's in a slasher. Will her encyclopedic knowledge help her survive? Ahhhh! 
The Library of the Dead by T.L. Huchu: Ropa Moyo has left school to earn money ferrying messages between the dead and the living in the phenomenal setting of a richly atmospheric, gloomy, ghoulish, haunted Edinburgh. With Zimbabwean magic, Scottish history, some "proper geekiness," a cast of characters you'll root for, and a grisly mystery to solve…plus a Library. Of. The. Dead. What more could you ask for?  
For more tales of supernatural beings..if you loved Helene Wecker's The Golemn and the Jinni, Chava and Ahmad are back in The Hidden Palace!  
The 1998 film After Life by Kore-eda Hirokazu (who recently directed the out-of-this-world incredible Shoplifters) is a total gem of cinema. If you could bring one memory with you to eternity, what would you choose? Luminous cinematography, lovable characters, and a beautiful, wryly funny imagining of the lives of people after they die—hanging out in a big building that is a way station between life and death, wandering outside playing instruments, watching snow fall, filming memories and realizing what really matters. 
---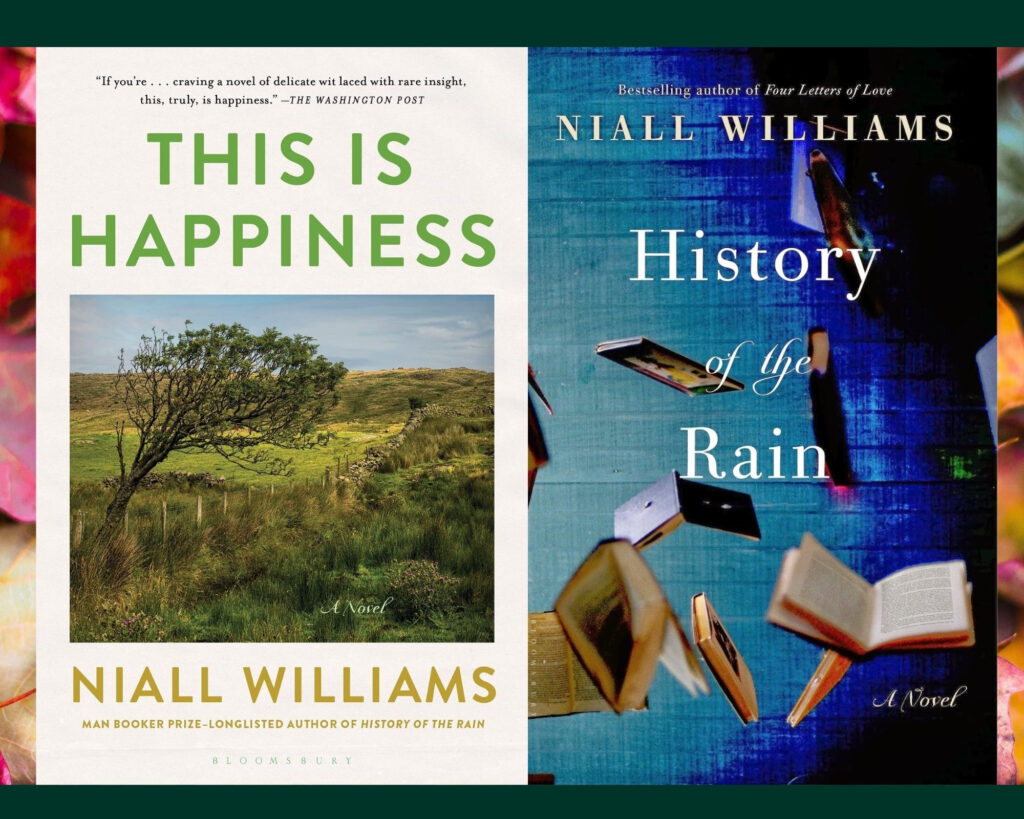 Eileen's Pick  
I recently read This is Happiness by Irish writer Niall Williams, and felt my innards shift into a slightly different sequence. For one thing, my heart grew larger.  
Loathe to leave the altogether agreeable state in which I found myself, I moved on to Mr Williams's novel History of the Rain. For lack of a better explanation—and I so wish I could find just the right words to fill that lack—I was set to bobbing in its damp, liquid Irishness.  
I am drawn to storytelling filled with meandering sentences that turn into freestanding paragraphs, words that sprout hyphens, and emotions that are bottled but could rock the rafters before too long.  
Such tales remind me of my family, the people I grew up loving. They are quiet, even shy. They have always laughed whenever the opportunity presents itself, frequently at themselves. They slip through the world with words as beloved companions even though they do not always know how to speak their hearts. In the end, they find their way with grace, warmth, humility.  
That is the blessed puddle I was happily splashing in while reading Niall Williams's books. They render the privilege of wonder in the commonplace. Stories from ordinary life, stories special in their refraction.  
I am now waiting for Niall Williams's Four Letters of Love to come my way. I can't wait to read it. 
My thanks to Gail for suggesting that I might like This is Happiness. I sure did. And thank you to Andy, with whom I tumbled into a lunchtime conversation about the magic of storytelling. You inspired me to share the treasure that is Niall Williams's brilliance. 
---
As always, thank you for reading.

If you're looking for more ideas, that is our very favorite thing. We're happy to help. Try our Your Next (Great!) Read service for kids, teens, and adults to get personalized lists of print or eBook recommendations from our staff. Our Reference staff is also available Monday-Friday, 10-4, at 871-1700 ext. 725.