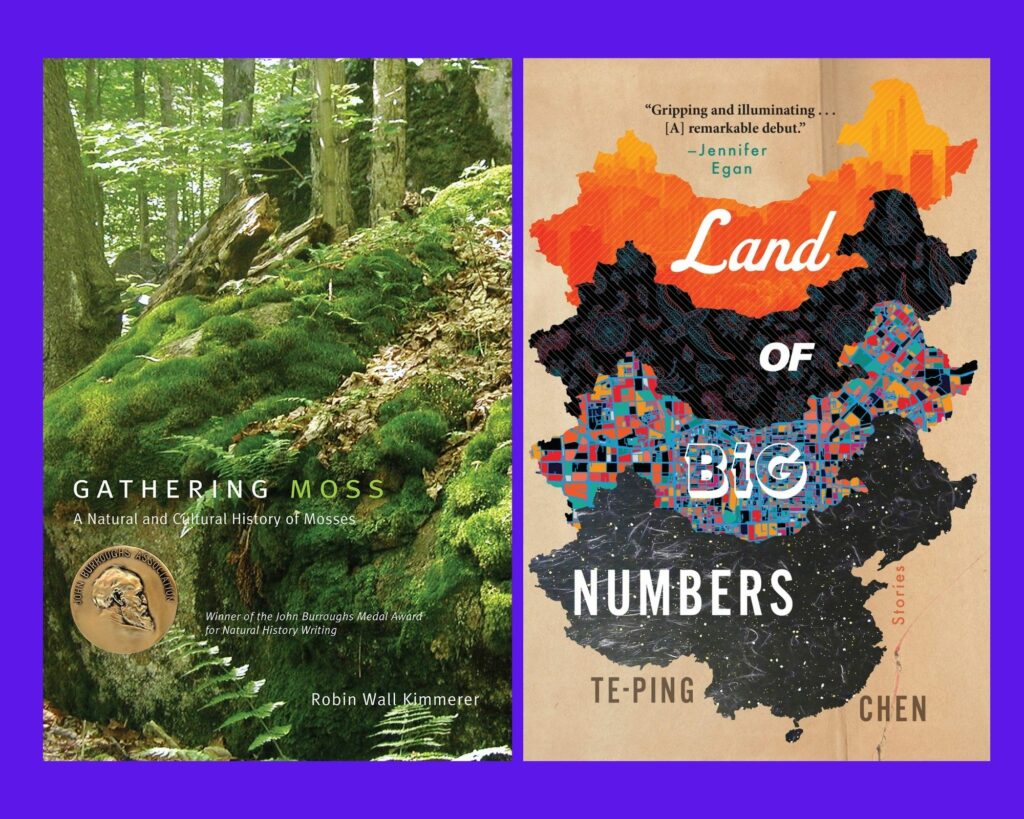 "It all started with a sudden urge to know more about mosses and lichens." -from Eileen's Staff Picks. 
In March, our library staff explores their sudden–research-related–urges and reading ideas: from the wild, wonderful world of books on mosses and spring gardening to a new thriller that's worth the wait, a Brazilian romance, a family curse, magical short stories, new memoirs and poetry—as well as the nonfiction series that claims to be the Best.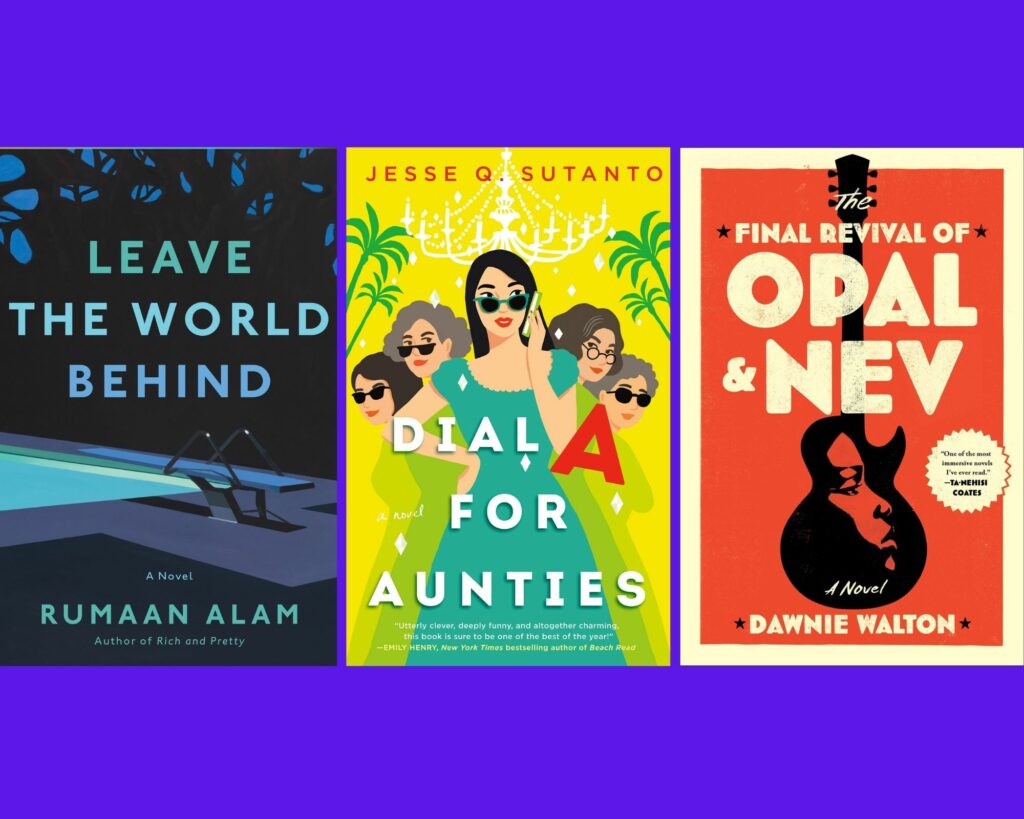 Becca's Picks 
Before I plug some newer additions to our fiction collection, I want to sing my praises for Leave the World Behind by Rumaan Alam. A family escapes Brooklyn by renting a vacation home on eastern Long Island. On the second night of their trip, the homeowners come knocking…and that's all I will say. Tightly written from multiple perspectives, this apocalyptic family drama literally had me reading late into the night and up early the next morning. Get on that waiting list – it's worth it! 
On to the latest: 
An Apprenticeship, Or, The Book of Pleasures by Clarice Lispector: Published originally in Brazil in 1969, this romance by Clarice Lispector has finally made its way to the States with a new translation. It chronicles the developing relationship between a disillusioned primary school teacher and a blustery professor of philosophy.  
Dial A for Aunties by Jesse Q. Sutanto: Meddi Chan believes there is a curse upon her family: all the men leave or die. After a man dies while on a date with her, Meddi calls upon her boisterous extended family to help her hide the evidence. Booklist sums up this title in one sentence: "Murder is never funny, except when it is."  
The Final Revival of Opal & Nev by Dawnie Walton: With 1970's New York City as the backdrop, Afro-Punk singer Opal meets English songwriter Nev. The duo quickly enjoys a cult following…until one horrific night causes everything to crumble. If you love Just Kids, you'll be happy to cross over into a new genre for this fictional oral history.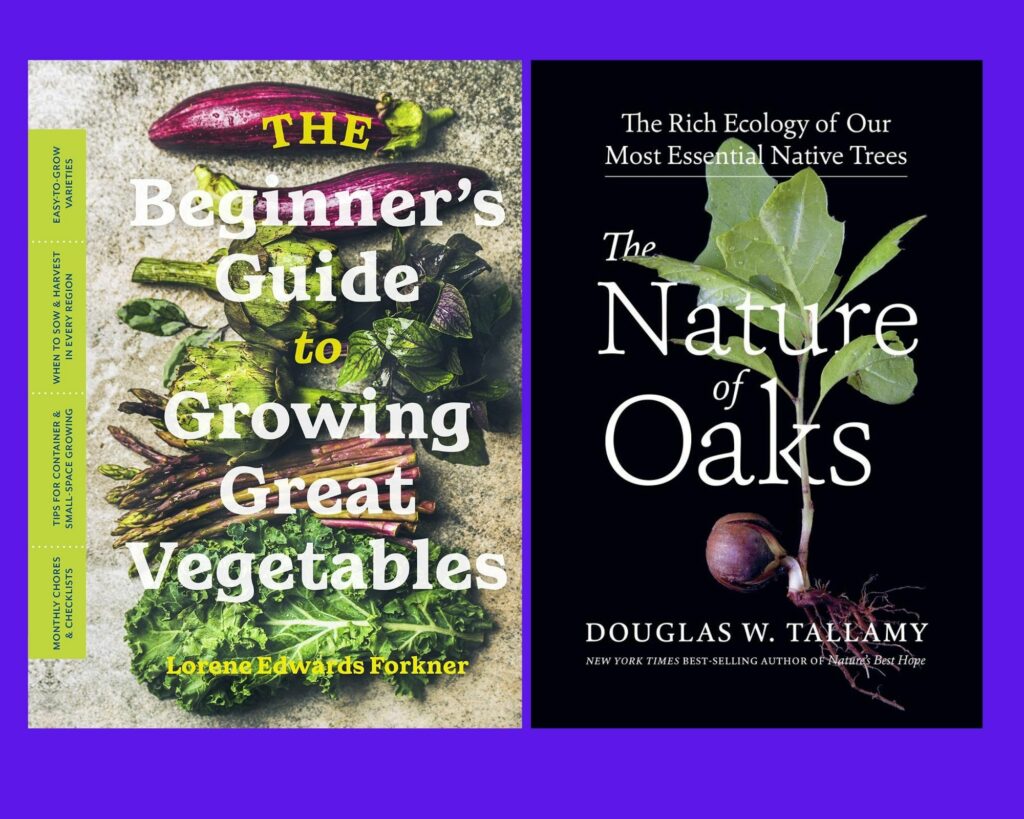 Aaron's Picks 
It's never too early to start planning this year's garden! Here are three new titles that will help you get started, whether you're interested in decorative gardens, growing your own food, protecting our amazing tree canopy, or all of the above (and below).  
American Gardens by Monty Don and Derry Moore: If your interest in gardening is all about beautifying the landscape you'll want to follow along on this tour of amazing American gardens with British broadcaster and horticulturalist Monty Don and photographer Derry Moore. The pair travel from coast to coast to visit gardens of all shapes, sizes, and purposes. The book accompanies one of Don's many popular BBC series on gardens.   
Beginners Guide to Growing Great Vegetables by Lorene Edwards Forkner: The growing season may still be a few months away, but that means it's time to do your research and select your seeds to make the most of it. First-timers and veteran growers alike will find useful information in this guide to a great year of producing your own food. And if you don't have a yard to convert into a garden, Forkner offers tips on container and balcony gardens for nearly any space.  
The Nature of Oaks by Douglas W. Tallamy: Unlike our annual and even many of our perennial garden plants, our trees are with us all year long, dominating the landscape, especially here in the most heavily forested state in the nation. And standing among our pines and birch are innumerable oak trees. Tallamy explores the complex ecosystems in which oak trees grow, and those that the tree itself creates on the macro and micro scale. And just because we have already have so many trees in our state doesn't mean we couldn't use another. If you are considering planting an oak, this volume will also guide you in selecting a variety and in caring for your very own oak tree.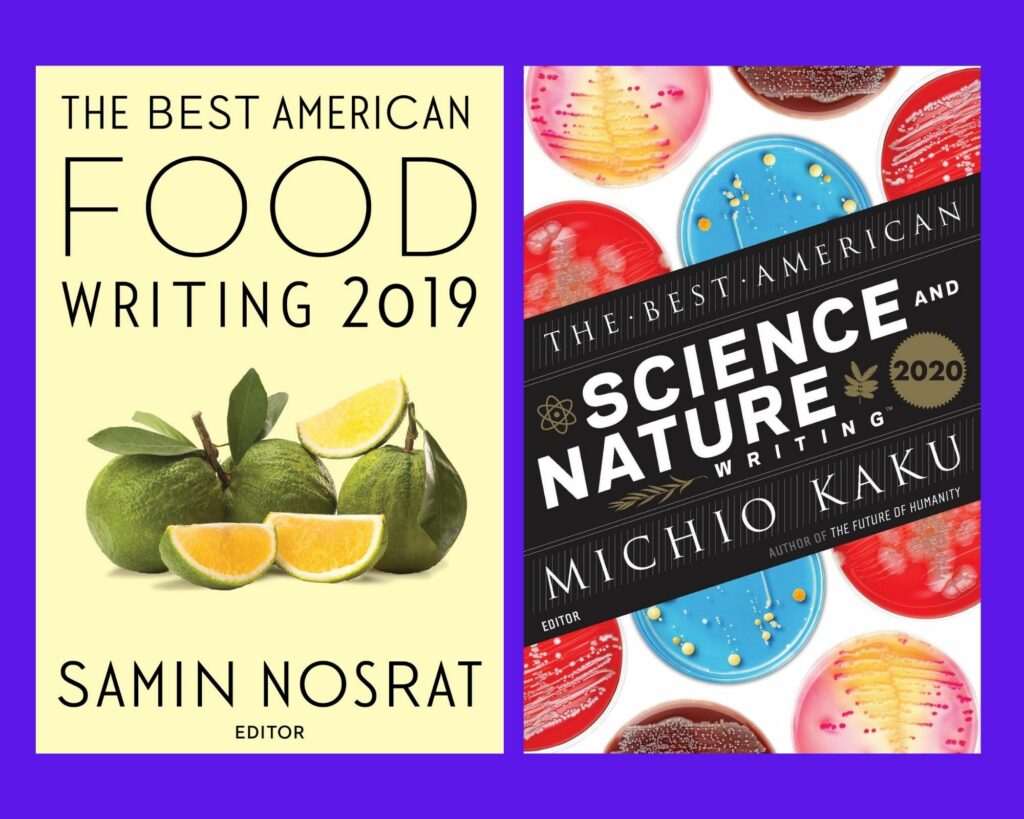 Jim's Picks 
I'd like to endorse the entire Best American series in essay form. From Best American Travel to Cooking and from Sports to the (eclectic) Non-Required Reading it helped keep my restlessness during this pandemic under control.  Sometimes when fiction seems repetitive the essay comes to the rescue.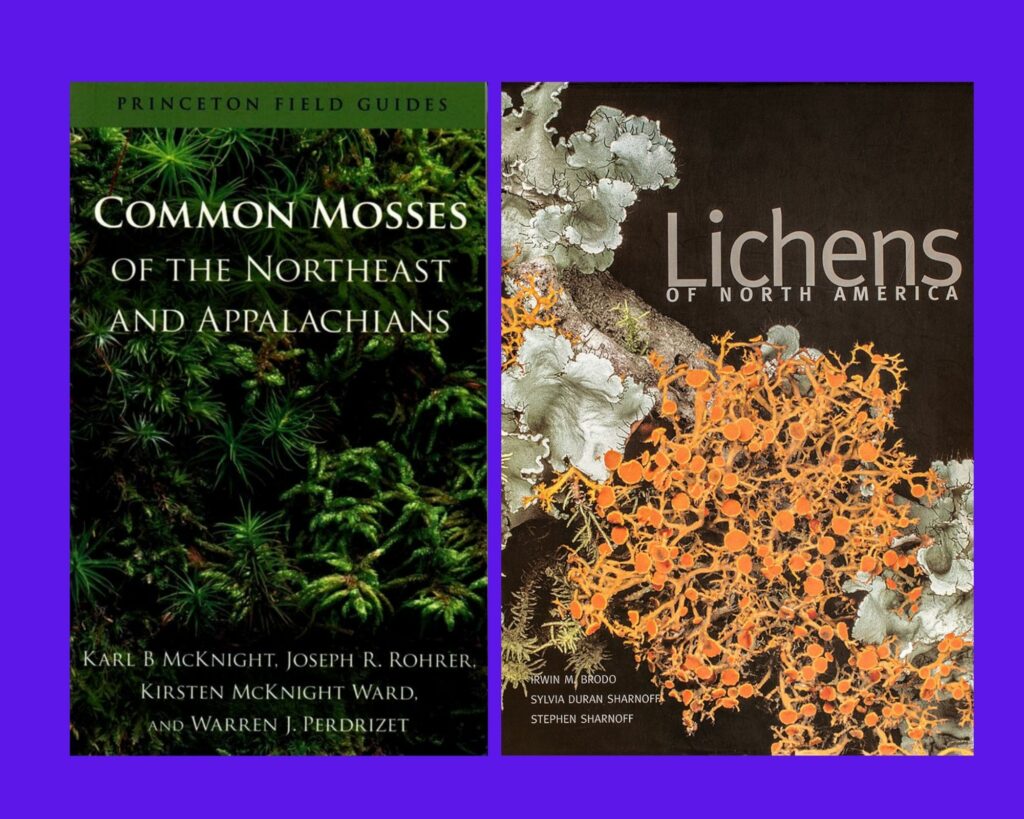 Eileen's Picks 
It all started with a sudden urge to know more about mosses and lichens. As is so often the case with my sudden urges, I headed to the library catalog to see what could make it happen. I came away with call numbers for a Princeton Field Guide to fit a good-sized pocket, Common Mosses of the Northeast and Appalachians and what turned out to be an absolutely enormous tome called Lichens of North America, both of them chock full of wonderful photographs , illustrations and useful information.  
I have armed myself with a reasonably priced, reasonably good hand lens (aka a loupe), the better to identify what I find in the field. And, despite my winter-long craving for warm fires and hot cocoa, off I have trudged into cold snowy woods to peer at all manner of things found growing, sprouting, sleeping in cryogenic slumber on tree bark, stumps, stones and boulders, or sodden and plump at bog's edge. I take pictures with my phone, clumsily balancing my creaking bones, hovering unsteadily at odd angles in crystalline snow and over ice-skimmed streams while trying to hold the loupe under the camera's tiny lens and keeping all in focus. Results are mixed, but, oh! when it works it is amazing, magical, immensely satisfying. Moving serendipitously from flora to fauna, I even got some pretty cool videos of perambulating and hopping snow fleas, thrillingly magnified!  
I have brought home sticks adorned in tiny orange jellies, black-eyed rim-lichen and myriad yet to be named mosses and lichens so I may study them while crouched happily over the kitchen table, loupe held to one eye, the books propped conveniently to one side. With identification likely, if not inevitable, the venture is proving pretty darn addictive.  
And once it warms up and there is more to see, with wildflowers, caterpillars, spider webs… well, I see more field guides in my future, for sure. I can't wait to see where in the stacks my urges lead next.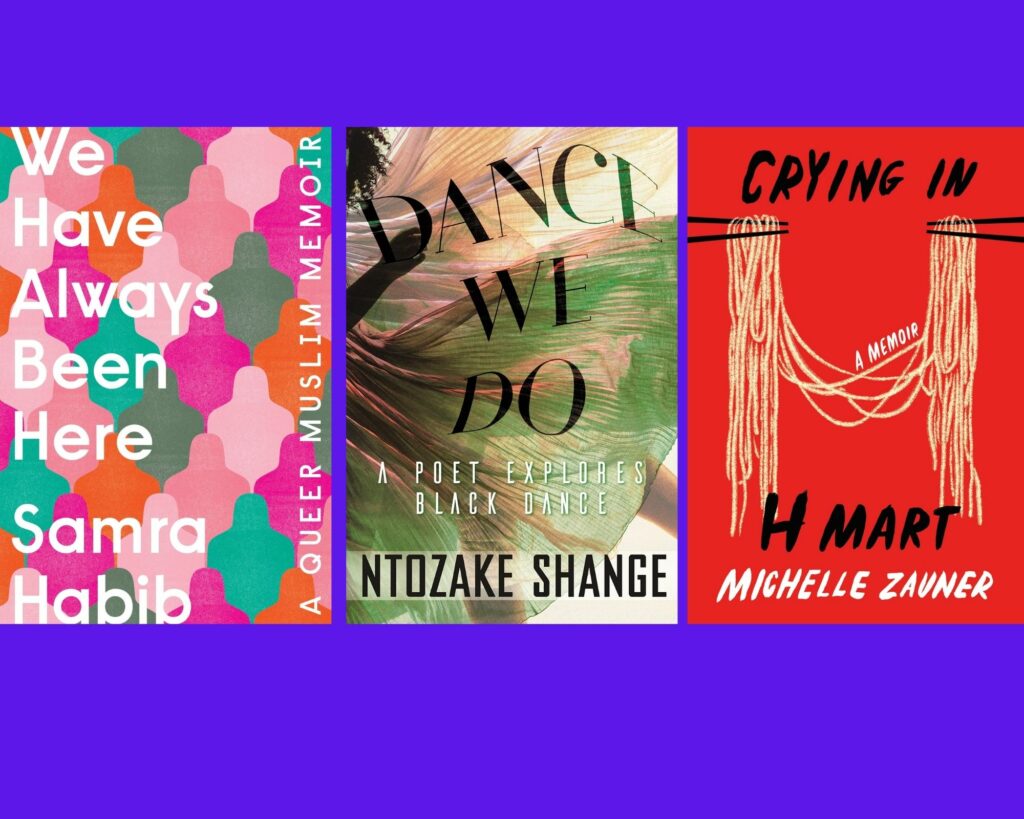 Elizabeth's Picks 
Eileen's lovely homage to the minute and meaningful worlds of lichen and moss reminds me of another wonderful moss book (given as a birthday book to a moss-loving friend years ago). If your curiosity is sparked, you can safely add Robin Wall Kimmerer's Gathering Moss: A Natural and Cultural History of Mosses to your mossy lists.   
"My body could be a source of joy and pride. It was for me and me alone." We Have Always Been Here: A Queer Muslim Memoir explores writer and photographer Samra Habib's powerful journey through faith, love, sexuality, art, and their celebration of queer Muslim spaces, stories, and communities.  
"Those of us who ate the qiguo noticed that the sun was warm on our limbs and the sound of a bicycle bell tinkling outside reminded us of the warm air, of the spring breeze, of possibilities." The Land of Big Numbers is a rich, immersive new collection of short stories by Te-Ping Chen. The stories almost feel like folk tales or fables, poignant, deep, and real, and I found myself thinking of the different stories and characters long after I finished turning the pages. One favorite was "New Fruit."  
Maybe you have a minute to read writer Jamara Wakefield's beautiful review of cultural icon Ntozake Shange's incredible personal history Dance We Do: A Poet Explores Black Dance? Wakefield describes the intimacy and joy in collaborations Shange discovered and that she discovered through reading Shange: "In Dance We Do, I found the tenderness my life has lacked in the last few months of the pandemic. These stories of colleagues becoming friends and friends becoming collaborators are love stories…Shange details 'dancing to somebody's music' one summer night at the East in Brooklyn. There she met dancer Bernadine Jennings, who suggested she audition uptown for a new company. After getting lost in Harlem, Shange landed at Dianne McIntyre's Sounds in Motion studio, at which point she knew 'that was where I was supposed to go.'" 
Irish poet Eavan Boland's dark and thoughtful historical poem "Quarantine" (from New Collected Poems) is a testament to love "in the worst hour" and has been one of many poems I've seen shared during the pandemic. Boland's final collection of poetry, The Historians, is new at PPL.  
Here's a last idea for memoir lovers: Crying in H Mart is a lyrical, moving new memoir by Michelle Zauner (who is also the guitarist and singer of Japanese Breakfast, her solo music project). It's all about her mom and food and music and life. 
---
As ever, thank you for reading! You can find "Gathering Moss: March Staff Picks" in this booklist linked to the library catalog. Other great booklists for March include 21 Debuts: Women Writing New Fiction, Poetry, and Graphic Novels and a shout out to St. Patty's Day with New Irish Fiction and Poetry.
If you're looking for more ideas, that is our very favorite thing. We're happy to help. Try our Your Next (Great!) Read service for kids, teens, and adults to get personalized lists of print or eBook recommendations from our staff. Our Reference staff is also available Monday-Friday, 10-4, at 871-1700 ext. 725.