The PPL Bookmobile might be Portland's biggest celebrity on wheels! If you have ever attended Portland's Pride parade you have witnessed the celebratory reaction from adoring fans as it slowly rolled along the parade route. Decorated with adorable critters and outfitted with the latest technology, the Bookmobile brings joy and accessibility to every community it serves.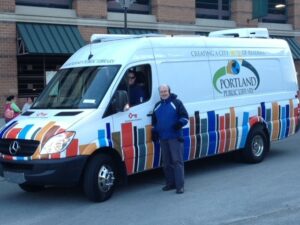 In honor of the Bookmobile's 10th anniversary, we chatted with Bookmobile Team Leader Steve Weigle who was there on March 15, 2013 when the Bookmobile was delivered after a four-day cross-country trip from Las Vegas, where it was assembled: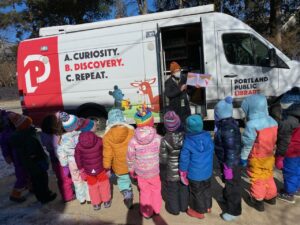 What are some of the best things you've heard Bookmobile visitors say?
This is gonna be a great week because of the books and movies I was able to get on the Bookmobile today.

 The Bookmobile is the best thing since Harry Potter and guinea pigs!

I love to read. Why watch TV when you can read a good book? (This one made Steve's heart swell!)

I want to live on the Bookmobile and wake up to have breakfast surrounded by books!

A patron stopped at the Bookmobile and said it reminded her of the Bookmobile of her youth where she remembers coming off the Bookmobile with an armful of books. This patron also mentioned her younger sister is the author of the Judy Moody books. She was going to make it a point to share with her sister that Portland has a Bookmobile!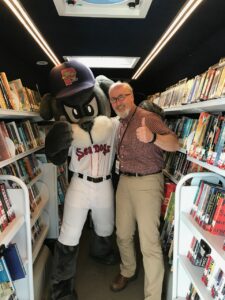 How often do you update the collection? How do you decide what titles to stock?
We update the collection daily. Items go out at every stop so we're constantly adding different things. We pay attention to what our patron base enjoys reading which allows us the opportunity to stock the Bookmobile with items that folks want on board. We also take requests at each of our stops which we bring with us the following week.
What is the most challenging part of your work?
Making sure we have everything we need to keep the Bookmobile ready to go every day. Having an extra pool of substitute drivers for the Bookmobile is always a challenge as we currently do not have that.
What are the top 3 skill sets needed to be in charge of operating the Bookmobile?
You definitely need to be comfortable interacting with the public. I'm very outgoing so it comes naturally to me! Good organizational skills and a well-rounded knowledge of books in general. Pay attention to the needs of your patrons so you can develop a viable collection on the Bookmobile. And always be a good listener as this is probably the most important skill of all.
What is the future of "mobile libraries"?
Hopefully "mobile libraries" will be around for a very long time as there is a true need for them especially in rural areas where people do not have access to a brick-and-mortar library. Even here in Portland, there is a need as has been shown by our increasing circulation and the dedicated following of our patrons over the past ten years.
Do you have a Bookmobile wishlist? 
We would like to completely update our current computer system with a laptop which would give us much more working space at our tabletop on board.
If you spot the Bookmobile, please be sure to give Steve and the Bookmobile Team a wave to thank them for this good work! If you'd like to give a gift to support this vital service, you can donate here.
Fun Facts:
The Bookmobile currently has 37,280 miles on the odometer

The Bookmobile is a customized Mercedes-Benz chassis equipped with  Wi-Fi

Bookmobile staff can issue new library cards right on board!

The Bookmobile is 24 feet long and can carry about 1,500 books

Rooftop solar panels help power the vehicle's electrical systems, and its clean-burning diesel engine gets an average of 22 mpg.

The Bookmobile is wheelchair-accessible and has room inside for three or four people to browse titles

Cityside Auto Repair services the Bookmobile every year for the annual inspection and basic maintenance

The Bookmobile takes 14 quarts of synthetic oil

Check our current schedule to see where the Bookmobile will be next!