In January, our staff looks at newer and on-order books for kids, teens, and adults at the library—a trove of fresh ideas and hidden gems for the new year.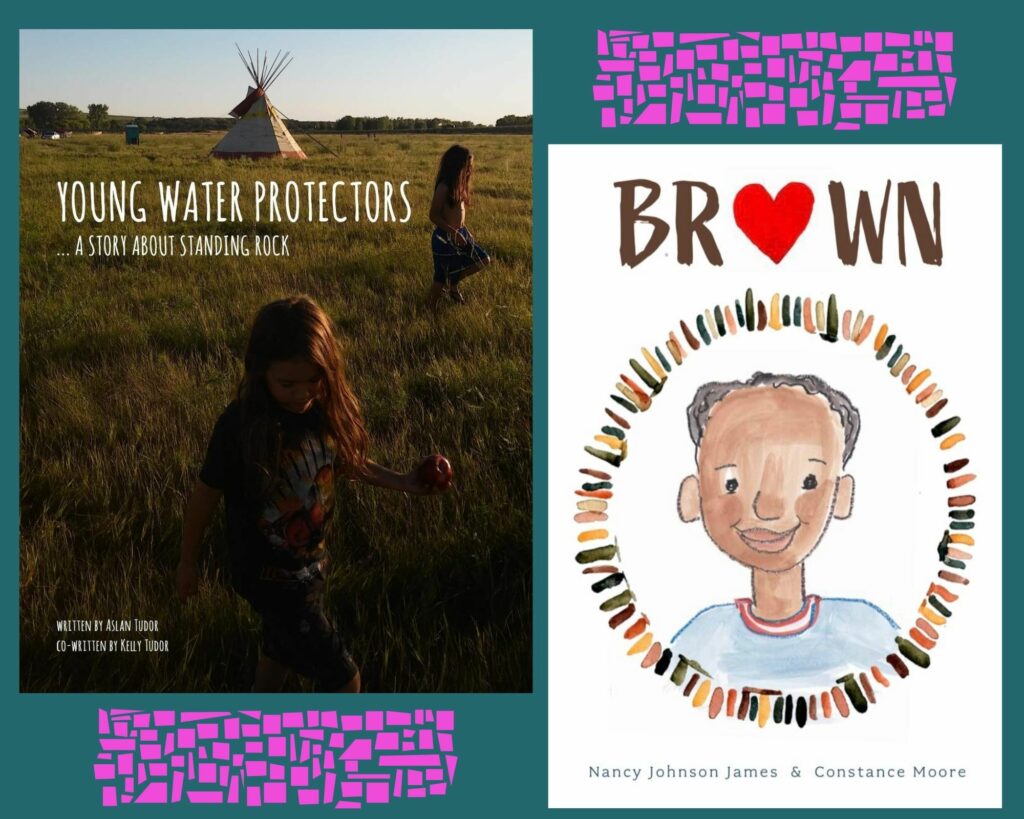 Cindy's Picks 
I'm excited about five new books that we have in the Children's collection.
The first is Brown: The Many Shades of Love by Nancy Johnson James and Constance Moore.  "Mama's brown is chocolate–clear, dark, and sweet.  Dady's brown is autumn leaf or like a field of wheat."  Sweet and simple watercolor illustrations fill each page with a celebration of the many colors of brown skin.
The second book is I am Every Good Thing by Derrick Barnes and Gorrdon C. James (creators of Crown: an Ode to the Fresh Cut).  "I am a roaring flame of creativity.  I am a lightning round of questions, and a star-filled sky of solutions.  I am an explorer, planting a flag on every square foot of this planet where I belong.  I am a sponge, soaking up information, knowledge, and wisdom.  I want it all, and I am allllll ears."  The dynamic painted illustrations pull us from page to page in a super celebration of everything that makes kids special.
Another book I was enthralled by is Young Water Protectors: A Story About Standing Rock by Aslan Tudor, Co-Written by Kelly Tudor  "As Native Americans we want to protect the Earth and water from getting polluted and harmed because these are sacred lands and waters to us.  We want to keep our homelands from getting harmed."  Clearly drawn maps and beautiful photographs help to illustrate the story of the effort to stop the pipeline from being built through the sacred Standing Rock area, told from the perspective of one of the children who stood up for his rights.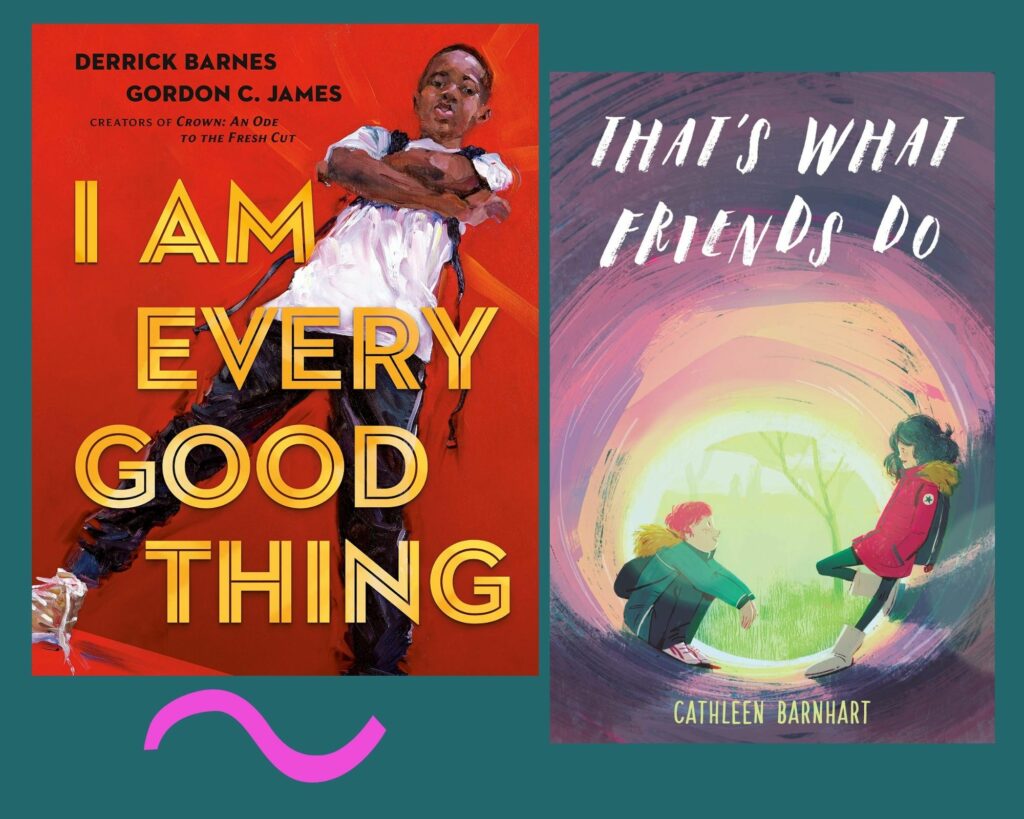 The next book is the middle grade novel, Tune it Out by Jamie Sumner, author of Roll With It.  "Lou has the voice of an angel, or so her mother tells her and anyone else who will listen.  But the two of them have been performing the country fair and street corner circuit for so long that Lou can hear only the fear in her own voice.  She's never liked crowds of loud noises or even high fives; in fact, she's terrified of them, which makes her pretty sure there's something wrong with her."  Sumner brings home the poignancy of the middle school experience all over again.  You are guaranteed a moving and special experience, reading her new book.
My final offering is middle grade novel That's What Friends Do by Cathleen Barnhart.  This is her debut novel.  "Samantha Goldstein and David Fischer have been friends ever since they met on their town's Little League baseball team.  But when a new kid named Luke starts hanging out with them, what was a comfortable pair becomes an awkward trio." 
---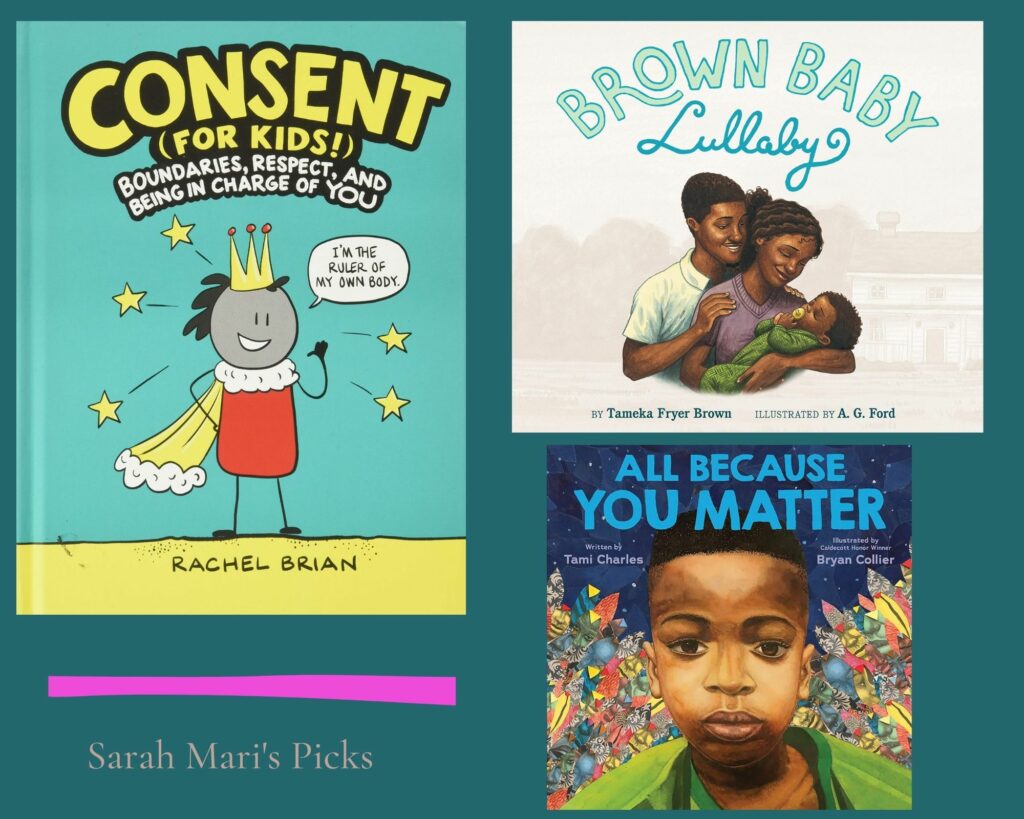 ---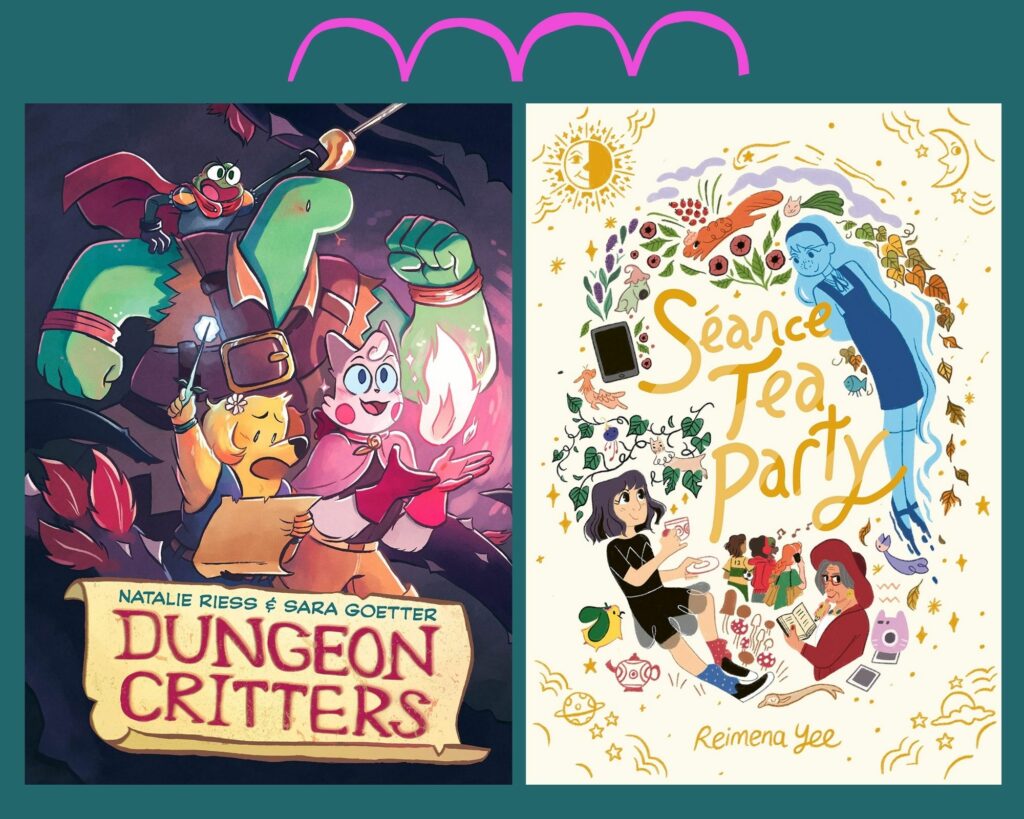 Megan's Picks 
This year, I want to treat myself to more great comics. Here are all the new graphic novels in my hold list right now, plus one I've actually read: 
Something Is Killing the Children by James Tynion and Werther Dell'Edera 
Sometimes I just want something scary and action-packed to rip through in an evening. This book looks like it will deliver. Basically, kids have been going missing from a certain small town, and some escape and return with tales of horrifying monsters. Enter the mysterious woman who has one mission: to kill the monsters. Tynion's previous horror series, The Woods, brought on the creepy space monsters and a quick, twisty plot, so I have high hopes for this one as well. 
Beetle & the Hollowbones by Aliza Layne 
Do you ever come across something and just think, "Oh, this was made for me"? That's how I felt discovering Beetle & the Hollowbones. Key elements: a goblin witch, a sorceress aunt, a friend named Blob Ghost (?!), gorgeous art done in a sunset color palette, soft gothy vibe. I've been looking forward to this one for a while! 
Solutions and Other Problems by Allie Brosh 
Even when she writes about difficult topics, Allie Brosh's autobiographical comics always set off a bout of laugh-until-it-hurts. I can't wait to get my hands on her new collection and might reread her older comics (in print and collected on her website, Hyperbole and a Half) in the meantime. 
Séance Tea Party by Reimena Yee 
Lora feels abandoned by former friends, but makes a new one during her Halloween-adjacent birthday séance in this middle-grade graphic novel. First off, the house-haunting Alexa reminds me of a certain technological product, and I think that's hilarious. That aside, we all need to have fun on our own right now, so this cozy tale of supernatural friendship really grabs me.  
Dungeon Critters by Natalie Riess and Sara Goetter 
What I know about this book: various anthropomorphic animals go on some kind of fantasy, D&D style quest together. Why I want to read it: is that adventurer a beefy snake with huge muscled arms? Fingers crossed.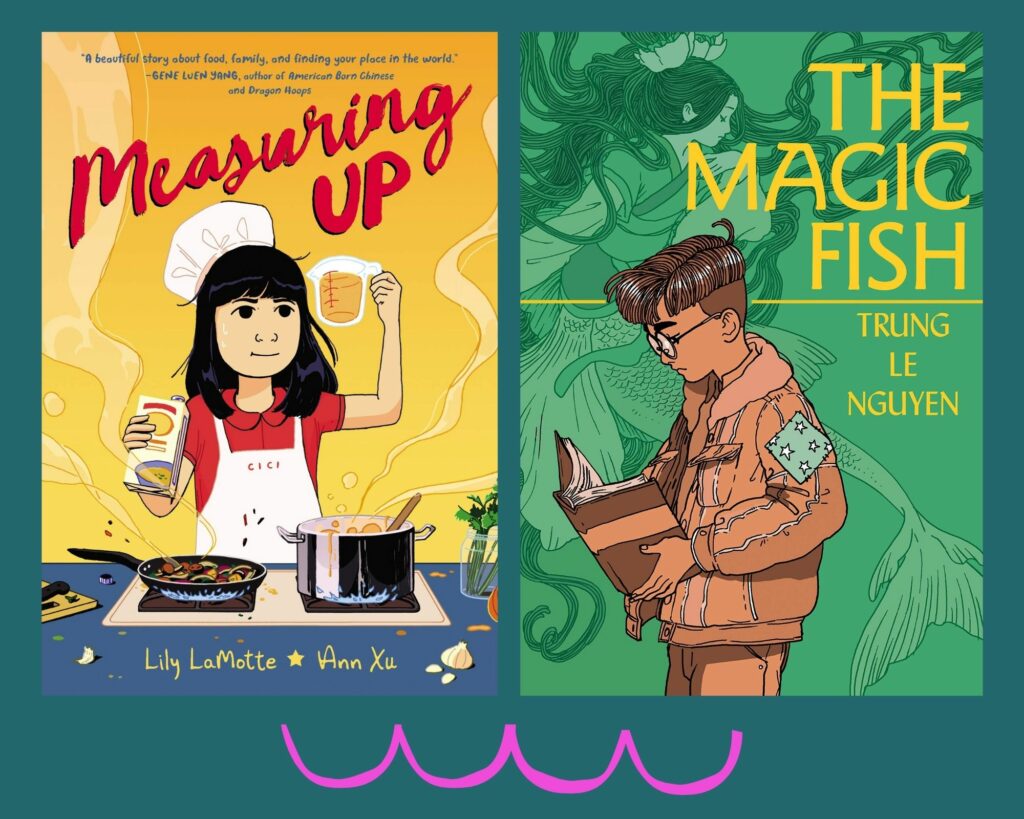 Maids by Katie Skelly 
Based on true events, this is a true-crime story about the Papin sisters who work as live-in maids for a wealthy family. This looks like the kind of book I won't be able to put down.  
Softies: Stuff That Happens After the World Blows Up by Kyle Smeallie 
I came across this one while making book lists and it grabbed me immediately. Earth has just exploded – now what? The last surviving human, a 13-year-old named Kay, gets scooped up by alien pals for space adventures. I'm hoping for a book packed with charm, action, and sappy feelings.  
Measuring Up by Lily Lamotte and Ann Xu 
Cici needs to cook the perfect food in Measuring Up in order to win a contest and pay for her grandmother's birthday plane ticket. Cooking and graphic novels is a great mix – I love seeing visuals of the delicious food as I read about it (and take notes for my own menus). 
Remina by Junji Ito
Remina's first English release was just this past December, and I'm excited to dive into another work by Ito full of that grotesque art I've grown to love. This one is about a planet that suddenly appears from a wormhole. The discovery of the planet Remina is met with celebration – but that quickly sours when Remina is seen destroying everything in its path on the way to Earth. 
Finally, the only book on this list I've actually read: The Magic Fish by Le Nguyen Trung 
This was my favorite book of all 2020. It's billed as a book about 12 year old Tiến and his struggles coming out to his mother, Hiến. It's about that, but it's just as much about Hiến, her longing for the family she left behind, and her search for connection after years of fighting the distance. The fairy tales shared between mother and son weave throughout the book and tie into each other seamlessly. As a theme, their intermittent storytelling brought home both the impermanence of oral histories and the power of choosing your own story. On top of that, the art was truly gorgeous. There's lots of well-researched and well-drawn fashion choices throughout – on everyone, not just the glamorous princesses. I absolutely cried at the end and I want everyone I know to read this book. 
---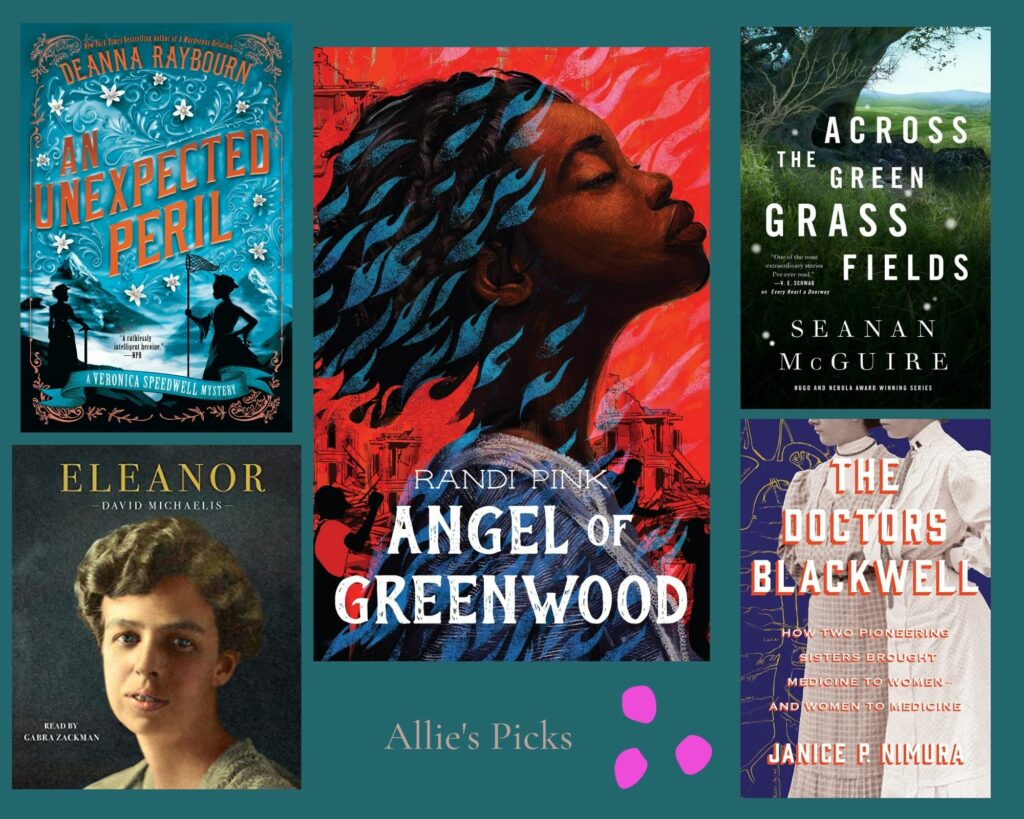 ---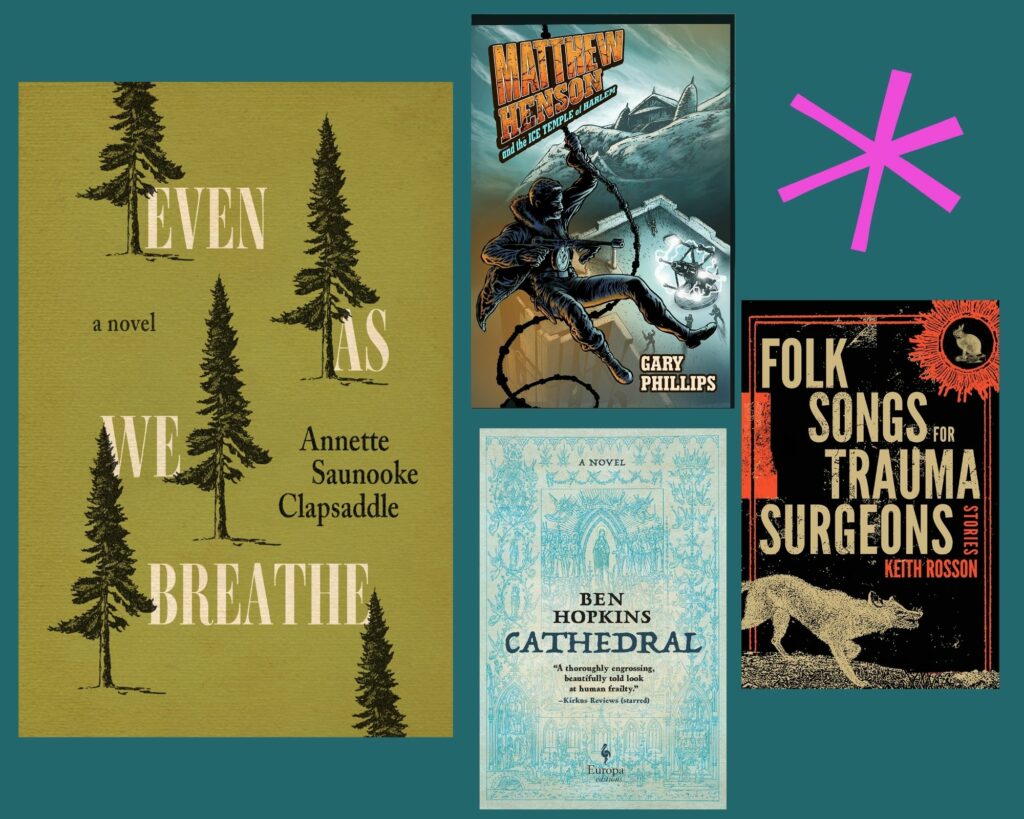 Becca's Picks 
The next few months bring us many engrossing tales from lesser-known authors and independent publishers. Here are a few that I'm excited to carry soon: 
Cathedral by Ben Hopkins: It's the turn of the 13th Century, and construction begins on a new cathedral in the Holy Roman Empire. Cathedral follows the people surrounding this massive building – the builders, merchants, nobles, and church administrators – as they fight to gain power. If you like sweeping epics by Ken Follett and Umberto Eco, this is the book for you. 
Even As We Breathe by Annette Saunooke Clapsaddle: In 1942, a young man leaves his home on the Cherokee reservation to work for a resort housing diplomats and wealthy prisoners of war. When a young girl goes missing, he must prove his innocence while fighting against racism and classism. First-time novelist Annette Saunooke Clapsaddle is believed to be the first enrolled member of the Eastern Band of Cherokee Indians to become a published author.  
Folk Songs for Trauma Surgeons by Keith Rosson: This new collection of stories will appeal to fans of fantasy and magical realism with a touch of evil. Publisher's Weekly opined, "The premises [of these stories] often look like very dark Monty Python sketches." If you've finished Kelly Link's stories and are yearning for more, this book awaits. 
Matthew Henson and the Ice Temple of Harlem by Gary Phillips: In the mood to start a new series? In this series set in the 1920s, Arctic explorer Matthew Henson returns to Harlem to become a bodyguard for a controversial religious leader…and save the world from total destruction. This classic pulp will appeal to fans of the genre and to fans of Indiana Jones. 
---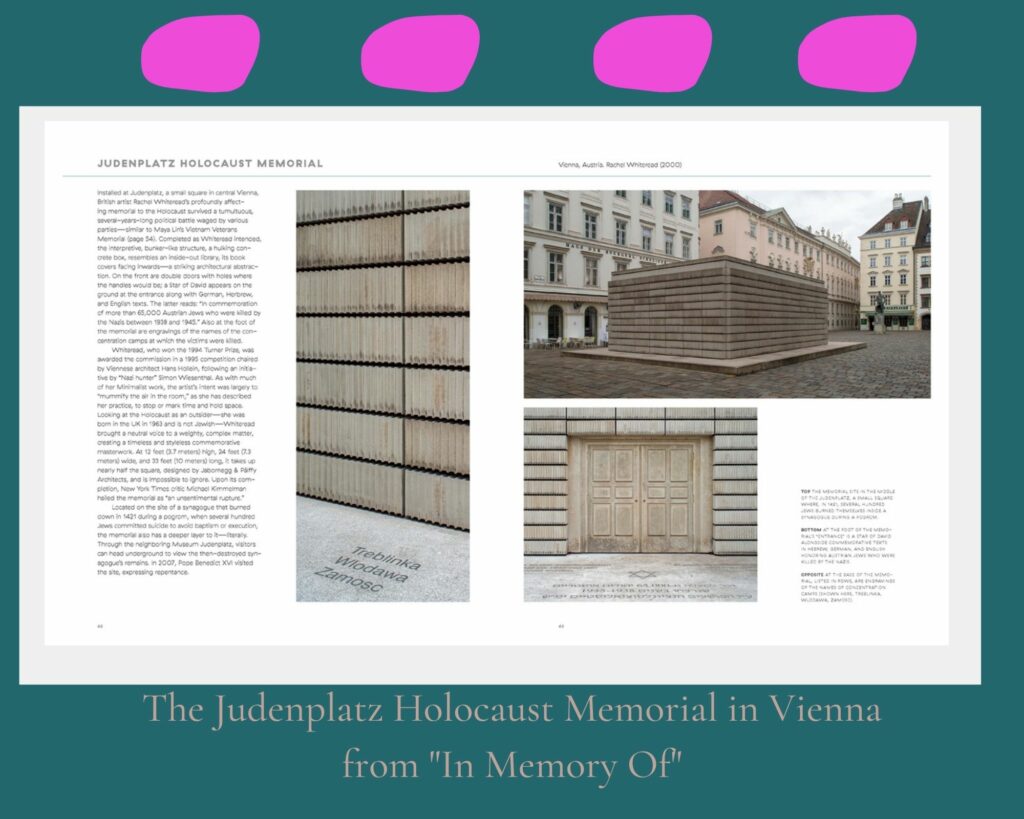 Raminta's Pick 
In Memory Of  by Spencer Bailey looks at contemporary memorials from around the world. Through photographs and essays, the book describes how and why these monuments exist. Sir David Adjaye OBE, designer of the Smithsonian National Museum of African American History and Culture, says it best in his forward, "the narrative of memorials is a device to project the many things facing people across the planet: nationhood, citizen rights, human rights, climate action. Memorial form is an important act of un-forgetting." 
---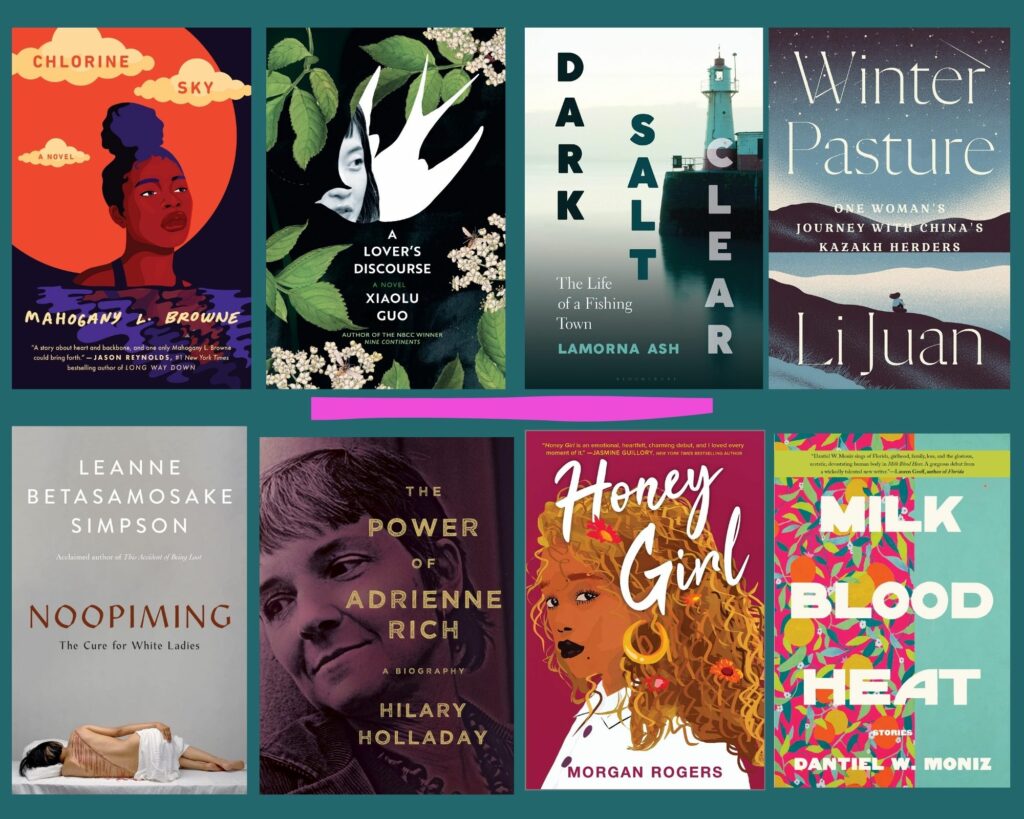 Elizabeth's Picks 
Jason Reynolds, hero of YA, recently shouted out Mahogany L. Browne's Chlorine Sky and now I'm hoping to read it for the 2021 Reading Challenge #1: A novel in verse.
Xiaolu Guo's A Lover's Discourse  is a thoughtful, dark-humored novel full of questions and conversations. Part of it takes place on a houseboat the narrator and her partner live on in a London canal—so maybe it counts for Challenge #20: A book with a journey by bus, boat, bike…? Dark, Salt, Clear: The Life of a Fishing Town definitely has a journey by boat as Lamorna Ash writes about joining a fishing crew in Cornwall, and Li Juan's Winter Pasture brings another journey as she sets out for the winter with a family of Kazakh herders.  
 The Slaughterman's Daughter by Yaniv Iczkovits has one of the most intriguing book descriptions this winter (Tsarist Russia, women and knives!). Another description that hooked me is the one for Noopiming: The Cure for White Ladies by Leanne Betasamosake Simpson, which "draws on indigenous Abinhinaabeg beliefs to create a bold, affecting portrait of an urban landscape and its network of living beings. Mashkawaji, two years after falling into ice and being frozen, remembers and experiences the world through a sensory connection to people, animals, and plant life in Toronto from her place under the ice."
The Fact of a Doorframe is one of my most dog-eared, well-loved poetry collections, so I'm excited for the new biography The Power of Adrienne Rich.
And…I was born in Florida but moved away when I was little, and don't remember it, so it's always seemed very mysterious! I'm curious to read Milk Blood Heat, a collection of stories by Dantiel W. Moniz described as exploring "the sultry lives of Floridians in intergenerational tales that contemplate human connection, race, womanhood, inheritance, and the elemental darkness in us all." Morgan Rogers' new novel Honey Girl also involves a trip to Florida (as well as a summer in New York) but more importantly, it's reported to have astronomy and queer found family and love and therapy and friendship and I can't wait to check it out. 
---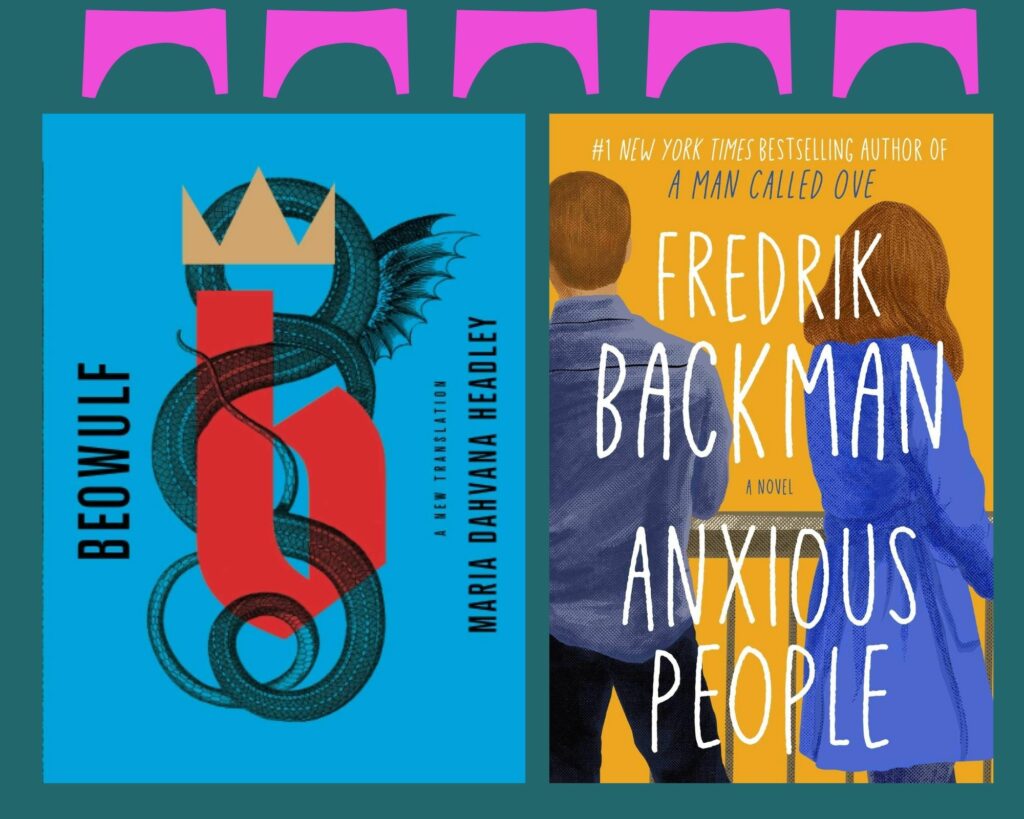 Kathleen's Pick 
My pick is a virtual reading series of Maria Dahvana Headley's lauded new translation of Beowulf (which you can find at PPL). It begins with a reading by Miz Cracker in beautiful, beautiful old English and goes from there in a wild range of voices. Twenty-two readers bring this tale to glorious life: you can watch them all at your own pace here.   
The series "launched on December 1 with the incomparable Miz Cracker, the New York City drag queen, writer and comedienne, and has continued through the subsequent weeks with Booker Prize finalist Diane Cook, cabaret performer Justin Vivian Bond, Anika Noni Rose, Esmé Weijun Wang, Ari Shapiro, Sara Quin (of Tegan and Sara), and a double whammy by Alan Cumming." 
---
 Eileen's Pick 
"I'm having quite a complicated day here!" –Anxious People by Frederik Backman   
The title was irresistible to me, being a member of the group myself, and I have liked or loved everything I have read that he has written.  That's why I had no choice but to plop myself on the waiting list a month or two ago.  Last week, my name came up.  
 Irritated by too many adverbs?  Incensed by a proliferation of adjectives? Backman has an unfussy style of writing; he might be your kind of guy.  Always, the stories have a quirkiness about them, the characters weighed down by life while managing also to be adrift.  I think of John Irving for some reason, although they don't have a whole lot in common other than their occupying my head in a similarly inevitable way.  To force analogies further, Backman inhabits the same corner of my mind as film director Bill Forsythe (Local Hero; Comfort and Joy; Gregory's Girl): humorous with a dollop of melancholy… only maybe Backman is more melancholic with a dollop of humor.   
 What's Anxious People about? "This is a story about a bank robbery, an apartment viewing, and a hostage drama.  But even more it's a story about idiots.  But perhaps more than that."  
 Yes, there is more than that.  There are pistols and bridges.  There are children and old people, pizzas, cigarettes, bad coffee, emotional darkness.  There is love and impatience and connection and coincidences and letters.  It's complicated.  I loved it. 
 But enough!  More important is how you feel about it.  Get yourself onto the hold list if you aren't there already.  If you currently are patiently (or not so patiently) awaiting your turn, you have a treat in store.  While you're waiting, maybe read something else by Frederik Backman.  There's not a loser in the bunch.  
I wish you a year of reading that feeds your soul. 
---
As ever, thanks for reading. You can find our full booklist of ideas from this post here at I Am Every Good Thing: January 2021 Staff Picks. If you're looking for more ideas, that is our very favorite thing! We're happy to help. Try our Your Next (Great!) Read service for kids, teens, and adults to get personalized lists of print or eBook recommendations from our staff. Our Reference staff is also available Monday-Friday, 10-4, at 871-1700 ext. 725.